Fireside Dining at the Empire Canyon Lodge – Deer Valley Resort in Park City, UT



A couple of weeks ago, my husband and I headed up to Park City for date night. Park City is only about an hour away, and every time I make it to that side of the mountain, I wonder why I don't go more often!!
That night, we dined at the Fireside Dining at the Empire Canyon Lodge at Deer Valley Resort. I have always wanted to do the Fireside Dining, so I was super excited and knew that I was in for a treat.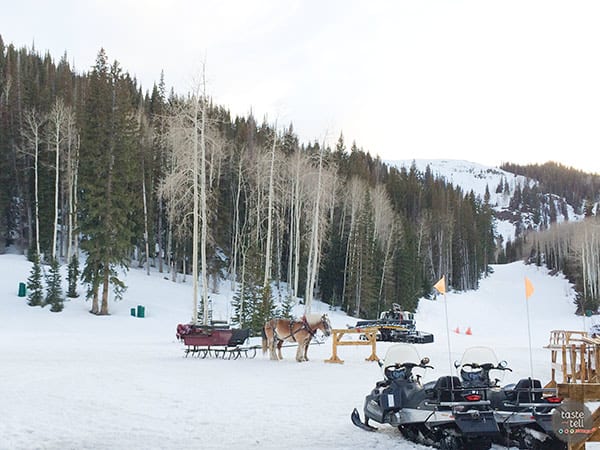 Fireside Dining is a dining experience like no other. There are no kitchens, with waitstaff bringing you your dinner. Instead, the food is cooked at one of the massive fireplaces in the Empire Canyon Lodge. The dinner consists of 4 courses, or stations, and you'll want to make sure you save room to visit them all.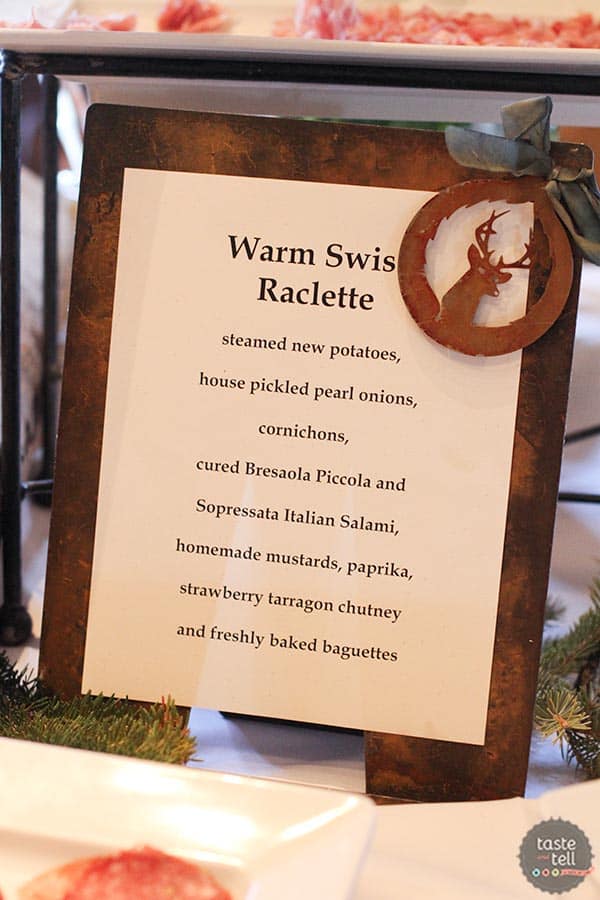 1st Course
If you know anything at all about Fireside Dining, it will probably be the Raclette. Just imagine, melty, creamy, nutty cheese, warm and gooey, straight from the fireplace. You can pick up your plate of heavenly cheese, and then hit up the table filled with everything from cured meats to steamed potatoes to freshly baked baguettes. Don't miss the house made Strawberry Tarragon Chutney. I'm not even a big tarragon fan, but I wanted to eat that with a spoon!! This was probably our favorite course, as I'm a huge cheese person, and my husband is always smitten with cured meats.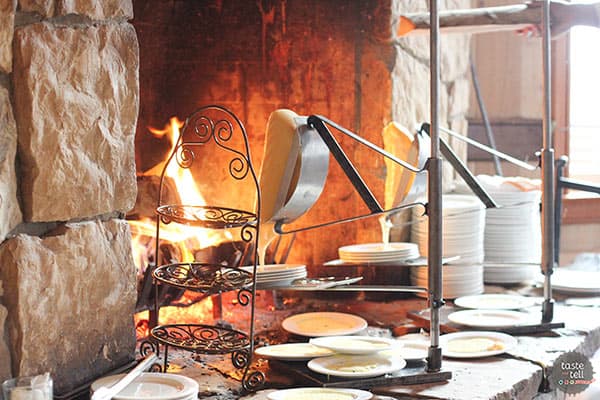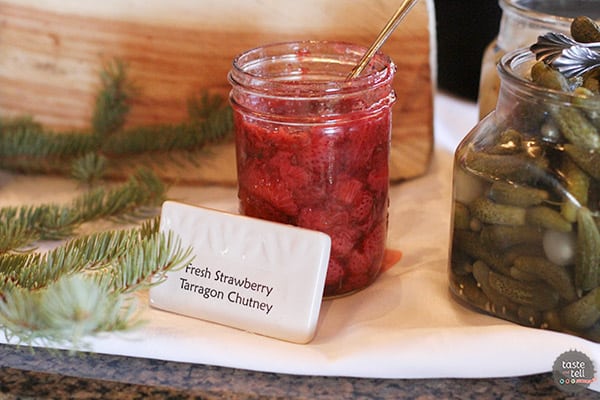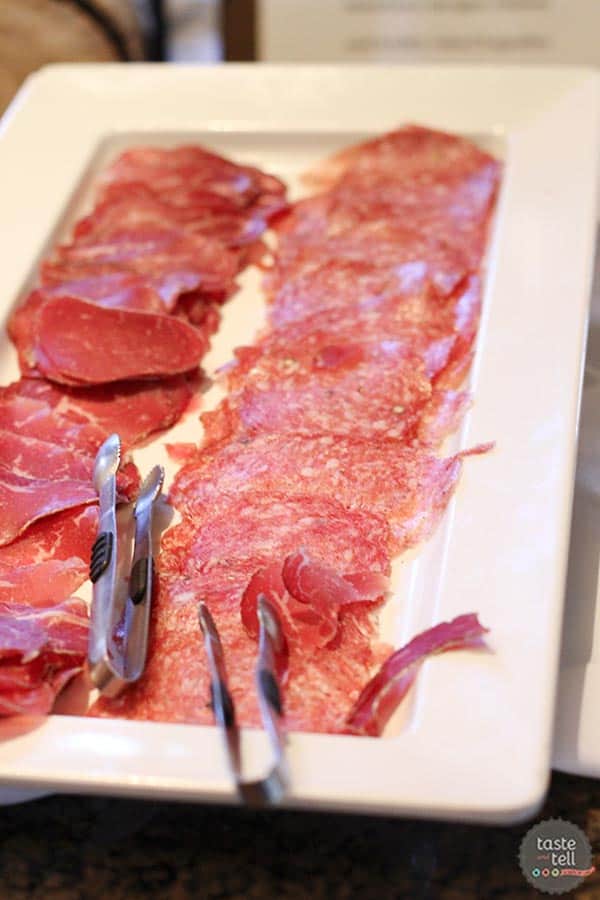 2nd Course
The second station consists of several different choices each night. From what I can tell, the Veal and Wild Mushroom Stew and Almond Flour Dusted Utah Trout are normal staples on the menu, with the third option rotating depending on the night you are there. Both my husband and I were excited to see smoked duck breast as one of the choices, as we both really love duck. I did not want to choose between the choices, so I just asked for a sampler with all three!! And then I was totally surprised when my favorite was the Veal and Wild Mushroom Stew – especially when I ate it over the Rösti potatoes. The duck and the trout were also very good, but that stew won out for me. (My husband thought the duck was the winner, though.) There are salads and soups at this station, as well.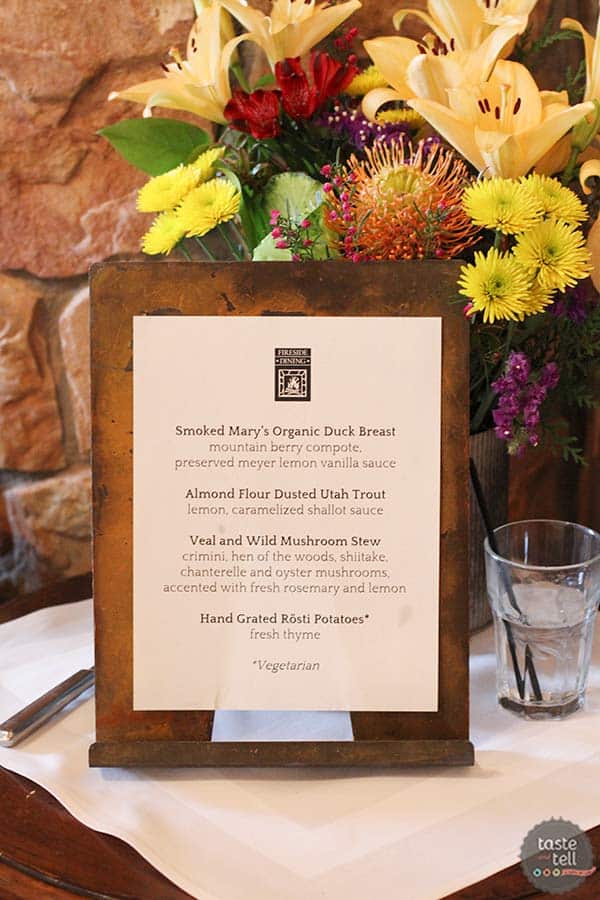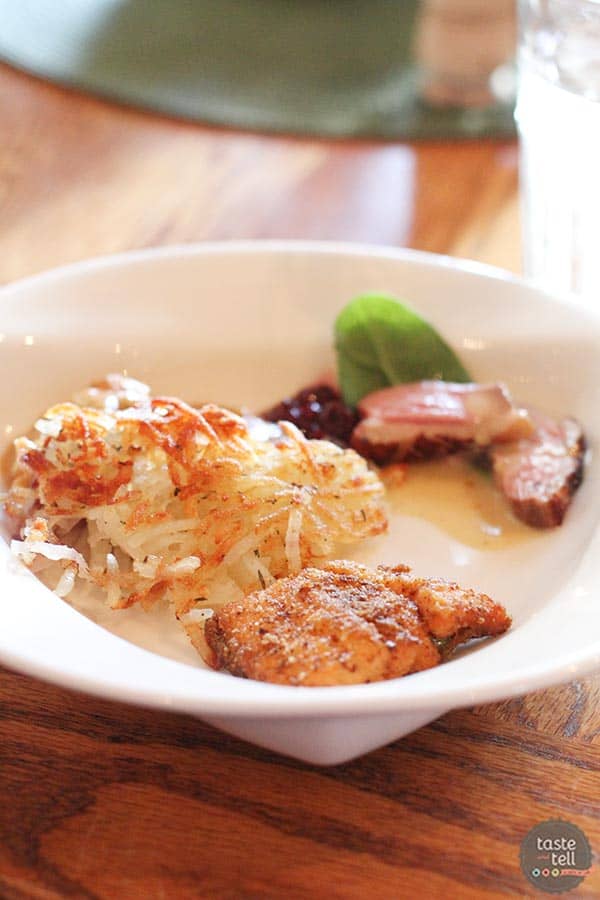 3rd Course
The third course was the lamb station – when you walk into the room with this fireplace, you can see whole legs of lamb being roasted in front of the fireplace. This was my least favorite course, but admittedly, I am not a big lamb fan. It was good, though, even for a non-lamb lover. But there was also some creamed spinach that was very good as well as a dish with black forbidden rice.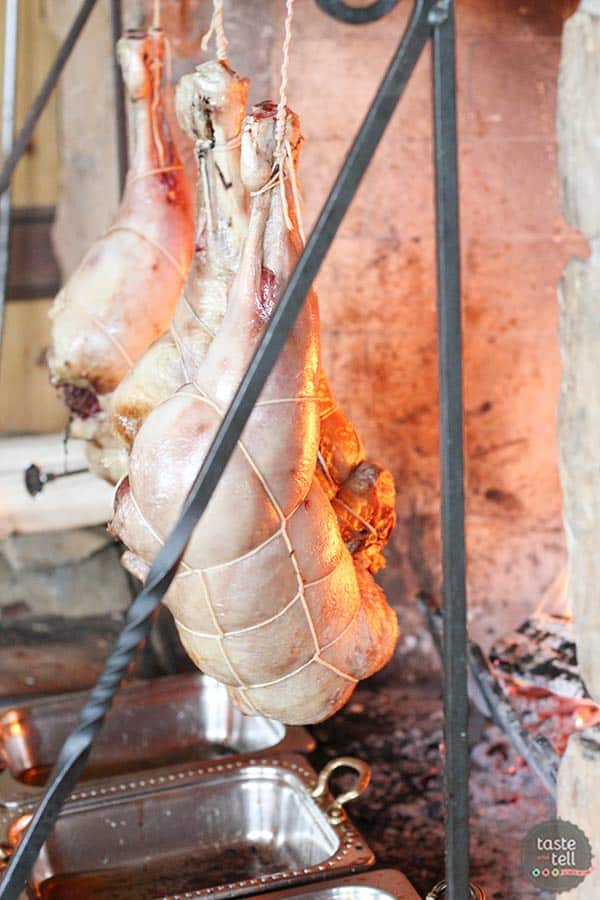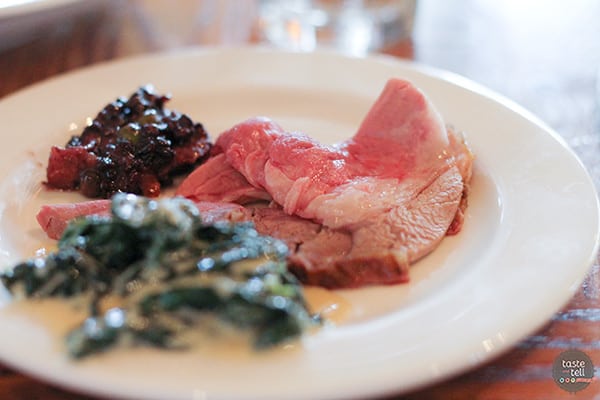 4th Course
You can't forget dessert!! The dessert station consists of all kinds of fruit, cookies and cake for dipping in your warm chocolate fondue or caramel sauce. You can choose between a chocolate sauce, a house made caramel sauce, or a Grand Marnier white chocolate sauce. I tried both the chocolate sauce and the caramel sauce. The chocolate sauce is pretty dark and rich and not too sweet. The caramel sauce tastes like it is made from scratch and was divine. I loved dipping apple slices into the caramel sauce. The special that night was an apple crisp that was also very delicious.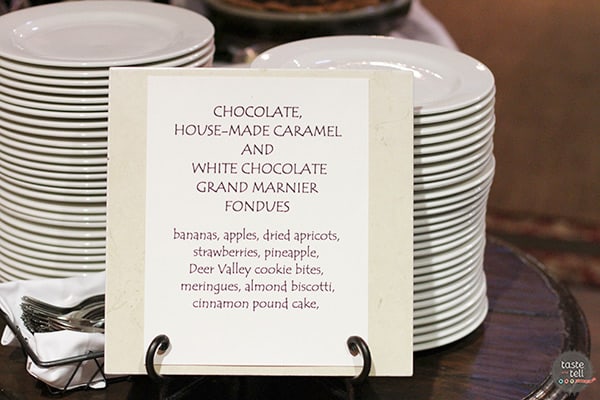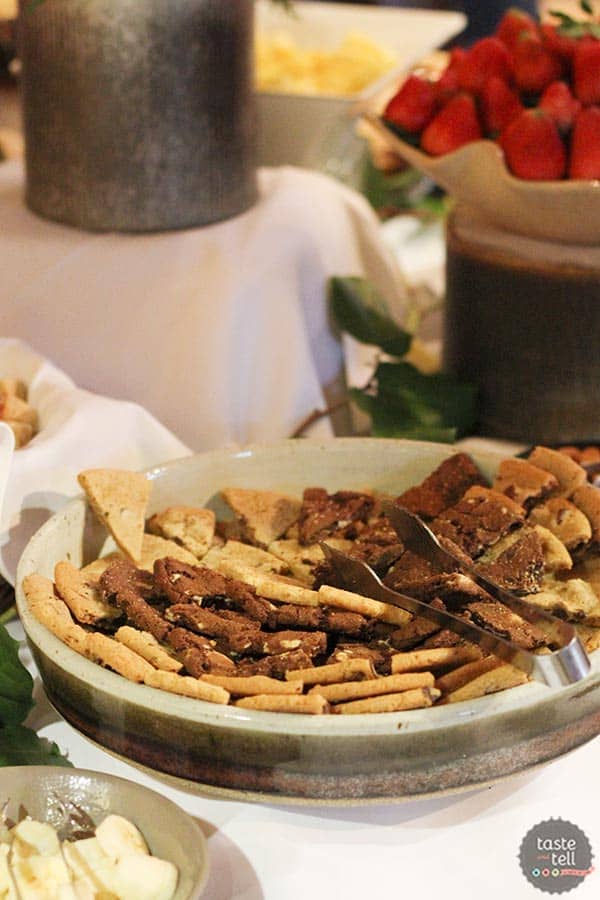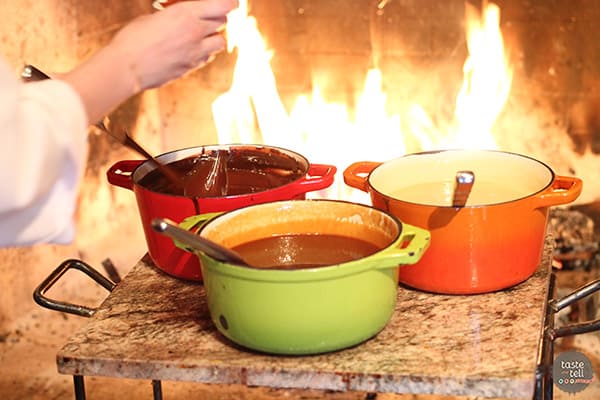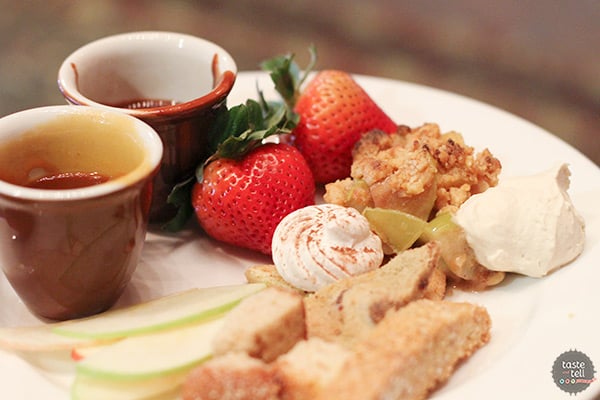 Fireside Dining is now closed for the season, but will reopen in December of this year. My husband kept saying how he thought this would be the perfect meal for after a day on the slopes. If you are planning on a ski trip to Deer Valley, you should definitely put Fireside Dining on your itinerary. Prices are $60 per adult, or $30 per child (drinks extra), which I think is pretty reasonable for ski resort dining. It is definitely a unique and fun experience that you won't want to miss!!
Fireside Dining at the Empire Canyon Lodge
Deer Valley Resort
9200 Marsac Avenue
Park City, UT
(435) 645-6632
Website
**Deer Valley hosted us for the evening, but did not require or expect a post. I just wanted to share our fun dining experience with all of you!!**