What great fun it has been to travel through the world this year through different cookbooks and cuisines!  When I decided to do a theme for this year, I had no idea how much I'd be stretched as a home cook and how much I would learn.  It was definitely a step out of my comfort zone, but I tried so many different cuisines that I know I'll be back to learn more.  Below, I'm linking each of the month end reviews and the cuisine from the month.  Please feel free to click through to see or be reminded of what I made from each cuisine!
January – Italy
February – China
March – Greece
April – France
May – India
June – Mexico
July – Southern US
August – Jamaica
September – Scandinavia
October – Thailand
November – Hawaii
and December – Spain!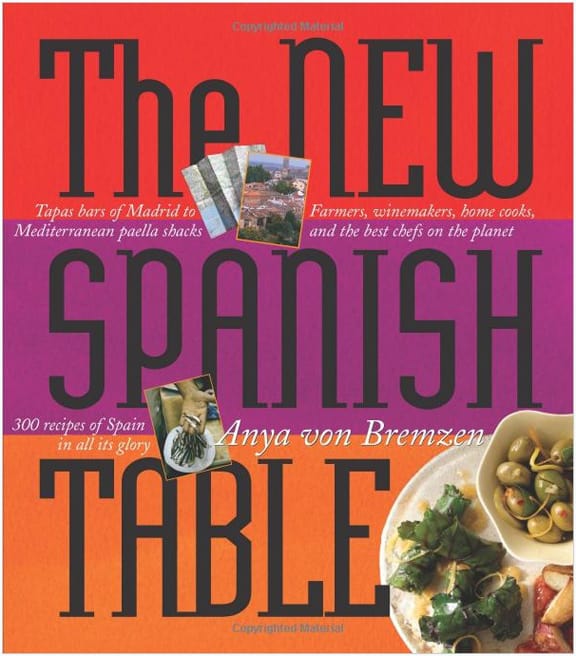 This month's cookbook was a great one.  But once again, I was left feeling like I didn't even scratch the surface.  I don't know why, but I imagined the cuisine of Spain to be similar to Mexican cuisine – maybe because they speak the same language?  But it is definitely a cuisine of it's own.  I think that if I took the time to really explore Spain's cuisine, I'd really fall in love with it.  I fell in love with just the few recipes I tried!!
Cooking Times Listed in Recipes: no
I'm starting to think this is a rarity in cookbooks, though!
Number of Photos: very few
of actual dishes, that is.  Actually, if I were just to answer this from memory, I would have said that there were quite a few.  But when I went back to the book, I realized that the majority of the pictures are of Spain itself and of different parts of it's culture.  There really aren't many pictures of the actual dishes.  But for some reason, I didn't totally miss them in this cookbook.
Difficulty Level of Recipes:medium
Most of the instructions seem straight forward.  It's probably not a cookbook you want to dive into if you are a very beginner cook or if you aren't comfortable with another cuisine, but I thought that it was pretty easy to follow.
Availability of Ingredients: easy to medium
There probably are a few recipes with harder to find ingredients, but for the most part, everything should be easy enough to find at a regular grocery store.
Crisp Potatoes with Spicy Tomato Sauce – 4.5 out of 5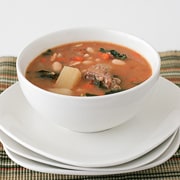 Asturian Beef Stew – 4.25 out of 5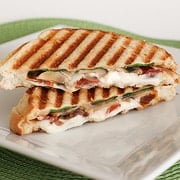 Bikini "Pizza" – 3.75 out of 5

Banana and Hazelnut Tart – 4.5 out of 5






Overall Rating:  4.25 out of 5
Like I said before, this is a cuisine I really would like to explore a little more.  I checked this cookbook out from the library, but it has made it's way onto the list of cookbooks I'd like to own!  Not only is it packed full of recipes, but there is a lot to be learned about Spain itself in the book as well.
And for 2011….
I have come to the conclusion that my best ideas come to me while I am in the shower.  Strange, but true!!  A few weeks ago, I was in the shower, and thinking about my blog.  My original plan was to just go back to doing random cookbooks for my Cookbook of the Month series.  It was fun to have a theme for 2010, but I didn't have anything in mind for 2011.  But then an idea hit me like a ton of bricks, and I got so excited about it that I couldn't let it go.  I thought to myself – what if I did cookbooks that were written by bloggers?  And not only that, but what if those bloggers/authors would do a Blogger Spotlight that month?  So not only am I getting to cook through some amazing cookbooks written by different bloggers out there, but we will all get to learn a little bit more about these people, which makes it so much more exciting!!
The only bad part about this is that the idea came to me so late.  I was hoping to be able to reveal the whole year today, but since I only came up with the idea a few weeks ago, and everyone has been so crazy with the holidays, and since I've been fighting sickness for weeks now – well, I don't have everything finalized yet.  But I will let you know what I do have down for now, and the blanks will be filled in in the next couple of weeks.  Here they are – I hope you are all as excited as I am!!
January – Recipes Every Man Should Know by Susan Russo of Food Blogga
February – Desserts 4 Today by Abby Dodge of abbydodge.com
March – The $5 Dinner Mom Cookbook by Erin Chase of $5 Dinners
April – Our Best Bites Cookbook by Sara Wells and Kate Jones of Our Best Bites
May – The Reluctant Entertainer by Sandy Coughlin of The Reluctant Entertainer
June – Southern Plate by Christy Jordan of Southern Plate
July – TBA
August – TBA
September – Poor Girl Gourmet by Amy McCoy of Poor Girl Gourmet
October – TBA
November – TBA
December – TBA
*months may change as the blanks get filled in!
I hope you all have a wonderful and safe New Year's Eve.  I'm so excited for 2011 and what it has in store!!!