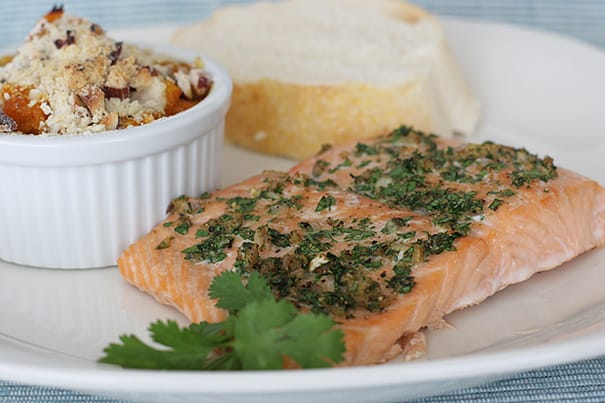 Sometimes, I really wish I lived near the ocean…
I really love seafood. And I've mentioned this before, but living in Utah – there's just not a big selection of "fresh" seafood. In fact, the few times I have bought what the store advertised as "fresh" – I didn't care for it at all. Since I have to work with what I can get, I buy 99% of the fish we eat at Costco – frozen. And I like it. I'm sure it would be better if I was living in Seattle, or in California somewhere, but I work with what I've got.
This is also why so many of the seafood recipes I have here are with salmon. I buy the bags of frozen salmon, so there are quite a few portions in there. My freezer just isn't big enough to keep a big assortment on hand, and since we both like salmon, that is what we stick with.
One reason I love making fish for dinner is that it is not only easy, but fast and tasty. This recipe hits all three of those points – fast, easy and tasty!! I would actually make this again and again – and I'm sure it would be great on other fish as well!
Cumin-Coriander Crusted Salmon
From Cooking Light Annual Recipes 2008
Serves 4
2 tablespoons finely chopped fresh cilantro
1 tablespoon finely chopped shallots
1 teaspoon olive oil
1/2 teaspoon ground cumin
1/4 teaspoon ground coriander
1/4 teaspoon kosher salt
1/4 teaspoon black pepper
4 (6-ounce) salmon fillets
Cooking spray
4 lemon wedges
Combine cilantro, shallots, oil, cumin, coriander, salt, and pepper in a small bowl, stirring to form a paste. Place fish, skin side down, in a shallow baking dish. Coat top of fish with cilantro mixture. Cover; refrigerate 1 hour.
Preheat oven to 400°.
Arrange fish on the rack of a roasting pan coated with cooking spray, and place rack in pan. Bake at 400° for 10 minutes or until fish flakes easily when tested with a fork or until desired degree of doneness. Serve with lemon wedges.