It has been WAY too long since I've done a blogger spotlight, and I'm super excited to be back with today's Blogger Ten from Culinary Concoctions by Peabody. I have been reading Peabody's blog since way back when – she has been one of my very favorite bloggers since the very beginning. I have made several of her recipes, and have loved every single one. She has a way of writing so honestly and her passion always shines through. I am excited to feature her here today so you all can get to know her, as well!!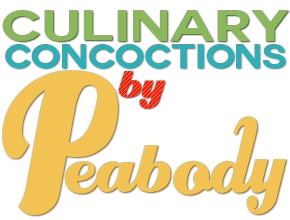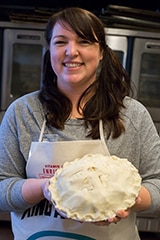 Hi, I'm Peabody (yep my real name) of Culinary Concoctions by Peabody.
I'm a wife, stepmom, hockey player, beer drinker, sugar lover, dog obsessed, positive body promoter.
I live North of Seattle WA and no the rain doesn't bother me…I love it.
I prefer baking over cooking.
I was given 25 pounds of Sprinkles as a gift and it's my goal to use them all this year.
In my former life I was a math and science teacher. I have a ton of college degrees I do nothing with as my parents like to point out.
My blog turns 10 this year and it's crazy for me to think I've been at this for that long!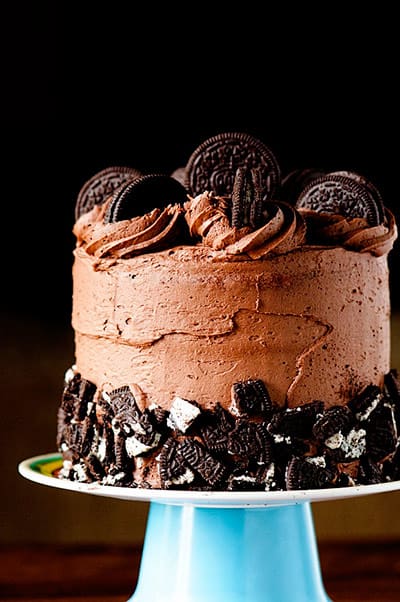 Cookies and Cream Birthday Sprinkle Overload Cake
What inspired you to first start writing a blog?
I moved from AZ to WA State and had quit teaching school. I knew no one and had nothing to do. One day I stumbled across a blog out of Canada called The Domestic Goddess (no longer around), I pointed to my then husband who was a computer programmer and I said teach me how to do that. Back then you had to learn basic HTML to write a blog (which I still write in even though you don't need to anymore). I needed an outlet as my ex who became known as the Picky Eater on the blog ate nothing fun in my opinion and so I wanted a someone to cook for…even if they were on the Internet.
What kinds of post are your favorite to write? What do your readers seem to like the most?
Hands down I love to write about positive body image. I've been able to over the years develop a strong sense of self and acceptance of my body in all its stages and I do my best to help others learn to love their bodies as well. I get tremendous feedback on these post and get amazing personal emails from people recovering from eating disorders and how much they appreciate me writing about the struggles to love your body. As far as food wise my readers love any post with a lot of caramel drizzle.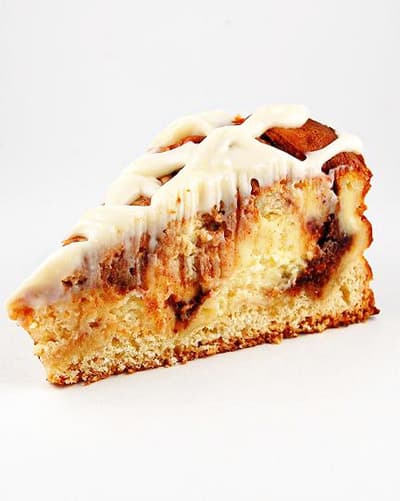 Cinnamon Roll Cheesecake
What is your favorite recipe on your blog?
Ohh, so hard. I'm going to say my Cinnamon Roll Cheesecake. It's one that we make time and time again at our house. It's literally half cheesecake and half cinnamon roll. A reader when I first started blogging sent it to me and I owe them a huge thanks.
What is the first dish you ever cooked?
Well probably a cake from an EZ Bake Oven but in junior high I was taking Home Ec and the class put out a cookbook, the kind where parents, teachers, etc send in recipes, I made a meal for my dad for Father's day from it. It was a Sweet and Sour Chicken (which there is a version of on my blog) and a Grasshopper Pie (that had booze in it) that I also have a version of on my blog. I still own the cookbook, it had some great recipes in it.
What is your favorite kind of food to make?
Dessert. Almost all celebrations in life involve dessert and if they don't…they should. They tend to make people happy. You don't reach for a pint of quinoa usually when having a bad day, you go for the Rocky Road Ice Cream.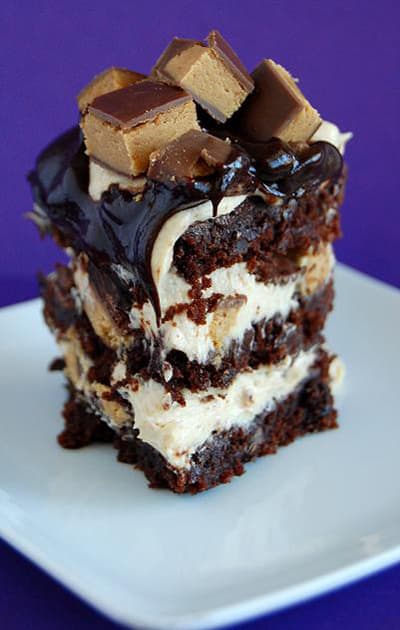 Peanut Butter Cup Brownie Torte
What are your favorite blogs to read?
I love How Sweet It Is: I feel Jessica is my sister from another mister not to mention she makes and photographs yummy food. Pass the Sushi: Kita is my partner in crime as we run a podcast called Season with Sass which is a podcast helping food bloggers become better food bloggers. Cakespy: Jessie has such fun ideas and cute illustrations and I appreciate her recent very real posts about struggling with an eating disorder. Not Without Salt: Ashley has a beautiful blog with amazing recipes. She just came out with a cookbook called Date Night In that I am obsessed with.
If you could cook alongside any other blogger for a day, who would you choose?
Oh this one is super hard and I'm going to pick a blogger I haven't met in person so that it can narrow down my choices. I'm going to go with Brandy of Nutmeg Nanny. We had her on the podcast a couple weeks back and we laughed and laughed and laughed. I'm not sure we would get anything cooked but I know we would have a lot of fun hanging out.
What is your favorite part about blogging?
My readers. I know a lot of bloggers say they have the best readers but I really do. I had so many of them contribute to my wedding: my cake topper, veil, cake stand, table décor, invitations, wall décor were all made as gifts from my readers! It made the day that more special. My dog recently passed and I was flooded with cards and pick me up gifts. I'm truly blessed.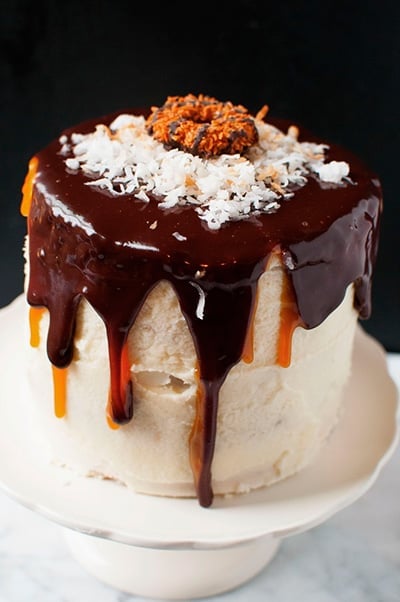 Samoas Mascarpone Filled Layer Cake
What is the best thing you've ever eaten? The strangest?
The best: Croissant Bread Pudding. The strangest: Stew that had beetles in it when I was in Peru.
Is there a dish you are known for?
The Refund Muffin. Aka Snickerdoodle Muffin. Years ago I made a Snickerdoodle Muffin that people really liked…except one person who wrote two emails demanding money for the cost of ingredients they wasted in making a double batch of the muffins. It was quite hysterical and I kind of became known for that.
————-
Thanks, Peabody – that was fun!! It was great getting to know you better, and now I want to get into the kitchen and bake something!
If you want to see more from Peabody, here is where you can find her: