10 minutes prep the night before, and breakfast is a cinch in the morning! This Croissant Breakfast Casserole with Jerky and Cheddar is the perfect answer to busy mornings!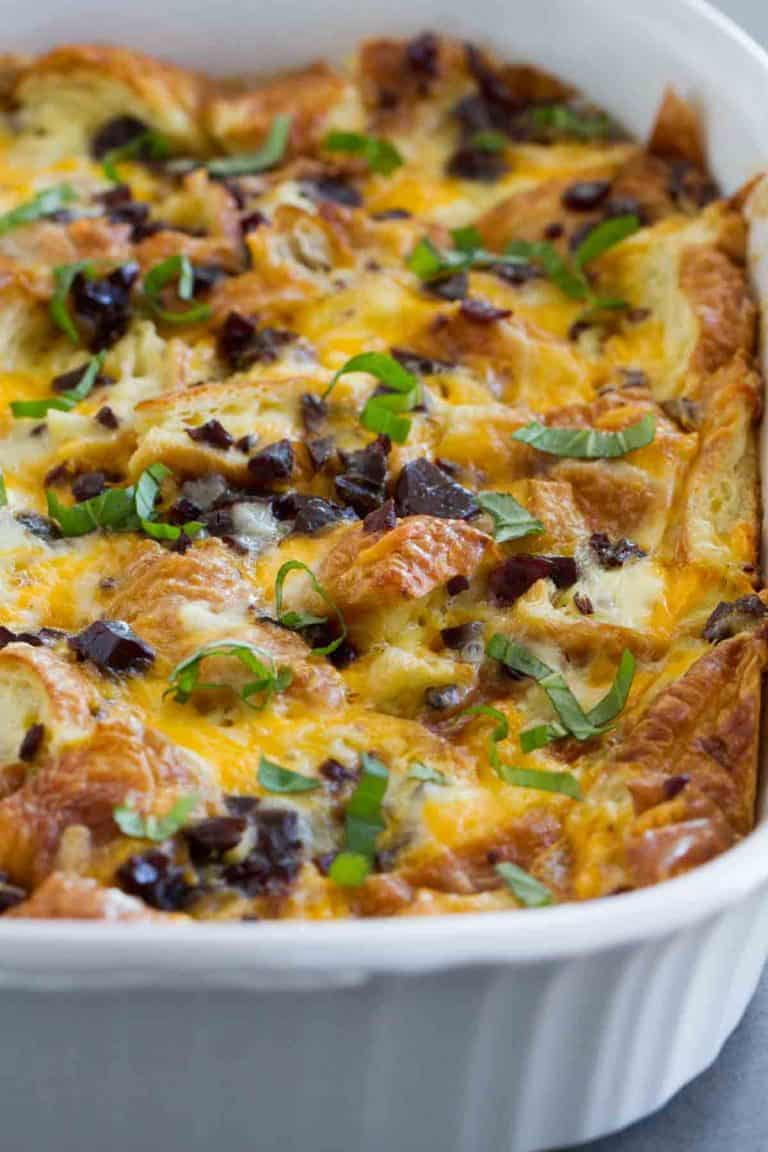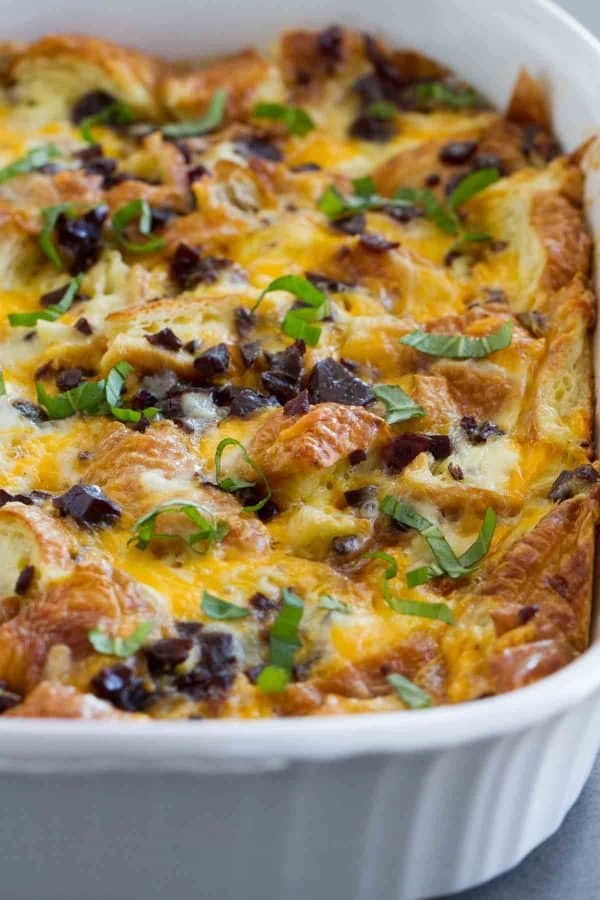 This post is sponsored by KRAVE Pure Foods, Inc. I'm so glad to be able to work with companies and organizations that I truly believe in. Thank you for supporting them, too.
Back to school. Those three words are popping up all over the place right now. Some kids have already started back (what?!?) and others are getting ready to. Parents everywhere are both rejoicing that life will go back to normal, and crying that fun all day every day is ending.
I'm definitely somewhere in the middle there. Excited for school to start, but sad for summer to end.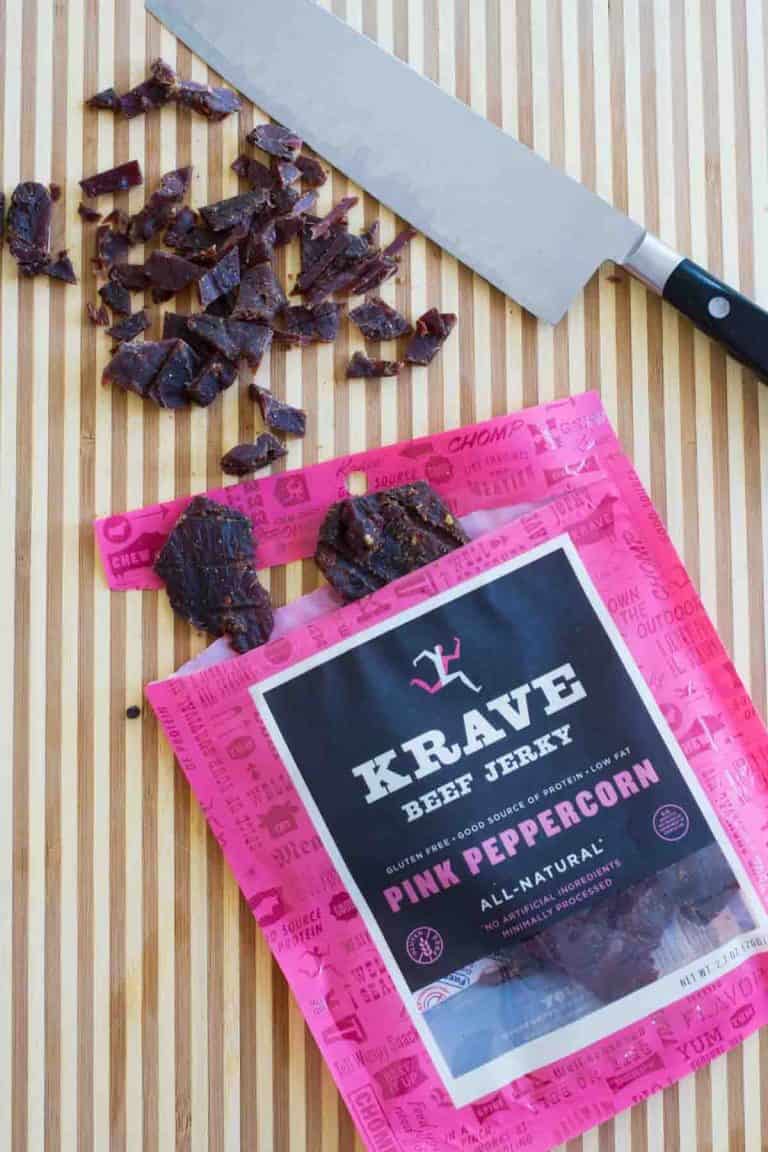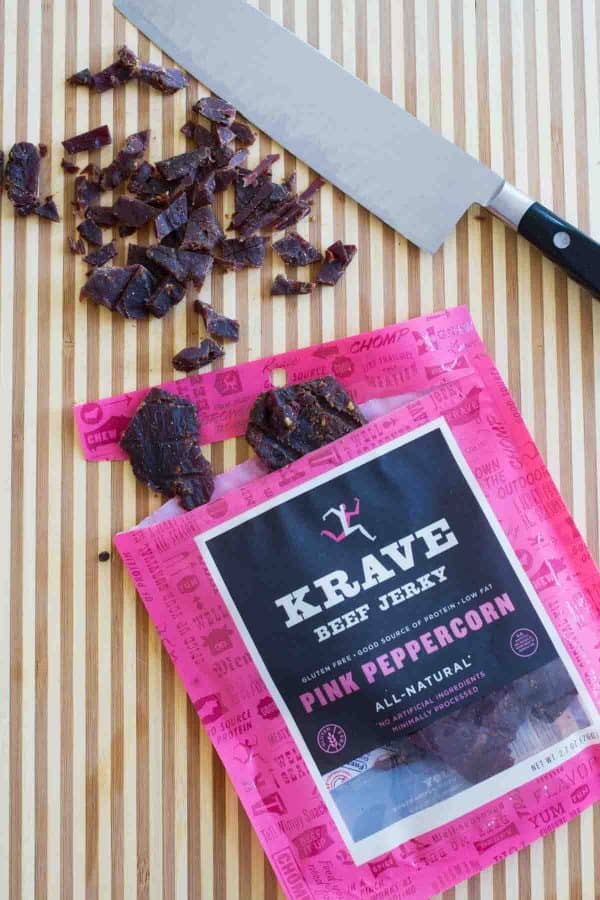 I am excited to get back to cooking regularly again. I will admit that I totally slacked this summer. Cooking during the summer is so hard for me for some reason. Maybe it's the lack of schedule, or the heat that zaps out my energy and will to do anything.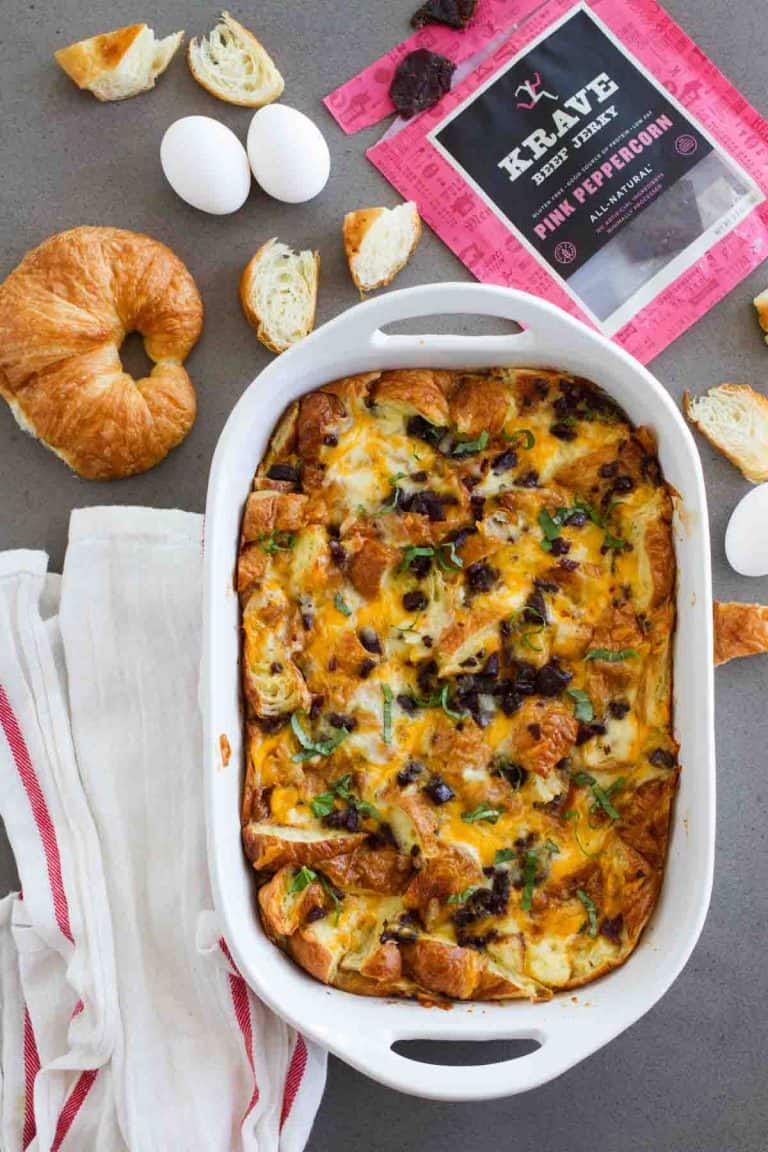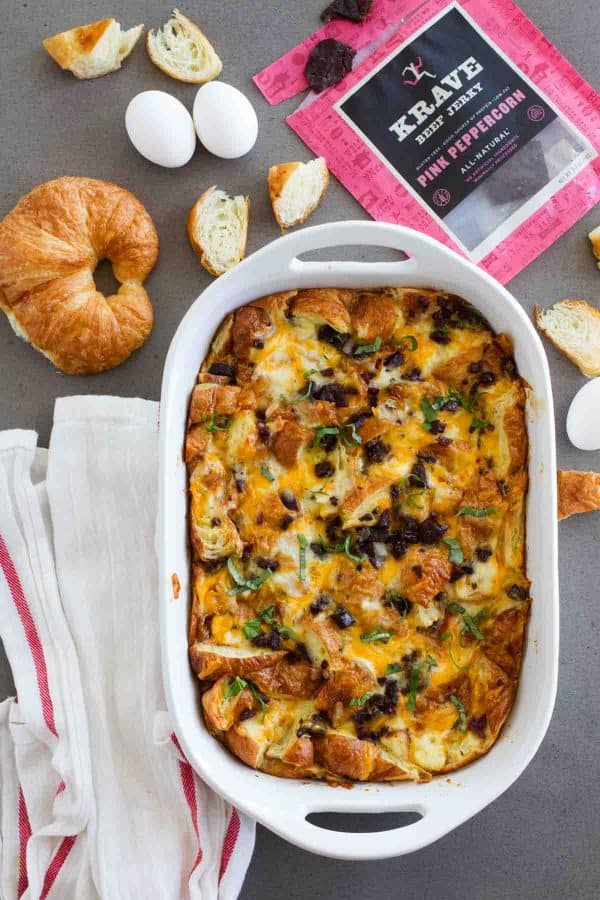 But it's time to kick the morning cereal ritual to the curb. The truth is that my kids would much rather have a hot breakfast than cereal, but this mama struggles with mornings. Back in the day (aka before kids) I was in bed at a decent hour, and up before the sun. These days, I'm going to sleep in the wee hours of the morning, and my kids are having to drag me out of bed in the morning. So it takes me awhile to get going, and my kids want breakfast now.
Enter the perfect solution to school mornings – the breakfast casserole. This isn't the first time I've waxed poetic about the make ahead breakfast, and I'm sure it won't be the last. Seriously – 10 minutes of prep time the night before, then into the fridge it goes until morning. Super easy!! Then, when you wake up in the morning, just pop this croissant breakfast casserole into the oven and do all of your morning rituals while it bakes up. (Why does it seem to take so long to get 3 kids ready in the morning???)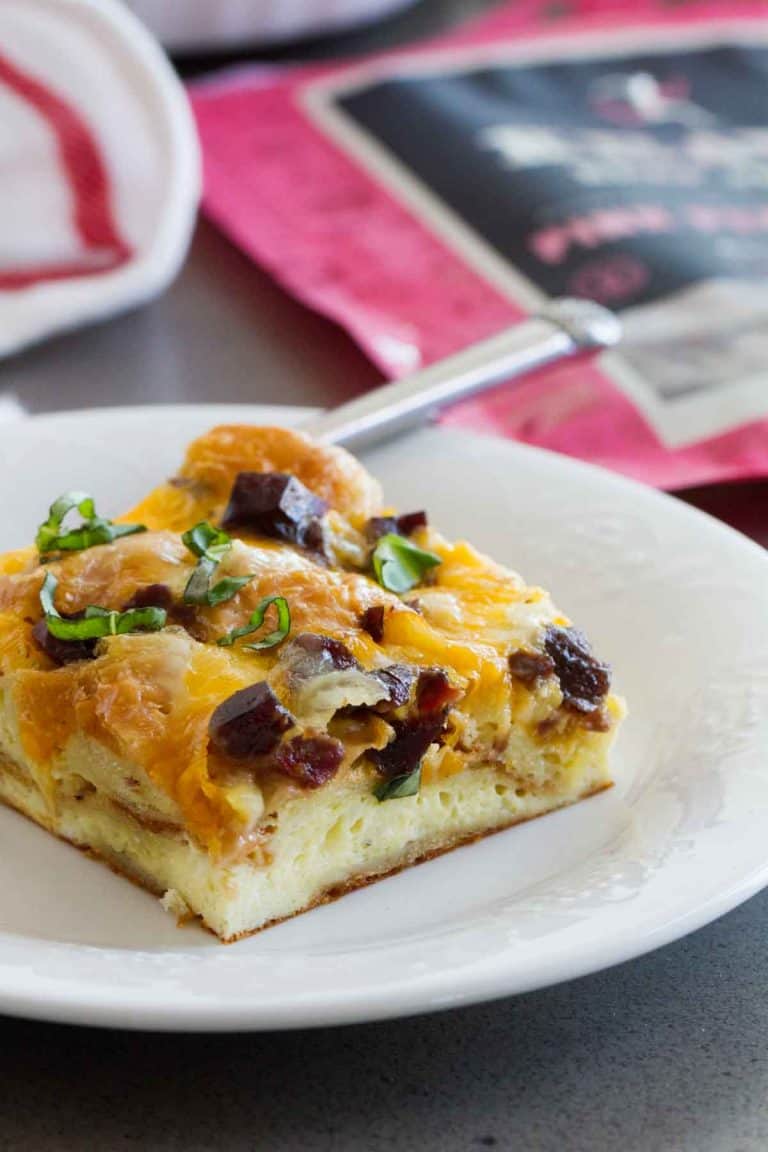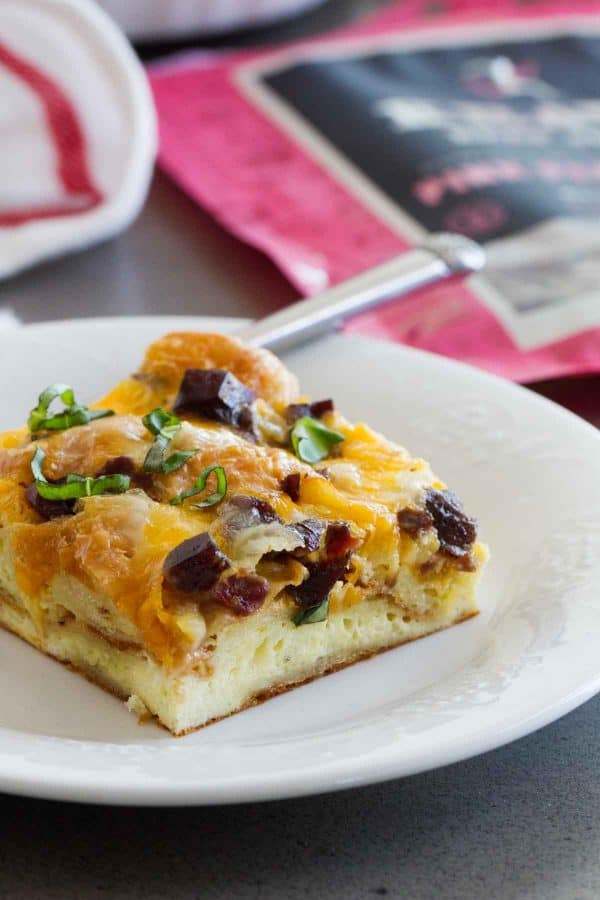 This might be one of my favorite breakfast casseroles. Because it has a secret ingredient: beef jerky. I know – why have I never thought of this before?? I love bacon, but it's not always fast to make. And it definitely makes a mess that you have to clean up. But jerky? All you have to do is chop. Done and done. I am a jerky fanatic, and used my favorite for this croissant breakfast casserole – KRAVE Jerky. No artificial ingredients, minimally processed, and most importantly – it tastes amazing. One of my favorite things about using KRAVE Jerky in this recipe is that you can change up the flavor of the casserole simply by changing the flavor of jerky. In my casserole, I wanted it to be not too spicy and family friendly, so I went with the Pink Peppercorn Beef Jerky. Feeling spicy? Go with the Honey Habanero Chicken Jerky. Maybe a little sweet? Try the Grilled Sweet Teriyaki Pork Jerky. Or how about a bit of bold garlic flavor with the Lemon Garlic Turkey Jerky. There are seriously so many options – something for everyone!!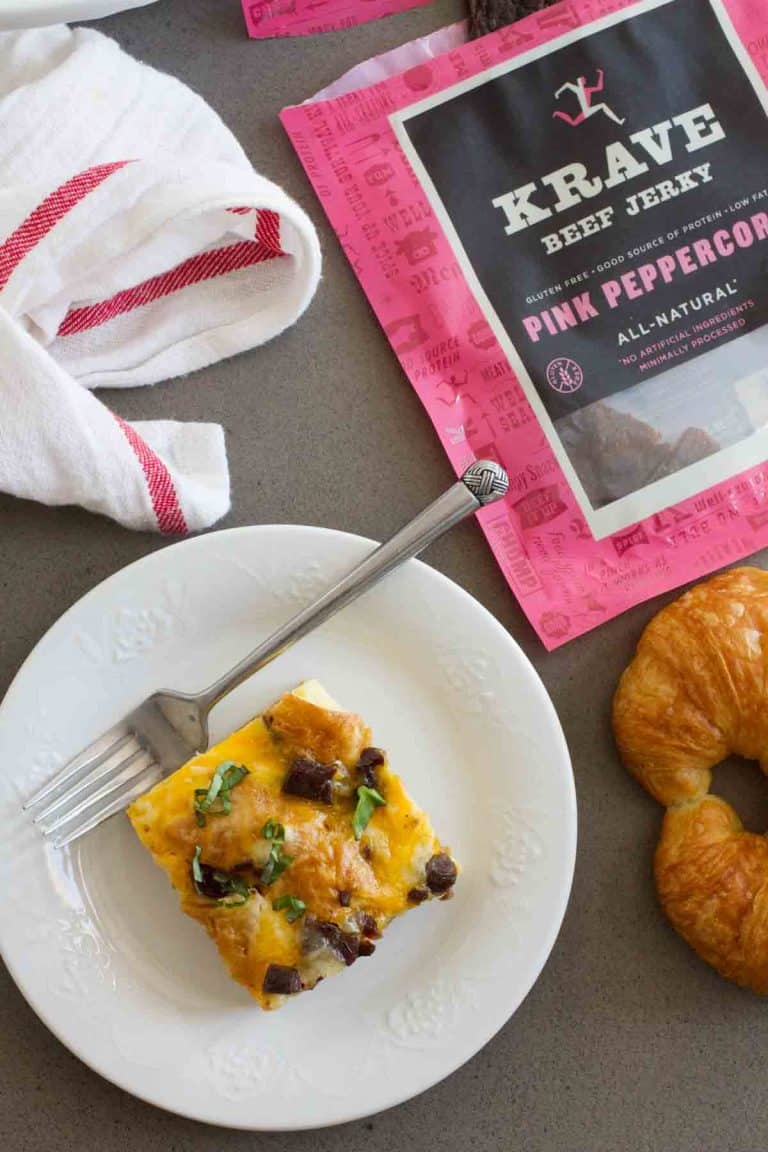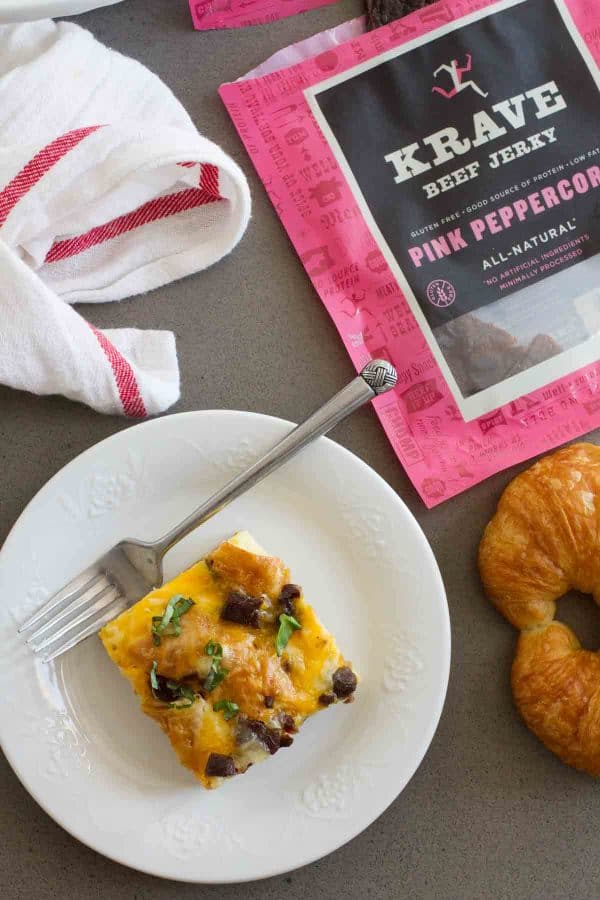 So now you can look forward to those crazy school mornings, because breakfast will already be taken care of. Easy, tasty, and a great way to have a hearty breakfast in the morning!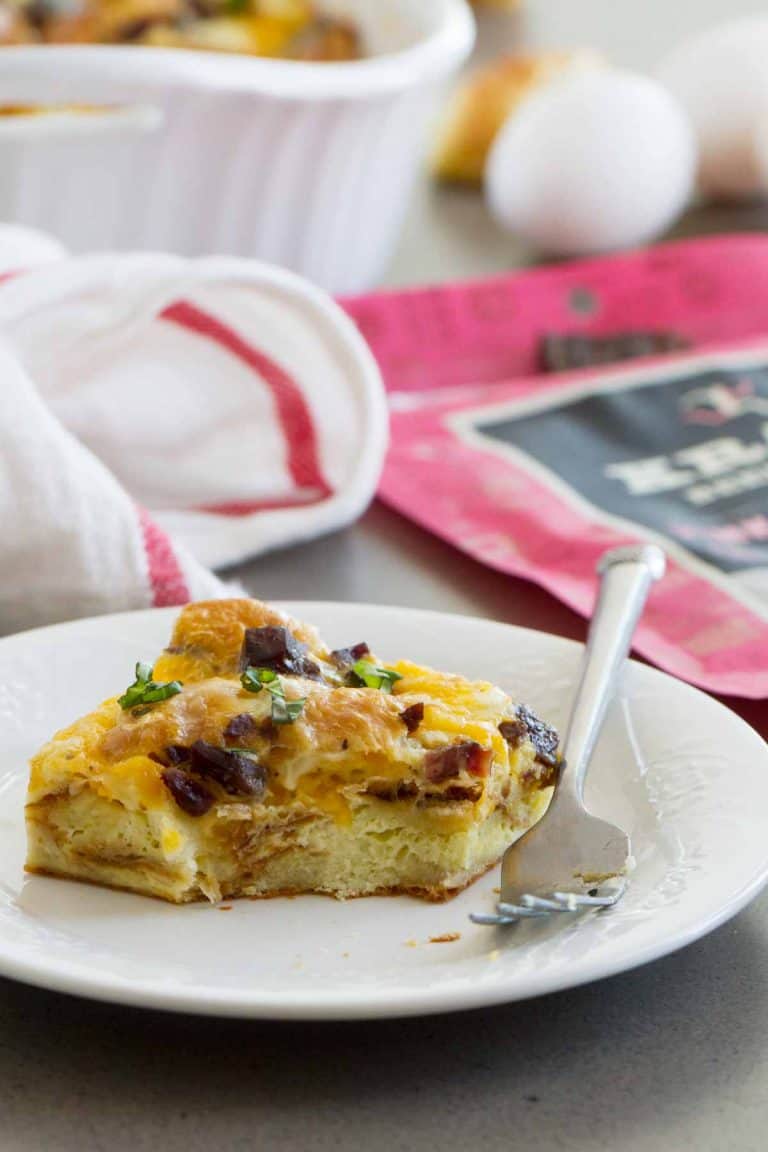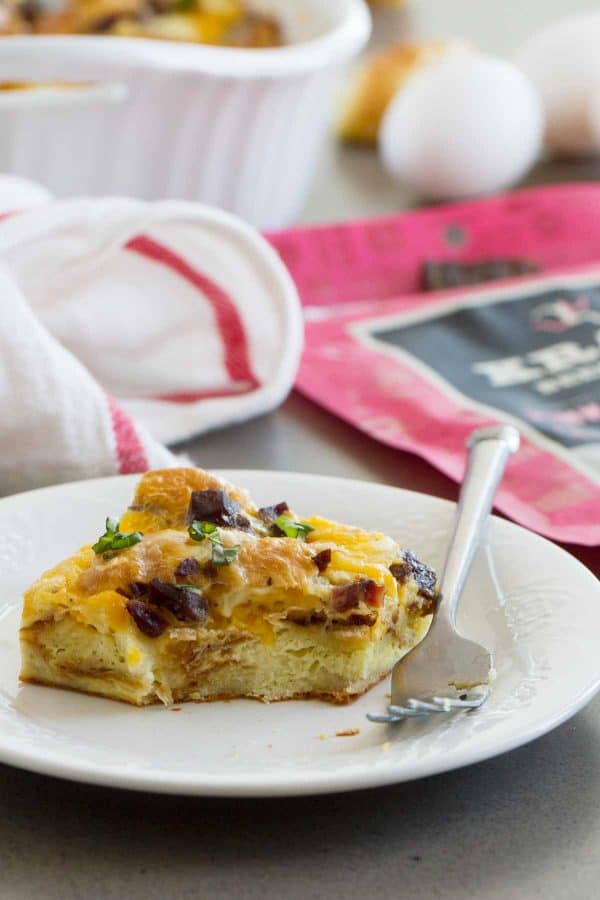 Like what you see here? Make sure you are following Taste and Tell for more recipes and ideas!
Facebook | Pinterest | Instagram | Twitter | Google+ | Weekly Newsletter | Feedly | Bloglovin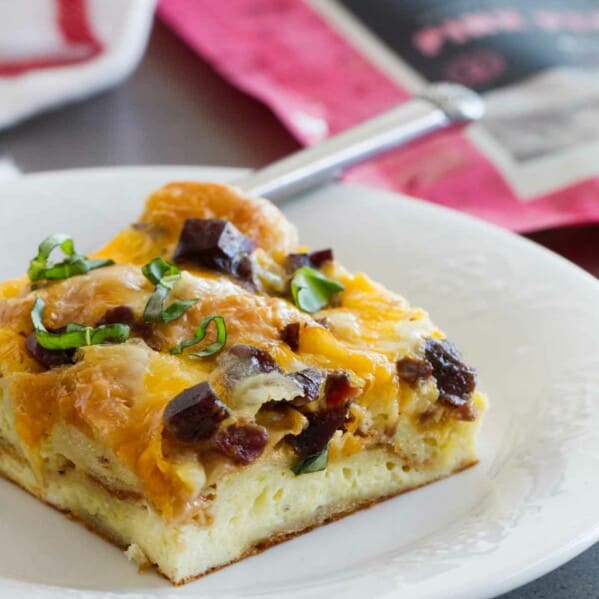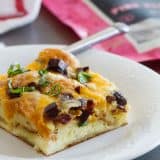 Croissant Breakfast Casserole with Jerky and Cheddar
---
Author:
Prep Time: 10 mins
Cook Time: 45 mins
Total Time: 55 minutes
Yield: 12 servings 1x
Category: Breakfast
Description
10 minutes prep the night before, and breakfast is a cinch in the morning! This Croissant Breakfast Casserole with Jerky and Cheddar is the perfect answer to busy mornings!
---
Scale
Ingredients
1 lb croissants, cut into bite-sized pieces
8 eggs, lightly beaten
1 cup heavy whipping cream
1 1/2 cups shredded cheddar cheese
2 tablespoons sour cream
1 tablespoon Dijon mustard
1 (2.7 oz – 3.25 oz) bag KRAVE Jerky (can use any flavor – I used the Pink Peppercorn Beef Jerky)
---
Instructions
Butter or grease a 9×13-inch baking dish.  Place the cut croissants in the dish.
In a large bowl, combine the eggs, cream, the cheese, sour cream and mustard, and whisk to combine.  Stir in the KRAVE jerky.
Pour the egg mixture evenly over the top of the croissants in the dish.  Use a spatula to press the croissants down, making sure all of the pieces are soaked in the egg mixture.  Cover the dish tightly with foil and refrigerate overnight, or at least 4 hours.
When ready to bake, remove the casserole from the refrigerator and let it set on the counter until the oven is heated.
Preheat the oven to 350ºF.
Once the oven is hot, place the covered casserole in the oven and bake until cooked through, about 45 minutes.  Remove the foil the last 10 minutes of bake time.
Allow the casserole to sit for 10 minutes before slicing and serving.
Recipe Notes:
total time does not include refrigeration time.
Don't miss a thing! Follow me on Pinterest to see what I'm pinning!