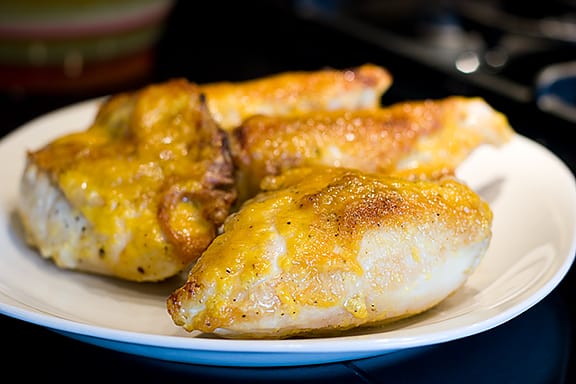 I don't get to watch the Food Network like I used to. Since becoming a mother, I see more Dora than food. Which I guess is ok, since I have about a million recipes I want to try, so I really don't need to be adding more to my list. (Which, even though I say that, grows just about every day!!) I have the few shows that I am a devout watcher of – like 30-Minute Meals, the Rachael Ray Show and lately – $10 Dinners. Melissa d'Arabian was a winner of The Next Food Network Star, and I really love the premise of her show. Feed 4 people on $10 or less. Today, it seems like we can all use some cheap cooking ideas!! I have a whole list of recipes from her first season that I've written down that I want to try. Now, if only I wouldn't have tried this one first…
If you are a regular reader of this blog, you will know that I promise to tell the truth – good or bad. Now, sometimes I think I don't have a very picky palate, because I really do like most recipes, but every once in awhile, I'll come across one that's not all that great. This one falls into that category. I had such high hopes for it because it had 5 stars on the Food Network website, with over 400 ratings and reviews. (Now I'm wondering if it was just me, with all that love…) Our problem with this recipe was not the flavor, though, but the fact that the chicken was super dry. I didn't expect that, using bone-in chicken. I know my oven cooks a little hot, so I did turn the temperature down a little bit, but that still didn't help.
I think that if I were to try this again, I'd do what Alton Brown said to do in the 40 Cloves and a Chicken recipe I made – put a lid on the pan while it's cooking in the oven. That chicken was super moist, and I think that was the trick…
Even though this was the first recipe I've made from this show and it wasn't a huge hit, I still haven't given up. I still have a whole list of recipes to try, so stay tuned for more $10 Dinners!
Crispy-Skinned Chicken a l'Orange
from Melissa d'Arabian via $10 Dinners
serves 4
total time: about 40 minutes
salt and pepper
3 skin-on, bone-in chicken breasts
1 tablespoon vegetable oil
1/2 cup frozen orange juice concentrate
4 tablespoons honey
Preheat the oven to 375F.
Heat the oil in a large ovenproof saute pan over medium-high heat. Salt and pepper all of the chicken breasts liberally. Sear the chicken, skin side only, until browned and slightly crispy, about 5 minutes.
While the chicken is browning, make the orange glaze. In a small saucepan, combine the orange juice concentrate and honey. Salt and pepper to taste. Cook the mixture over medium heat until it boils. Remove from heat.
Once the chicken has browned on the skin side, turn the chicken over and brush each piece with the glaze. Transfer the pan to the oven and cook until the internal temperature reaches 165F, about 15 minutes. Brush the chicken with the glaze and pan juices half way through. Once the chicken is cooked through, remove from the oven and let rest for 10 minutes. Remove the bone from the chicken and slice the meat. Serve.