Crispy Parmesan Shrimp with Spaghetti – a recipe for shrimp crusted with Parmesan and served over spaghetti with broccoli and marinara sauce.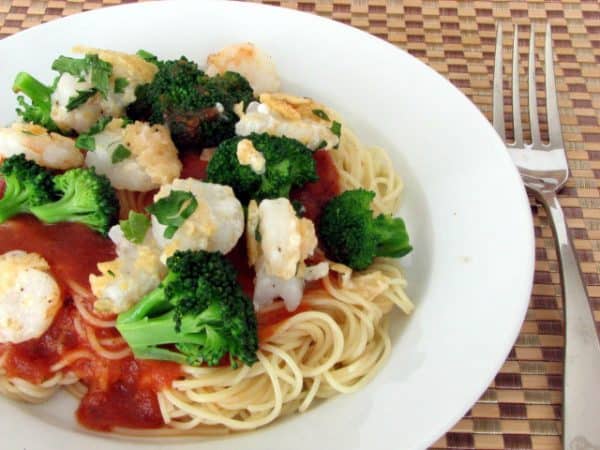 One of the girls I work with knows that I am into food. She works from home, but comes into the office a few days a week to pick up paperwork. Whenever she comes in, our conversations usually turn to food, and what we have been making for dinner. She was telling me about a cookbook that she got for Christmas, and all of the tasty meals that she had made out of it. Well, the next time she came into the office, she brought the book so that I could check it out.
After looking through it and talking to her about the meals she had made from it so far, I got online and ordered myself a copy. But in the meantime until I received my copy, I copied down a couple of the recipes that she had already tried. This was one of them.
Let me remind you of something first – I live in Utah. The nearest ocean is probably over 750 miles away – so I have given up on trying to find fresh seafood here. In fact, the few times that I have bought what the store claimed was "fresh, never frozen" seafood, it was horrible. So I buy frozen. I buy my favorite frozen shrimp from Costco. It has been the highest quality I have been able to find. But I had a bag of frozen shrimp in my freezer from another store, and I thought this dish would be perfect to use it up. What a mistake. This shrimp WAS NOT good AT ALL!
I was so excited to eat this meal, but the shrimp totally ruined it. We each took about 2 bites, and ended up throwing the rest out because even after taking the shrimp off, you could still taste it.
But I know this meal would have been fantastic if the quality of the shrimp was better – and that is why I am sharing it with you. It will probably be a little while before my husband trusts me enough to make something with shrimp again, but from now on I will definitely know where NOT to buy my shrimp from!!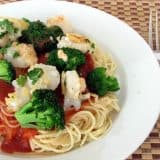 Crispy Parmesan Shrimp with Spaghetti
---
Author:
Prep Time: 10 mins
Cook Time: 15 mins
Total Time: 25 minutes
Yield: 4 servings 1x
Category: Main Dish
Method: Stove Top
Description
Crispy Parmesan Shrimp with Spaghetti – a recipe for shrimp crusted with Parmesan and served over spaghetti with broccoli and marinara sauce.
---
Scale
Ingredients
3 oz Parmesan cheese
1 egg white
1 garlic clove, pressed
1/4 t salt
1/2 t coarsely ground black pepper
1 lb large uncooked shrimp, peeled and deveined
2 tablespoons fresh snipped parsley
8 oz. uncooked spaghetti
2 cups broccoli florets
1 cup marinara sauce
---
Instructions
Preheat oven to 425F. Bring salted water to a boil in a large pot.
Meanwhile, for Parmesan topping, lightly spray a 12-inch nonstick skillet with cooking spray. Grate cheese evenly over the skillet. Cook 4-5 minutes, or until the cheese is lacy and golden. Starting at edges, immediately loosen the cheese with a small spatula or turner and slide the cheese onto a cutting board to cool completely. When cool, coarsely crush into crumbs.
For the shrimp, whisk together the egg white, garlic, salt and pepper in a bowl. Add shrimp to egg mixture and toss to coat. Arrange in a single layer in an oven safe dish.
Sprinkle parsley over the shrimp and then sprinkle the cheese crumbs over the top. Bake 10-12 minutes or until the shrimp are cooked through.
Add pasta to the water and cook for 4 minutes. Add broccoli to the boiling water and cook for an additional 2 minutes, or until pasta and broccoli are cooked to desired doneness.
Put the marinara sauce in a microwave safe dish, cover, and cook for 2-3 minutes or until heated through. Drain the pasta and broccoli.
Divide pasta and broccoli among serving plates, top with marinara and shrimp. Serve.
Recipe Notes:
from The Pampered Chef 29 Minutes to Dinner