Crispy Coconut Oatmeal Cookies – oatmeal cookies are filled with coconut and Rice Krispies in these crisp cookies.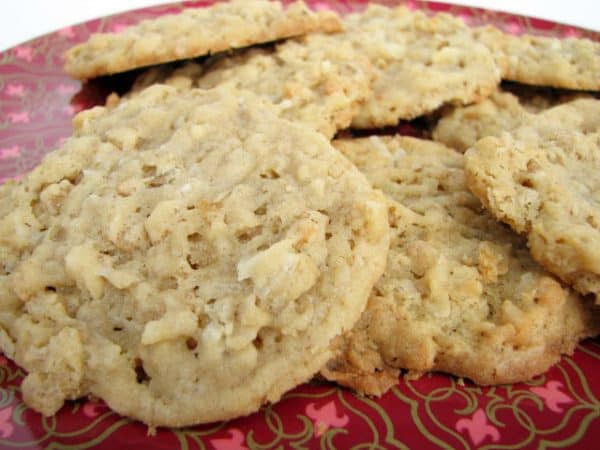 Last Friday, I was both honored and surprised to be mentioned in the Finest Foodies Friday by Jenn at The Leftover Queen. I was giddy with joy when she mentioned my cookbook project, but then I went over and looked at my list and realized that I still have quite a few cookbooks that I need to work on! (I think the project would have been easier if I could just stop buying cookbooks!)
Then I realized that it is already June, and I went over and counted that I still have 25 cookbooks on the list that I need to cook from before the end of the year! And I'm embarrassed to say that there are a few new cookbooks that I haven't posted to the list yet, so that means I have more than 25 cookbooks that I need to post from.
The good thing about this is that I have hit several of these cookbooks, but I just haven't blogged about the recipes yet. So I went through the archives today to find one so that I could cut that list down just a little bit!! This recipe comes from a cookbook that I have had for years – Southern Living All-Time Favorite Cookie Recipes. I have a few cookie cookbooks, but really – can you have too many cookie cookbooks?!?
I hate to admit that before this cookie, I had never cooked from this book before. I have looked through it thousands of times, but for some reason, I never got around to cooking from it.
Cookies are such a great thing. Feeling like something sweet but don't want to spend hours on an elaborate dessert? Need something portable that can be packaged up for lunches? Needless to say, we really like cookies at our house. Well, one of those cookie cravings hit one night, but I didn't want to have to go to the store for any ingredients. I debated over a few different cookies, but decided to make these crispy coconut-oatmeal cookies because they sounded a little different and I had everything on hand.
These are a different cookie. Although I usually prefer soft and chewy cookies, these are more on the crisp side. The "crispy" comes from the fact that they have crisp rice cereal – aka Rice Krispies – in them. As if you didn't already know, I love coconut, so these sounded like a real winner. And they were!! I can't say that they were the best cookie I have ever made, but we had eaten them all in no time flat!!
Another cookbook down – which one to hit next??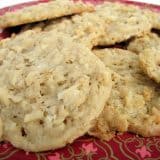 Crispy Coconut-Oatmeal Cookies
---
Description
Crispy Coconut Oatmeal Cookies – oatmeal cookies are filled with coconut and Rice Krispies in these crisp cookies.
---
Scale
Ingredients
1 cup butter
1 cup sugar
1 cup firmly packed brown sugar
2 large eggs
1 teaspoon vanilla extract
2 cups all-purpose flour
1 teaspoon baking soda
1/2 teaspoon baking powder
1/2 teaspoon salt
2 cups regular oats (uncooked)
2 cups crisp rice cereal
1 cup flaked coconut
---
Instructions
Preheat oven to 350F.
Beat the butter, sugar and brown sugar at medium speed in an electric blender until blended. Add eggs and vanilla; beat well.
Combine flour, baking soda, baking powder and salt. Add to the creamed mixture, mixing well. Stir in oats, cereal and coconut.
Shape dough into 1-inch balls and place 2 inches apart on a lightly greased cookie sheet. Flatten slightly with a fork or the bottom of a glass. Bake for 12 minutes or until done.
Transfer to wire racks to cool.