If you love drool-worthy food photography, you want to get to know today's Blogger Spotlight, Tiffany from Creme de la Crumb. I have been following her blog for a little while, and always leave her blog hungry. She posts everything from easy dinner ideas like Grilled Malibu Chicken to decadent desserts like Hot Fudge Ripple Mint Chocolate Chip Ice Cream. I was lucky enough to meet Tiffany in person a few months ago, and she is as sweet as can be. Thanks for sharing with us today, Tiffany!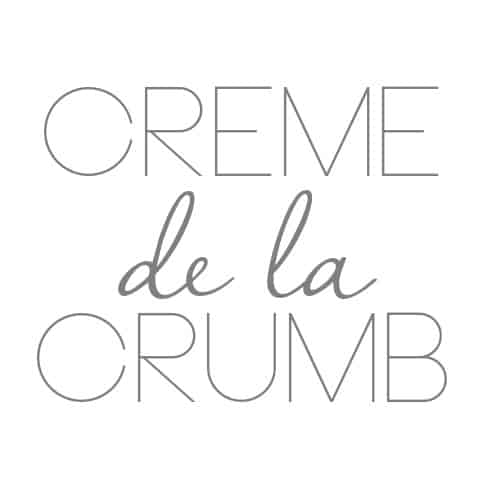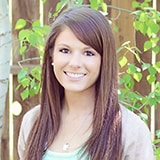 Heyyyy! I'm Tiffany, a self-taught cook and photographer, lover of boats, and self-proclaimed connoisseur of all things delicious. I like to think I'm an adventurous kind of gal, pushing limits in life and in the kitchen. My 10-year old self would never recognize the person I am today – I hated cooking when I was a kid! Oh I was a pro at eating, I had that down, but making food was not my thing. Now I cook every single day, sometimes for 8 hours at a time because, well… when I do something, I tend to go all in and admittedly, a little overboard. Like with sriracha. On ice cream? Um, yes. When I'm not cooking, I'm sleeping. Just kidding! In addition to my ever expanding blogging career, I am a full-time student, part-time wannabe pro water skier, and a full-time wifey to the biggest hunk everrrr.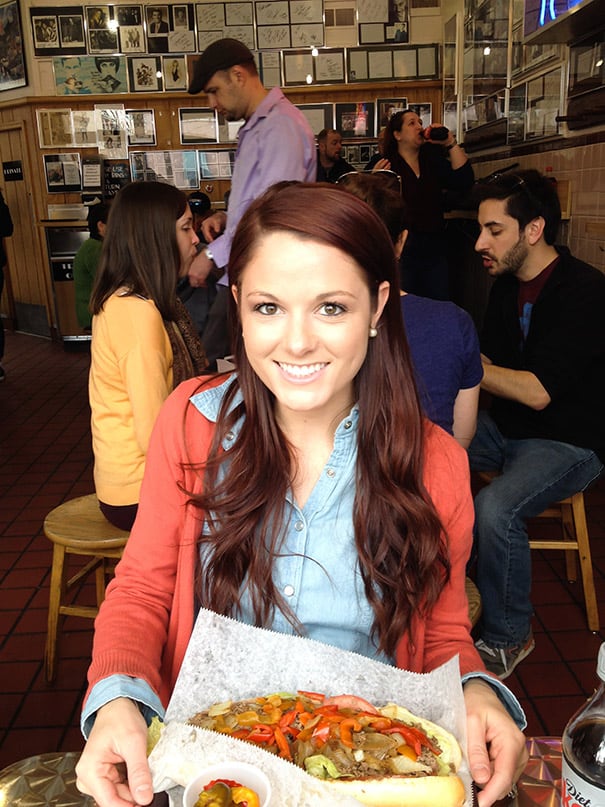 What inspired you to first start writing Creme de la Crumb?
Oh boy. Remember that whole couldn't cook as a child thing? Well when I married my husband, I was still absolutely useless in the kitchen. After many many nights of cereal or eating out, I decided to mix things up. I did my best to re-create an Italian dish we'd tried and loved when visiting Washington D.C. I gave it my best shot and it actually came out edible, in fact my husband loved it and requested it again. Oops, problem-o. I didn't use a recipe and I didn't take any notes so I had no idea how to make it again exactly as I had the first time. (sad face) I'd had a photography blog for a couple of years as a source for showing clients my work and I thought I could use the same method to catalog my successful endeavors in the kitchen, at the very least so that I could re-make the dish later. That was how it began, but time and hard work have turned my blog into much more than a recipe diary!
Where do most of your recipes come from?
Most of my very first recipes were inspired by other blogs, as well as recipes in magazines and cookbooks. I still am inspired by those sources but most of my recipes are inspired by personal experiences or are a product of my creative side going a little crazy. And then there are those recipes that develop as a result of my multi-faceted personality and inability to be decisive. For instance this Peaches n' Cream Caramel Pecan Milkshake. I couldn't decide between a peach smoothie and a caramel pecan milkshake, so I just smooshed em' together and got the best of both worlds.

Peaches n' Cream Caramel Pecan Milkshake
Do you plan a weekly menu? If so, what inspires your menu?
I'm notorious for trying to cram more than humanly possible into the 24 hours we are allotted in a single day, so I must plan to keep my sanity. Every weekend I start putting together a menu for the next week. I generally do 4 dinners, 2 side dishes, and a couple desserts or maybe a breakfast item. I love planning this way because I just get everything purchased in one trip and don't have to run to the market 90 billion times throughout the week to get the ingredients for dinner the next day. It also helps to keep my budget in check. When I look at my menu and see shrimp, lobster, and ribeye steak, I know I should probably rearrange things so I'm only purchasing one "big-ticket" item and save the others for future weeks. As far as what inspires my menu, I generally go off of my cravings which are pretty consistent and reliable ha. I also try to switch up the cuisine each week, so I'll maybe include an Asian-inspired dish, an Italian one, and a Mexican-style meal. I also like to change up the cooking method so I'm not grilling for a whole week and then using my slow cooker every day the week after that.
What is your favorite kind of food to make?
I go through phases actually. I will be obsessed with cupcakes for a while and then all of a sudden I'll make 7 kinds of grilled chicken. But if I had to choose the one thing I always love to make and try to sneak into the menu whenever possible it would have to be tacos. I heart tacos BIG TIME. It's safe to say they are my favorite food, and that's saying a lot since I adore all kinds of food. But I love that tacos are so dang versatile. They're like little chameleons. You can load them up with seafood, red meat, poultry, or keep it vegetarian. Heck, I've even made dessert tacos. They're small so you can have 11 and not feel guilty (ahem.) and they can be as simple or as complex as you are in the mood to make them. I have to put a little sticky note on my menu-making notebook to remind myself "NOT EVERYONE ON THE PLANET LOVES TACOS AS MUCH AS YOU DO!" so I don't put tacos on my blog 7 days a week.
What is your favorite recipe posted on your blog?
Oh wow could you have picked a harder question?? It's really difficult to narrow it down because I basically love it all or I wouldn't share it with my readers. And I've got a few up my sleeve I haven't posted yet that are definitely at the top of my favorites list. But if I had to choose one right this minute, I'd probably go with my Grilled Chicken Taco Salad + Spicy Cilantro Lime Dressing – I could eat this salad all. day. long. Plus it's purrrrdy.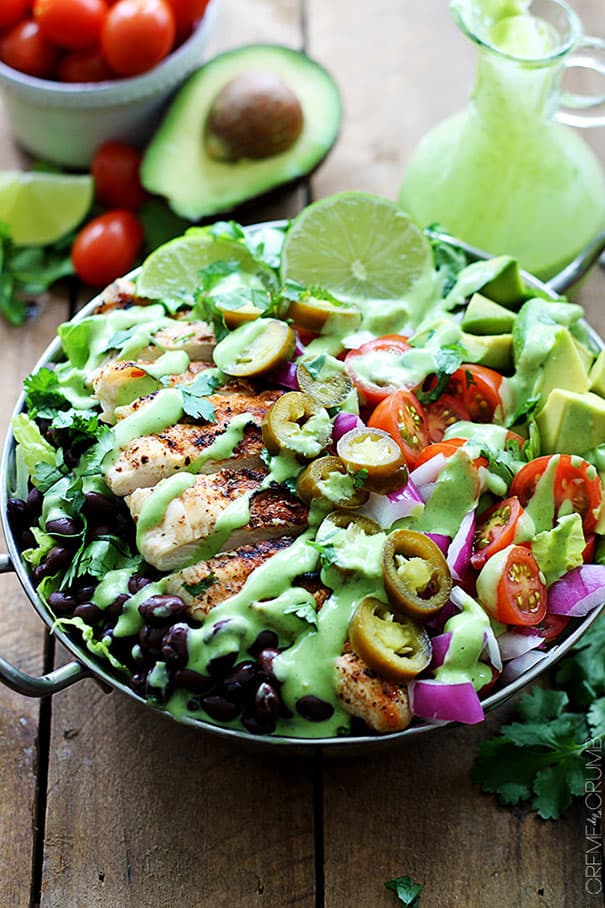 Grilled Chicken Tacos Salads with Spicy Cilantro Lime Dressing
What is your favorite kitchen tool/appliance?
I don't know how I ever managed before my Blendtec. I know I must've been able to pull through somehow but now that I have a Blendtec and use it nearly every single day, I can't imagine ever living without it! The thing I love most about it (besides its crazy-amazing ninja skills for chopping ice) is that it works for so many different kinds of foods. Smoothies sure, but you can make salsa, pasta sauce, peanut butter, almond milk, and about 4 million other things with it. Hands down it's my favorite kitchen appliance.
What is your best tip for getting dinner on the table?
Mise en place. That's french for think ahead and do prep work! No but really. Just think of what you're going to make for dinner the next day. Is it chicken? Get some out of the freezer and put it in the fridge to thaw overnight. Sauces can often be made ahead of time or dressings for salad. You can even bread chicken or shrimp ahead of time and then pop it in the oven 20 minutes before dinner. Your life will be soooooo much easier if you think ahead and do prep work. Say it with me: Just do it.
What is your favorite part about blogging?
The photography. No wait the cooking and creating. No no no, definitely eating the food. I dunno, it's all so darn great.
What is your best tip to becoming a successful blogger?
Oh for heaven's sake, just one tip?? Ummmmm, well one thing that probably covers several of my big pointers would be to have faith in yourself. Seriously though, don't let what other people think or say determine how you and your blog develop. You can be whatever you want to be and you can do whatever you want to do. Pull your big girl (or big boy…) pants on and build yourself a future. Be true to yourself and what you want to blog about. Never give up on yourself, even when you feel like everyone in the universe has a personal vendetta against your blog and you think your pictures totally suck, just keep going. Let that frustration encourage you to do bigger, better things.
If you could travel anywhere in the world – just for the food – where would you go?
India, for sure. I love me some Indian food.
——————-
I knew I liked you, Tiffany – we share a love of tacos! (And I'd totally read a blog all about tacos fyi…)
If you want to see more from Tiffany, here is where you can find her:
Blog – Creme de la Crumb
Facebook
Pinterest
Instagram
Google+
Twitter