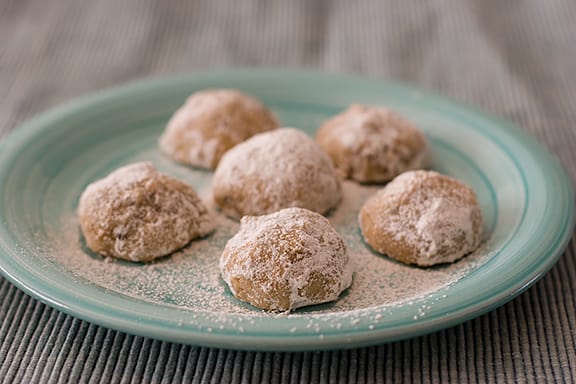 These cookies almost didn't make the list. It's not because they aren't delicious – they are extremely delicious and extremely addictive – but they did not work out for me on the first time around. See, whenever I make cookies, 85% of the time they are simple drop cookies. These took a little more work. You make the dough, which in the instructions says that the dough will be crumbly. Well it was definitley crumbly. So crumbly that I had no idea how it would stick together into balls. I tried rolling it with no luck. So I added some water. At first, I thought I was so smart. The balls came together, I put them on the baking sheet and into the oven they went. But what came out of the oven were gooey little balls – not the sandy-textured cookies I was expecting. They still tasted good, but they definitely didn't look right. But the taste won me over and I was determined to try again.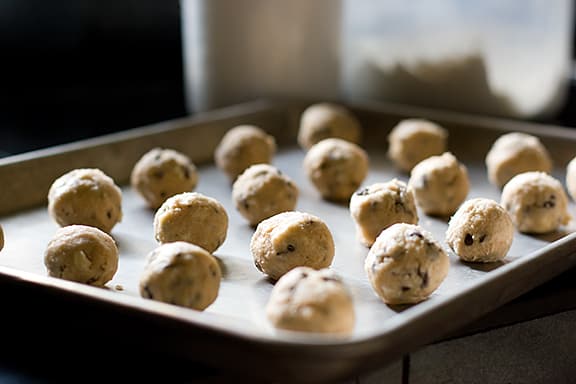 The next day, I went for try #2. I figured I messed up on the ingredients somehow the first time around, so I payed special attention this time. But the dough was the same. Super crumbly – not sticky at all. But then I figured it out. If you put some of the dough in one hand, then rub both hands together to form the ball, the heat from your hands slightly melts the butter which makes them stick. I'm not sure if this is really the correct way to do it, but it worked! And I got perfect cookies out of the oven. And so delicious that my husband and I ate both batches – the good and the bad. I think I'm going to need to go on a major sweets detox once these 12 days are over!!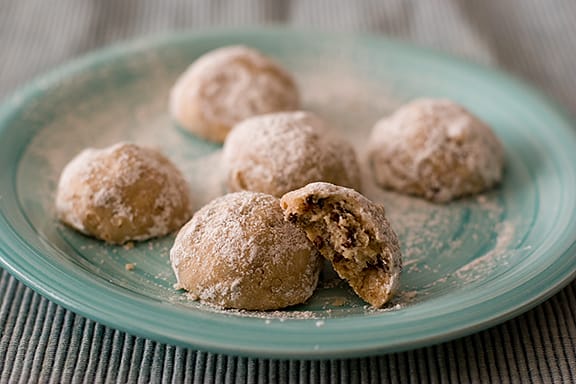 Cinnamon-Chocolate Chip Butterballs
from Betty Crocker Christmas Cookies Dec/Jan 2009
Makes 2-3 dozen cookies
1 3/4 cups all purpose flour
1/2 cup powdered sugar
1 1/2 teaspoons ground cinnamon
1/2 teaspoon salt
1 cup cold butter
1 cum miniature semisweet chocolate chips
1 teaspoon vanilla
1/2 cup powdered sugar
1 teaspoon ground cinnamon
Heat oven to 400F. In a large bowl, mix flour, 1/2 cup powdered sugar, 1 1/2 teaspoons cinnamon and the salt. Cut in butter, using pastry blender or fork, until mixture looks like coarse crumbs. Stir in chocolate chips and vanilla (mixture will be crumbly).
Using hands, shape dough into 1-inch balls. On greased cookie sheets, place balls 1 inch apart.
Bake 6 to 8 minutes, or until set but not brown. Immediately remove from cookie shets to cooing racks. Cool slightly, about 20 minutes.
In a small bowl, stir together 1/2 cup powdered sugar and 1 teaspoon cinnamon. Roll cookies in sugar mixture, shaking off excess back into bowl. Cool completely, about 30 minutes.