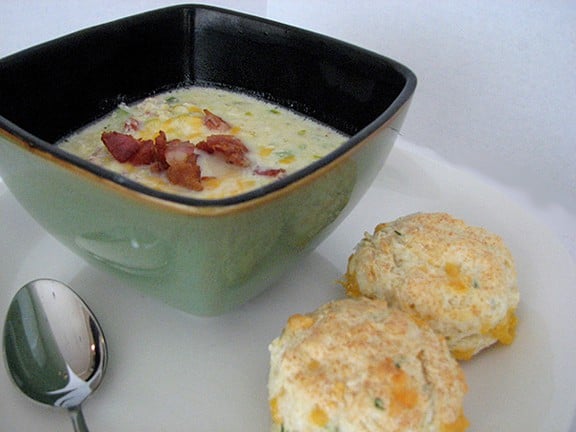 This is the soup I was originally going to enter for Running With Tweezers Super Soup Challenge. And then I saw Peabody's entry, which was a smoked corn chowder, and I knew I couldn't compete!! So I entered a delicious clam chowder that I had made and not blogged about, and so now, a bit later, you are finally getting my corn and cheese chowder.
This recipe comes from a cookbook that I realized I might have stolen from my mother. I don't know, though, maybe she gave it to me and I just don't remember? I guess I need to get to the bottom of this…Anyhow, it is an old church cookbook – put together with recipes from different women from the church. It's not quite retro, but it was published in 1986, which I can't believe was over 20 years ago! These kinds of cookbooks are the perfect place to go when you are looking for a down home meal. I was looking for recipes to plan my menu, and I opened to the soup section, and this was the first recipe I saw. I don't think I even looked at any other recipes – that one sounded good so why keep looking!?! Plus, corn was at it's peak, and we are big chowder eaters, so I knew this would go over well.
The recipe calls for 1/4 cup of chopped ripe pepper, and I had no idea what kind of pepper it meant, so I just chose an Anaheim pepper that looked good at the market. It worked well – but this is really very versatile, and I'm sure any kind of pepper would work. It also calls for canned corn, but I used fresh. I think I used about 3 ears of corn, and it was the perfect amount.
OK, here is where my stupid moment comes in. I have made enough soup, and seen it done on tv hundreds of times, so I knew that an easy way to thicken up the soup is to take part of it, put it into the blender, blend until smooth, and then add back into the pot of soup. Well, being the lazy person that I am, I thought I'd take a shortcut. I thought I could take the immersion blender, put it into the pot, blend for a few seconds, and that way I wouldn't have to get out the blender and I would keep the mess at a minimum. Well, that doesn't work! Instead of pureeing a small amount that gets stirred back in, I just kind of separated what was already in the pot. It wasn't very pretty to look at!! But it still tasted great, and that's what really counts, right??
I saw these biscuits on Pinch My Salt the same day I had planned on making the soup. I thought they would make a perfect match, and they really did go well together. The biscuits come together very easily, and I used a mix of rosemary, thyme, and oregano from my garden. A super easy companion to any meal!! The only change I would make is to add some garlic – but I think I am just a garlic addict and want it with everything!! You can find the recipe here.
Corn and Cheese Chowder
Courtesy of Lucy Mae Kempton in "For My Household"
1/2 pound bacon, cut into small pieces
1 cup chopped onion
1/2 cup chopped celery with 1/4 cup chopped celery leaves
1/2 cup chopped green pepper
1/2 bay leaf, crumbled
2 tablespoons flour
1 (16 oz.) can whole kernel corn (I used fresh corn, cut off the cob)
1/4 cup chopped ripe pepper
1 1/2 cup grated Monterey Jack cheese (or cheddar)
3 cups milk
1 1/4 teaspoon salt
1/8 teaspoon pepper
Fry bacon and drain. Set aside. Pour off all but 3 tablespoons fat from pan. Add onion, celery, celery leaves, green and ripe pepper, and bay leaf. Saute about 8 minutes or unitl vegetables are tender-crisp. Mix in flour and add corn, milk, salt and pepper. Cook, stirring until soup boils and is slightly thickened. Before serving, stir in 1 cup of cheese. Sprinkle remaining cheese and bacon pieces over individual servings.
Serves 4