Just think Almond Maple Pumpkin Muffins, Habanero Jack Grilled Cheese with Pears and Prosciutto, or Roasted Strawberry S'mores. If any of those sound good, you definitely need to check out today's Blogger Spotlight, Marnely from Cooking with Books. I'm so excited to have Marnely here today, sharing a little bit of herself with us.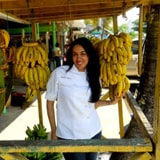 I was born and raised in Santo Domingo, Dominican Republic and thus one of my favorite foods is Dominican food. After graduating from a BPS degree in Hotel Administration with a Food & Beverage Concentration, I worked in Santo Domingo for a year or so, and then, I decided it was time. It was time to spread my wings and head out and explore. I started my exploration by signing up at The Culinary Institute of America, for their AOS degree in Baking and Pastry Arts in Hyde Park, New York. After graduating from the CIA, I found myself with a job on the island of Martha's Vineyard, on the coast of Massachusetts. Little did I know that this island would change my life and I'd end up meeting the love of my life, M. We currently both live and work on MV as sous chefs at a private golf club during the season and during the off season, travel and visit with friends and family.
What inspired you to first start writing your blog?
My husband and I took a trip to Las Vegas a few years ago and literally ate our way through The Strip. Everything from fine dining restaurants to random buffets, we ate it all! Once I got home, I needed a place to share all these experiences! I wanted people to know where to go in Vegas and what to eat while there! I had been blogging for five years (personal journal), so a food blog was naturally the next step.
Where do most of your recipes come from?
Typically, when I'm cooking – I don't cook with recipes. I certainly do bake with recipes, but cooking comes more naturally to be and since I trained professionally as both a baker and cook, I just love throwing things that I know will work together. And that's why blogging savory recipes like soups and stews is so hard for me – I rarely follow recipes!
What is your favorite kind of food to make?
Definitely pastas. Nothing is more comforting than a creamy, rich pasta. Even the not so rich ones like my Avocado, Tomato, and Basil Pesto Hummus Pasta Salad always hit the spot.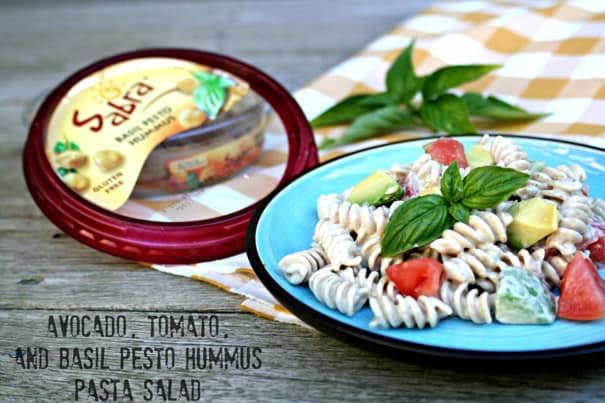 Avocado, Tomato and Basil Pesto Hummus Pasta Salad

What is your favorite kitchen tool/appliance?
A sharp knife. I can slice, dice, chop, and mince everything and anything. And to accompany it, a heavy cutting board that doesn't move around. Quick tip: to prevent your cutting board from sliding around, place a damp towel underneath it!
When you really want to cheat, what do you eat?
White rice! I'm Dominican, so rice is a staple in my country. And since rice is such a great vessel for amazing flavors, I just throw together whatever I have available. My Shrimp and Bacon Stir Fry Rice is my current favorite way to eat rice.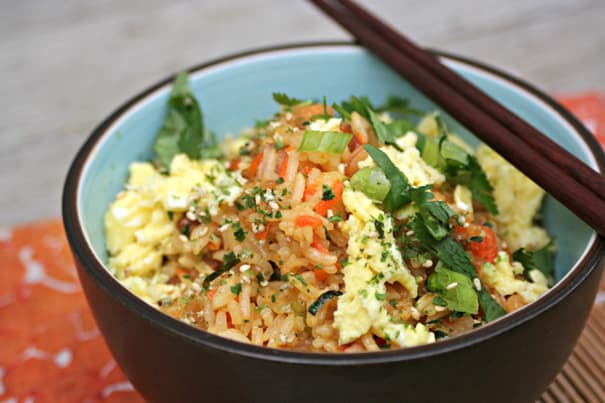 Shrimp and Bacon Stir Fry Rice
If you could travel anywhere in the world – just for the food – where would you go?
Thailand! I love anything spicy and I can just imagine the outdoor markets filled with colorful spices in Thailand. Some of my favorite dishes are Thai dishes, specifically any type of curry.
What is the best thing you've ever eaten? The strangest?
The best thing? That's a tough one. Prune stuffed Gnocchi at No. 9 Park in Boston. Foie Gras Macaron at Eleven Madison Park in New York. A $5 dry-aged burger at Foxwoods Casino. My husband's risotto. Oh and the strangest? Deep-fried rattlesnake!
What is your favorite part about blogging?
Connecting with other food bloggers and readers. The friendships I've made thanks to the blog have made me a better person – a better blogger, a better friend. The food blogging community is one that I love, support, and stand by!
What kind of camera/lens/equipment do you use?
Funny things is – I only use my iPhone 4S. I know, I know, the 5's are supposed to have amazing cameras, but I have yet to upgrade. This summer I used my neighbors DSLR for a few shots, but always go back to my iPhone. It's simple, low maintenance, and makes me happy. So that's about it for me.

Any suggestions or hints to have great food photos?
Since I do shoot with an iPhone, I always shoot in natural light. If I don't have natural light, I just won't photograph. Keep the styling simple, no one wants to have a million rusty forks and textures surfaces – showcase the food first.
——————–
Thank you, Marnely! If you want to see more from Marnely, here is where you can find her: