**Win a copy of Emeril at the Grill! See the bottom of the post for details**
Why does it seem like all men have the innate ability to grill? Now, I haven't done a scientific study or anything, but it seems like most men – if you ask them (or their significant other) if they cook, they will most likely say that they love to grill. I know my husband is that way. He is the official griller and breakfast maker at our house.
So I was surprised when he relinquished his grilling duties to me for a meal so that I could try out a few recipes from Emeril at the Grill – A Cookbook For All Seasons. I really had a hard time decided what recipes I wanted to start with, but really, from all of the time I've spent drooling over these recipes, I don't think you could go wrong!
And judging from the results of this meal, I'll be using this cookbook quite often!!
First were the sweet potatoes. Oh, how I have developed a love with sweet potatoes. And combined with onions and cheese and the smokiness from the grill – this side dish was just heaven for me. I had never had a grilled sweet potato, but I will be grilling them more often now!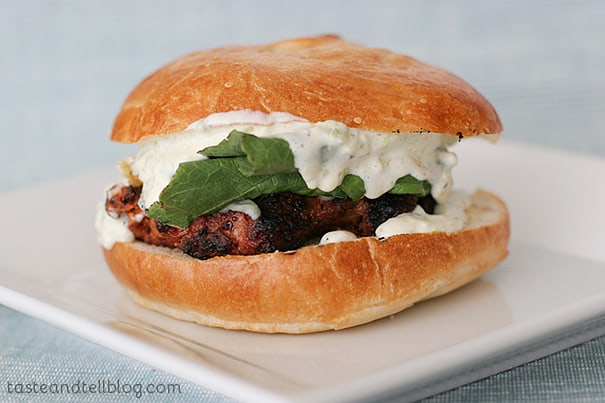 And this burger! I have to admit that my husband is the best burger maker. He can just throw things together and end up with the most delicious, finger licking good burgers. But I do have to say that this different spin on the burger rivaled his burgers! And the green chile mayo amazing. I ate the left over mayo on sandwiches the rest of the week and was sad when I ran out.
Grilled Chocolate Sandwiches
And how about a dessert that is not only delicious, but is a piece of cake to throw together? This dessert would be perfect if you are entertaining guests at a backyard bbq, because you will have plenty of time to spend with your guests and not have to worry about slaving over the grill. It literally took minutes to make and was so delicious that I am still craving one today!
Grilled Chocolate Sandwiches
from Emeril at the Grill
Makes 6 sandwiches
12 1/2-inch-thick slices of challah, brioche or pound cake (I used pound cake)
3 tablespoons Bing cherry preserves
Two 4-ounce good-quality bittersweet chocolate bars, each cut into thirds (I used milk chocolate, because that's what sounded good to me that day!)
1/3 cup unsalted butter, melted
confectioners' sugar, for garnish
Preheat a grill, griddle or nonstick gril pan to medium-low.
Lay the bread or cake slices on a work surface. Brush each of 6 slices with 1/2 tablespoon of the cherry preserves. Top each brushed slice with 1 piece of the chocolate. Top with the remaining bread or cake slices. Brush the melted butter on both sides of each sandwich, and grill the sandwiches untile the chocolate has melted adn the bread is crisp and golden brown – 2 to 4 mintues per side. Cut the sandwiches in half or in quarters, dust with confectioners' sugar, and serve warm.