Need a sweet treat quick? This Cookies and Cream Custard tops New Yoplait Custard Yogurt with cookie crumbs and cookie infused whipped cream for a fast and tasty treat.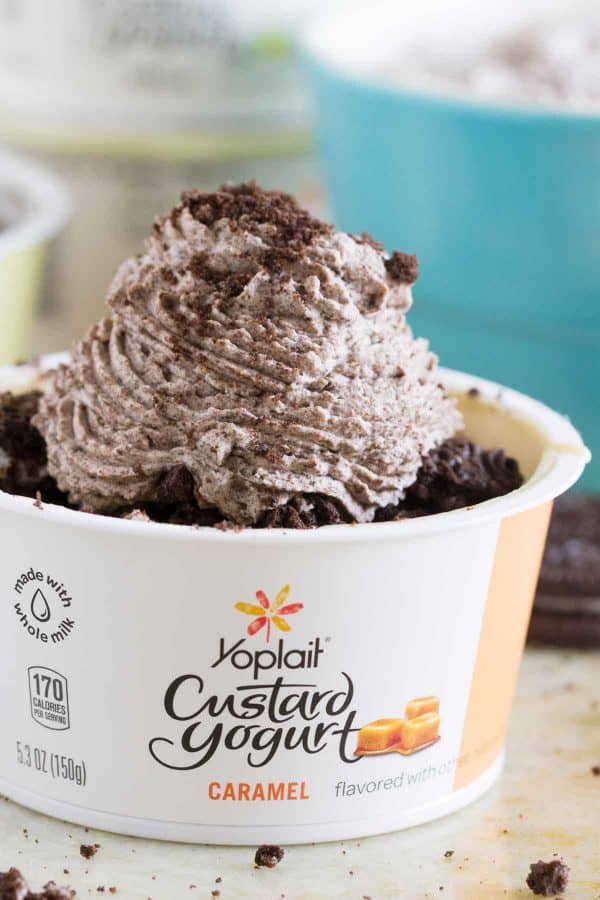 I'm excited to be partnering with Yoplait this year and bringing you delicious recipes, tips and tricks. I have received compensation and all opinions are my own.
I have always loved dessert. Growing up, we didn't often get dessert in the middle of the week, but every Sunday, my mom would make dessert to take to my grandparent's house. I honestly don't remember her ever missing or skipping a Sunday – it was just what she did every week. And I'd look forward to those desserts every single week. In fact, those desserts that she would make have become some of my favorites now.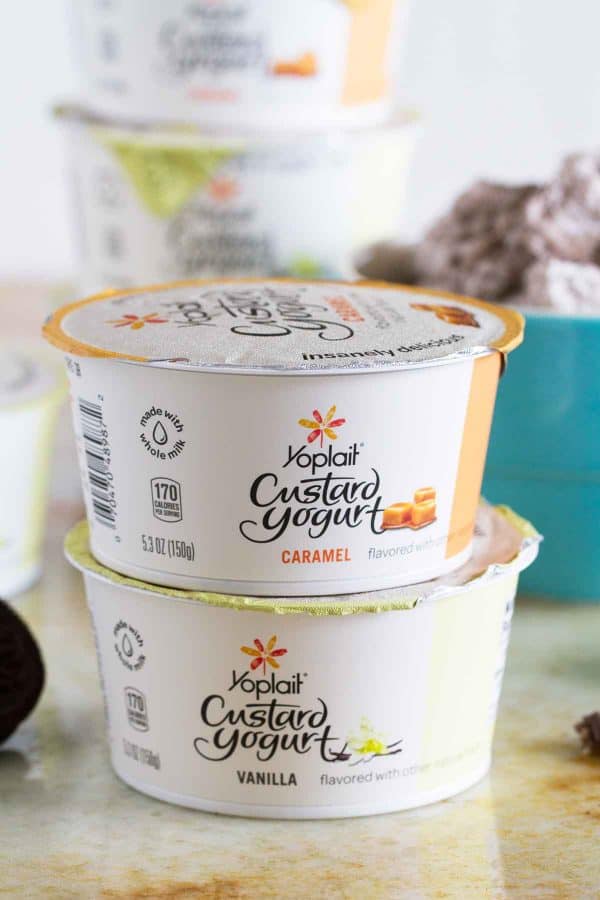 So a few months back, I decided to start a Sunday night dessert night. We don't go anywhere most Sunday nights, but I still thought it would be fun for my kids to look forward to a dessert every Sunday night. And honestly, most weeks, it's totally doable. I make something just for fun, and the kids know that they can always look forward to dessert on Sundays. (It's a great way to bribe them to eat their dinner, too!)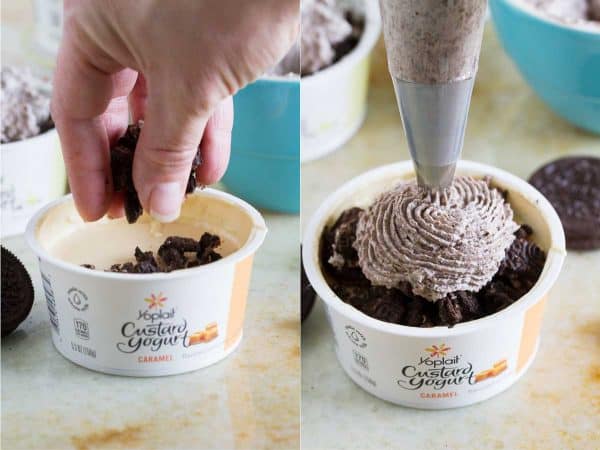 But sometimes, Sundays are hard. And sometimes, I just don't have the energy or desire to bake up a batch of cookies. Which is why I have started looking for easy desserts that I can whip up with little effort or time. And I have one for you today that was a hit with the whole family!!
We always have yogurt on hand, but have you seen this new Custard Yogurt from Yoplait? It may look familiar, because once upon a time, Yoplait made Custard, but it was discontinued years ago. Well, they heard from the masses that people wanted it back on store shelves, and they answered…it's back! It contains live and active cultures, just like the yogurt we all love, but has the creamy, smooth texture of custard. It comes in 6 different flavors, and is made from whole milk from cows free of rBGH/rBST growth hormones. And did I mention how delicious it is?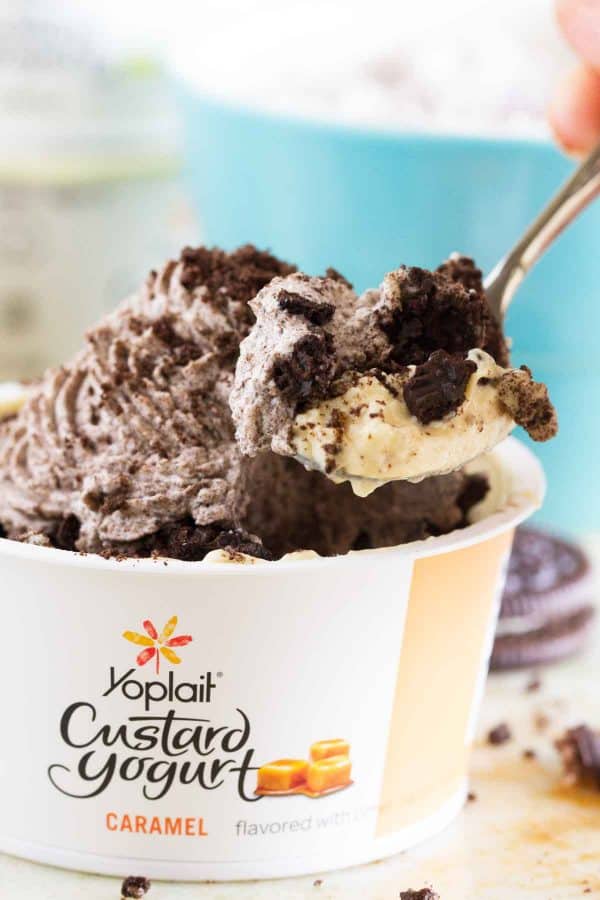 I decided to turn that Custard Yogurt into an easy, delicious dessert by putting a cookies and cream twist on it. It's as simple as crushing some cookies and whipping up some cream. Seriously – dessert is finished in less that 10 minutes. And honestly – my husband and youngest couldn't get enough of this and probably enjoyed it more than many of my past Sunday desserts!!
Yoplait is inviting you all to try all 100+ flavors of Yoplait yogurt for a chance to win $100,000! Simply enter the code on top of specially marked lids at Yoplait.com/100Ways and you could win one of more than 3,000 prizes*. You can find a full list of all of the Yoplait flavors at yoplait.com/products.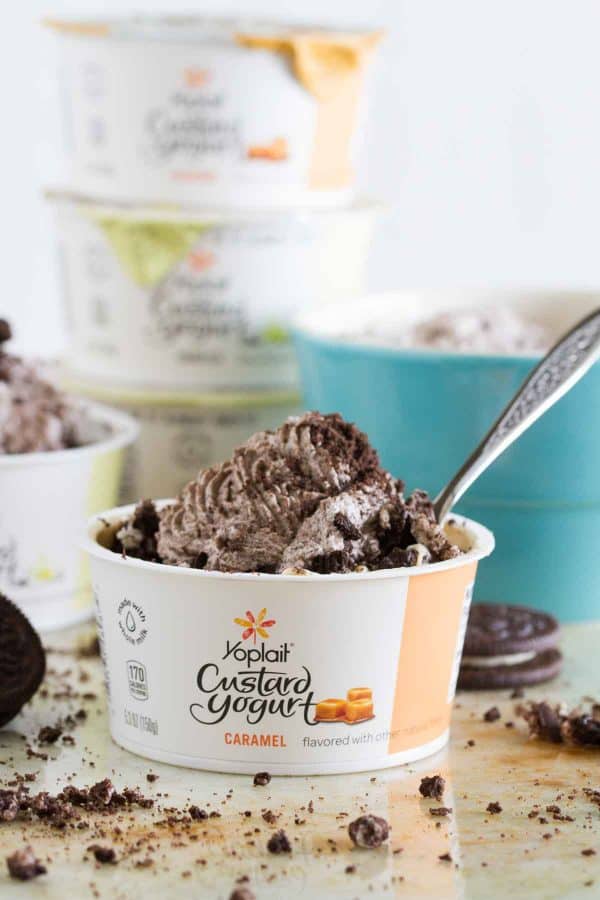 Like what you see here? Make sure you are following Taste and Tell for more recipes and ideas!
Facebook | Pinterest | Instagram | Twitter | Google+ | Weekly Newsletter | Feedly | Bloglovin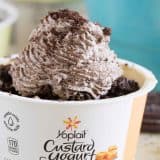 Cookies and Cream Custard
---
Author:
Prep Time: 10 minutes
Total Time: 10 minutes
Yield: 4 servings 1x
Category: Dessert
Description
Need a sweet treat quick? This Cookies and Cream Custard tops custard yogurt with cookie crumbs and cookie infused whipped cream for a fast and tasty treat.
---
Scale
Ingredients
16 chocolate sandwich cookies
1 cup heavy whipping cream
1 tablespoon powdered sugar
4 5.3 oz each containers Yoplait Custard Yogurt, (vanilla or caramel)
---
Instructions
Take 8 of the chocolate sandwich cookies and place in a blender or food processor. Process until completely broken up. Roughly chop the remaining 8 cookies.
Place the cream in a large bowl, and using a stand mixer or hand mixer, beat until the cream starts to thicken. Add the powdered sugar, then continue to beat until stiff peaks form. Add the cookie crumbs from the blender or food processor and fold into the cream.
For serving, top each container of yogurt with 1/4 of the chopped cookies. Pipe or dollop the cream on top. If desired, top with additional cookie crumbs. Serve immediately.
I am in a working relationship with Yoplait, and this post has been sponsored. I'm so glad to be able to work with companies and organizations that I truly believe in. Thank you for supporting them, too.
*NO PURCHASE NECESSARY. Ends 5/15/17. To play and for Official Rules, visit Yoplait.com/100ways.
Don't miss a thing! Follow me on Pinterest to see what I'm pinning!