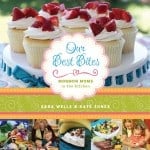 I have been a fan of Kate and Sara's blog – Our Best Bites – for quite some time now, so I was really excited to try out their cookbook. I'm just going to say it now – this is one of my all-time favorite cookbooks. Not only is it filled with gorgeous photos, but the recipes are all recipes that I want to try. There is tons of variety, and the recipes I've tried so far have received some of the highest scores I've given since starting my Cookbook of the Month series!
Prep and Cook Times Listed: no
I'm starting to think that cookbook authors don't list these, simply because everyone cooks at a different pace. But I do love it when they are included…
Number of Photos: lots!
I'm pretty sure that every recipe has a photo of the finished dish. Score!!
Difficulty Level of Recipes: easy
These are recipes that anyone could follow. And that everyone will love!
Availability of Ingredients: easy
I didn't see any out of the ordinary ingredients. All of the ingredients should be available at any grocery store.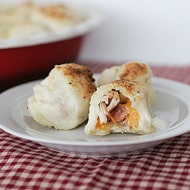 Stuffed Pizza Bites – 9 out of 10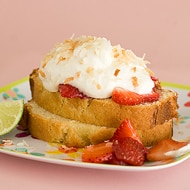 Strawberry Lime Shortcakes with Coconut Cream – 9 out of 10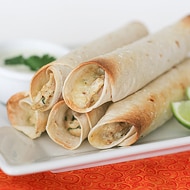 Baked Creamy Chicken Taquitos – 10 out of 10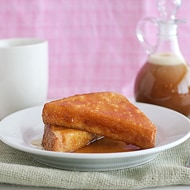 Puffed French Toast – 9 out of 10
Buttermilk Caramel Syrup – 9.5 out of 10
Overall Rating: 9.3 out of 10
Seriously, one of the best – if not the best – cookbook on my shelf right now. I know this one is going to get a lot of use!! A few other things I love about this book: It is spiral bound, and so it lays perfectly open on the counter! I love the list of rollover ingredients – that way you don't have ingredients going to waste. And there are tips and variations on many of the recipes that help to switch up some of the recipes. I do have to mention that most of the recipes can be found on their blog, but I am one that loves to have the recipes in my hand, and there is nothing like a cookbook for me!!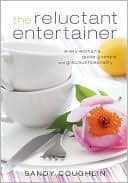 Next month's cookbook is a little bit different than the normal cookbooks I feature. May's cookbook – The Reluctant Entertainer – is not just a cookbook. In fact, it is more about entertaining than recipes, but I thought this book would be a fun change up for me. Plus, some of the best recipes sometimes come from books that aren't dedicated cookbooks! I'm excited to try out the recipes that are in this book!