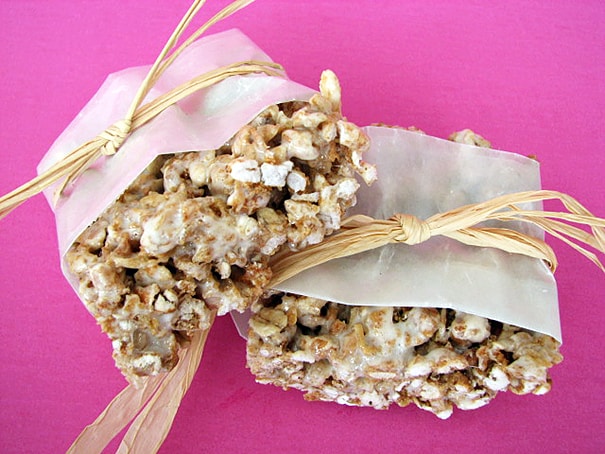 Back before I had heard of del.icio.us, I used to print out recipes that I found online that sounded good or interesting to me. Sometimes, this works out really well, because some of those recipes that I have printed out are no longer online. But really, now all I have is 3 huge 3 ring binders, filled with printed out recipes. I have gone through them and organized them into different types of recipes, but really, these recipes are the ones that get the least use in my house. It's probably because of my recent addiction to cookbooks and blogs, but really, I know there are some gems in those pages that I need to discover.
There's one particular print out, that would probably take me awhile to sift through the recipes and find, but for some reason, this recipe has been stuck in my mind for years. And the funny thing about it is that it is so simple – I probably didn't even need to print it out! If I remember correctly, Martha was having a cookie week, or maybe it was a cookie of the week special. I can't exactly what it was. But Martha had done a whole assortment of "cereal" crispy bars – not just your typical rice crispy bars. I can remember the photo from the website (which I can't find now, but it was probably 7 or 8 years ago) where she had all different kinds of bars – Fruit Loops, Cornflakes, Captain Crunch – it was a great variety. A little while back, I saw some Chocolatey Rice Krispy Treats on Stephanie's blog – Stephanie's Kitchen – and it reminded me of the Martha Stewart bars.
So when I was going through this month's cookbook of the month, I ran across these Whole Grain Marshmallow Crispy Bars, and I knew I had to make them. They might seem too simple to even have to have a recipe for, but they were so delicious, and even a little bit healthy. The book said that for testing purposes, they used Kashi GoLean Crunch! cereal for the recipe, so that is what I used. And we loved these! With the whole grain cereal, they are a bit tougher than your normal Rice Krispie Treats, but I think the flavor is so much more. My husband absolutely loved these, and probably ate 2/3 of the pan himself!!
So if you ever need a quick and easy recipe, think about changing up the cereal instead of using your normal Rice Krispies. You'll be surprised at what a difference it makes!
Whole Grain Marshmallow Crispy Bars
from Southern Living 2007 Annual Recipes
3 tablespoons butter
1 (10.5-oz.) bag miniature marshmallows
1 (15-oz.) box multi-grain cluster cereal
Vegetable cooking spray
1. Melt butter in a large saucepan over low heat. Add marshmallows, and cook, stirring constantly, 4 to 5 minutes or until melted and smooth. Remove from heat.
2. Stir in cereal until well coated.
3. Press mixture into a 13- x 9-inch baking dish coated with cooking spray. Let stand 10 to 15 minutes or until firm. Cut into 24 bars.