Tomato and Basil Salsa – a fresh salsa made with tomatoes, basil, capers and olives.
If I could only choose one food to grow myself, it would without a doubt be tomatoes. If you have never had a home-grown tomato, you really don't know what you are missing out on. Growing up, my dad always
had a decent sized garden. There were 5 of us kids, and each of us would be assigned our rows in the garden that we had to keep weed free. I hated that. We would get up and out in the garden early on Saturdays, hoping to finish our weeds before the heat started to hit. Sometimes we were lazy, waiting until further into the day, but that is when we really hated that garden – having to sit and pull weeds in the heat of the sun. But when my mom would make a "garden dinner", all ill thoughts of having to weed the garden were gone. These were my favorite nights – chile rellenos, yellow squash mashed with milk and butter, and slices of fresh tomatoes and cucumbers. My mouth starts watering just thinking of these meals.
Summer and fall was really the only time I ever remember eating fresh tomatoes growing up. It could be that I just don't remember, but I don't think my mom ever bought tomatoes from the store. So I grew up knowing that taste of straight-out-of-the-garden tomatoes. Then I moved away from home, and tomatoes lost a lot of their magic. They just don't taste the same coming from the grocery store. Gone were the days of eating fresh tomato slices with a little bit of salt sprinkled over the top. Until I started to grow my own, that is!!
We are harvesting the first of our tomatoes right now. I think we went a little overboard on the tomatoes this year. There is just no way possible we are going to be able to keep up with them, so my family and co-workers will probably get to share in the bounty. But last night, when I went out and picked these first tomatoes (I think they are called sweet 100s, but I don't remember!), I was in pure heaven!
Since it is a new month – August already!! – I have chosen a new cookbook of the month. I was going over my shelf, looking for one that I hadn't posted a recipe from yet. Most of these at this point are dessert cookbooks, and we all know how I feel about desserts right now, so I passed on those. I ended up choosing Donna Hay Modern Classics – Book 1. And why I haven't cooked from this book before is beyond me!
Food blogging actually introduced me to Donna Hay, whom I had never heard of before. I quickly went to the library and checked out one of her books and fell in love. They are some of the most beautiful books! I bought this one shortly after looking through that book at the library. And although I haven't made anything out of it until last night, this book has gotten a lot of use. It is pure eye candy, and I love to flip through the pages, loving the beautiful, simple food and photographs. I chose this book for 2 reasons. 1 – so I'd finally try some of the recipes I have marked, and 2 – most of the recipes sound quite simple, which is what I really need in my life right now.
Like this salsa – it took all of 10 minutes to throw together, and I got to use a few items from my garden!! The tomatoes, basil and onion all came from my garden, and the rest of the items were pantry staples. This is not a normal salsa. I ate mine with chips, but it would be better suited over fish or chicken because it's lacking the spicy factor. The original recipe didn't even have the onion in it, but I loved the flavor of it in there. Also, because my tomatoes were quite sweet, I wish I would have left out the sugar, but I think it all depends on the type of tomatoes you use. I had some of the salsa in my breakfast this morning – eggs on a tortilla with a little cheese and the salsa – and it was delicious!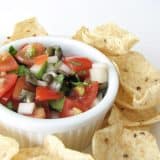 Tomato and Basil Salsa
---
Description
Tomato and Basil Salsa – a fresh salsa made with tomatoes, basil, capers and olives.
---
Scale
Ingredients
4 diced tomatoes
2 tablespoons rinsed and drained capers
1/4 cup sliced black olives (I chopped mine)
1/2 cup basil leaves (chopped as well)
1/4 cup diced onion
1 tablespoon olive oil
1 teaspoon sugar
salt and pepper to taste
---
Instructions
Mix olive oil, sugar, salt and pepper together until the sugar is dissolved.
Combine tomatoes, capers, olives, basil and onion with the olive oil mixture and mix together.