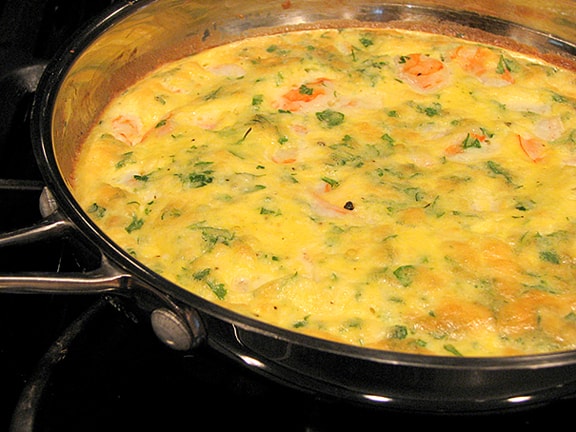 It's already the 9th day of posting!! Check out others who have taken on NoBloPoMo challenge here!
Do you know what I love about this month's Cookbook of the Month? Not that I didn't love all of the bread that I got to eat last month, and not that I didn't enjoy the time I spent in the kitchen making the different breads, but they really did take a long time. It was usually an all day process – at least waiting for proofing times and such. It's pretty much the exact opposite this month. I think this recipe took me a total of 20 from start to finish. And from what I've heard, a lot of Jamie Oliver's recipes are so quick and simple.
I chose this shrimp and parsley frittata for two different reasons – first, because it looked and sounded really good. Second – my husband was all worried that we would go from a month of eating bread to a month of eating pasta. I had to prove to him that not every Italian recipe is heavy with pasta. I do have to admit, though, that this recipe doesn't really scream out Italian to me, but who am I to say? I'm not Italian and I've never been to Italy!!
My picture doesn't look as good as the one in the book, but this was one tasty frittata. I think the thing that sets it apart from any other frittata is the addition of lemon juice. In the heading, Jamie Oliver mentions that the lemon juice was originally an accident, but it really does work well with this recipe. It is also supposed to have dried red chili sprinkled on top, and you may notice that mine does not. My husband is not a big red chili fan, so I was just going to add it to my portion, but I completely forgot until I had finished eating.
The recipe says it serves 2 – we had this for dinner and it served 2 perfectly. Jamie suggests serving it with an arugula salad and some good bread.
The Best Shrimp and Parsley Frittata
from Jamie's Italy
6 large eggs
sea salt and freshly ground pepper
a handful of freshly chopped parsley, finely chopped
zest of 1 lemon
juice from 1/4 lemon
1 heaping tablespoon freshly grated Parmesan
6-7 oz. fresh shelled medium shrimp
a good dollop of butter
olive oil
1/2 of a dried chili, crumbled
Preheat oven to 425F. In a bowl, whisk the eggs with a pinch of salt and pepper, then add the parsley, lemon zest and juice, and Parmesan. Roughly chop half the shrimp, leaving the rest whole, and add all of them to the bowl. In a small, heavy, nonstick ovenproof pan, heat the butter with a good splash of oil until it begins to foam, then add all the egg mixture. Slowly move a spoon around the eggs fro about a minute on medium heat, then put the pan into the oven. Cook for 4 to 5 minutes, till slightly golden.* Sprinkle the chili over it and slide it onto a board.
*Mine was still really runny at this time – I cooked mine about 10 minutes. Next time I would take it out after about 8 minutes.