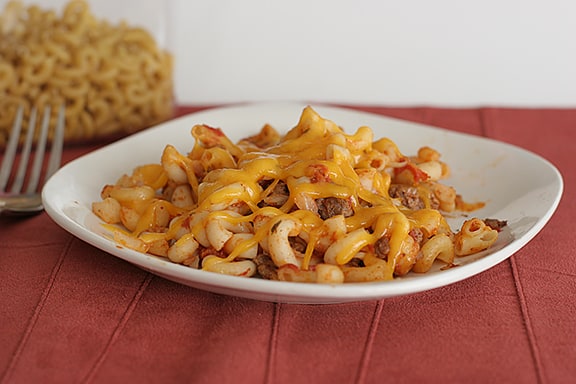 While looking for bloggers with cookbooks, this cookbook was suggested to me by a fellow blogger.  And since then, I've found that there are tons of die-hard followers of Erin Chase's blog – $5 Dinners.  So needless to say, I was really excited to dig into this cookbook!  As I searched through the pages, I found that these recipes really are family friendly recipes – many reminding me of what my mom would have made growing up.
First up – Taco Macaroni and Cheese.  Tacos are a favorite here at our house, and I can never get too much mac and cheese!!  I have to put it out there first that I'm not basing my reviews of these recipes on the price – each meal is supposed to be able to be made for $5 or less – but I'm judging on taste.  While I'm sure I could wait until all these items are on sale and stock my pantry, I bought them outright so that I could try these out.  But based on taste alone – this was a great mac & cheese!  I love that not only is it inexpensive, but it's fast as well.  I guess that's where the "mom" part comes in!
I would definitely say this is a family friendly meal – although depending on the brand of tomatoes with chiles, the chiles might be a little spicy.  But besides that, I'm sure this would be an easy one to get the kids to eat!
Recipe Rating:  8 out of 10
Taco Macaroni and Cheese
From The $5 Dinner Mom Cookbook
Serves 4
Total time: 25 minutes
16 ounces elbow macaroni
½ pound ground beef
½ onion, chopped
2 garlic cloves, chopped
1 can (6 ounces) tomato sauce
1 can (12 ounces) diced tomato with green chiles
¼ cup milk
½ teaspoon chopped cilantro
½ to 1 teaspoon cayenne pepper
1 teaspoon ground cumin
1 cup shredded Cheddar cheese
In a large pot, cook the macaroni according to the pasta package directions. Drain and set aside.
IN a large skillet, brown the ground beef with the chopped onion and crushed garlic and drain excess fat. Return the ground beef and onion mixture to the skillet, and add the tomato sauce, diced tomatoes with green chiles, and milk. Stir in the cilantro, cayenne, and ground cumin, and simmer about 10 minutes, allowing the sauce to form and the flavors to mingle. Add the cooked elbow macaroni to the sauce and mix to combine. Sprinkle the cheese over the top of the mixture while still warm in the skillet, and allow the cheese to melt.