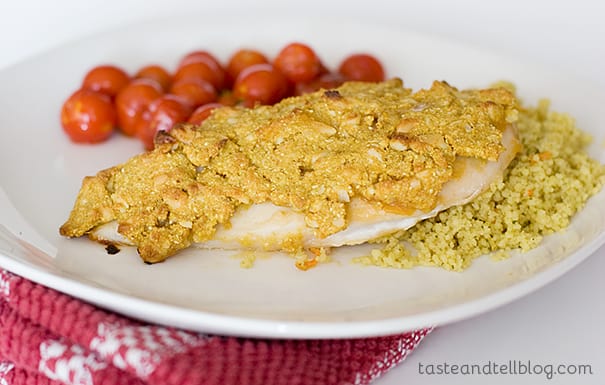 Have you ever made something that looks so horrible that you are almost embarrassed to serve it? Or blog about it?? Under normal circumstances, I would have just skipped blogging about this meal because it just does not look appetizing. But since it is a Cookbook of the Month recipe, and since I slacked last month, I decided I might as well post it. And really, it's not all bad. It actually tasted quite good. It just did not look good. I was glad that I was cooking for one, because I'm not so sure my husband would have eaten this after taking a look at it.
If you go off of taste alone, it was a good, solid meal. Nothing earth shattering, but I did clean my plate. The topping does get crispy, so when it breaks apart, you have to make sure you get a little bit of the topping with every bite – otherwise it just tastes like plain chicken. But I'm a huge fan of the sweet and savory combination, so this really was right up my alley.
Now if only it didn't look so bad…
Recipe Rating: 4 out of 5
Sweet 'n' Nutty Chicken
adapted from Family Circle All-Time Favorite Recipes
Serves 4
3 tablespoons plus 1 teaspoon apricot jam
2 tablespoons prepared mustard
1/4 cup chopped macadamias
1/4 cup dry plain breadcrumbs
2 tablespoons all-purpose flour
4 boneless, skinless chicken breast halves (1 1/2 pounds total)
Heat oven to 350.
Combine 2 tablespoons jam, mustard, nuts and bread crumbs in a small bowl to form a thick paste.
Place flour on a sheet of waxed paper. Dip chicken breast halves in the flour to coat lightly, shaking off excess. Spread 1 teaspoon of remaining jam on each chicken breast half, covering both sides. Place chicken in one layer in a large baking dish. Spread seasoned paste on top.
Bake in preheated oven for 20 minutes or until internal temperature of chicken registers 170F. Increase oven temperature to broil. Place chicken under broiler to crisp, 1 to 2 minutes.