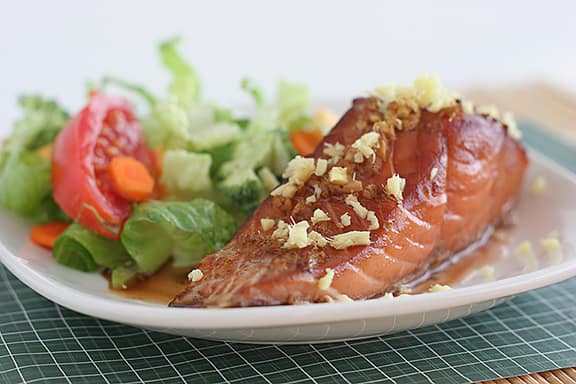 When I was pregnant with Abbi, I don't remember having any huge food cravings or aversions. I remember one instance where I really wanted ribs, but besides that, it wasn't one of those – I need ice cream RIGHT NOW kind of cravings. But this time around, it's been a lot different. All I have are cravings. And aversions. And too bad all I crave is fast food. Before I got pregnant, if you would have asked me if I wanted a hamburger from McDonald's or a homemade hamburger, I would have picked homemade every time. But now? Different story. I want Wendy's chicken nuggets all the time. I'd be embarrassed to admit how many of them I've already eaten…
And unfortunately, one of the food aversions right now is fish. But having a Scandinavian cookbook of the month, and seeing that so much of this cookbook is fish, I figured I had to give one of them a try. I went to the grocery store and actually got excited when I bought some supposedly fresh salmon. Usually all I ever buy is frozen. This recipe is ridiculously easy, so I had nothing to complain about. But then came problem #1 – the recipe says to set the temperature at 140F. Well, the lowest my oven goes is 170F. So I put it in at 170F and set the timer at 30 minutes instead of 45. When it went off, I checked the temperature of the fish – um, not even close. Impatiently, I upped the temperature 10 degrees and cooked it another 10 minutes. Still not close. In the end, I ended up with the oven on at 200F, and it still took close to an hour for the temperature of the fish to come up to 120F.
We were starving by this time, and I was so excited by how pretty it looked on my plate. I started eating. The first bite was ok. The second bite – I thought – I need to get my husband's opinion, because maybe my taste buds are thrown off. But in the end, we both decided that we didn't like this cooking method at all. It's supposed to make the fish juicier and more tender than cooking at higher temps, but we both agreed that the texture was very mushy. And if you've ever eaten mushy fish, you'll know that it's not appetizing.
So, neither of us finished our fish. But this baby must have been craving salad, because I ate a lot of that side salad and pretty much filled myself up on that. I'm going to try to turn the rest of the salmon into something delicious – it would be a shame to waste it!
Recipe Rating: 2 out of 5
Slow-Baked Salmon with Soy Sauce and Ginger
from Kitchen of Light
serves 2
total time: 55+ minutes
1 pound salmon fillet, scaled, skin on, any pinbones removed
1/4 cup soy sauce
3 tablespoons finely chopped ginger
Preheat the oven to 140F.
Rinse the fish under cold running water and dry with a paper towel.
In a small saucepan, bring the soy sauce to a boil and boil 3 minutes, or until reduced by one-third. Remove from heat.
Place the salmon in a baking dish. Brush the salmon with soy sauce. Sprinkle with half the ginger.
Bake about 45 minutes, until the temperature in the center reaches 120F on an instant read thermometer. (The amount of time will depend on your oven and how thick the fish is.) Sprinkle with the remaining ginger and serve.