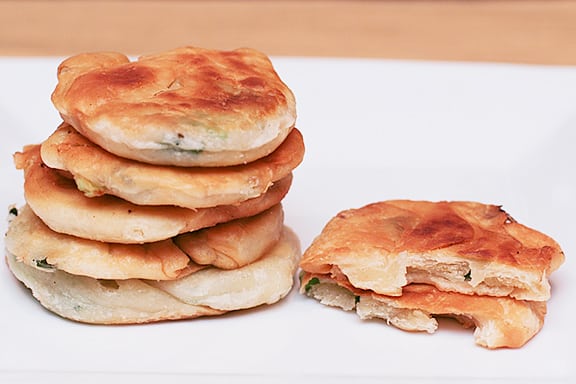 I said before that the appetizer section of this cookbook was very appealing to me. That is why I'm bringing you another appetizer!! I don't know why I was so drawn to these, but I had never had anything like this before, so it really was something new.
My biggest word of wisdom with this recipe, though, is that if you plan on making these, don't do it when you have a cranky 1 year old tugging at your leg and crying for attention. The instructions just don't make sense!! It took me awhile, and many times of reading through the instructions, until I think I finally made sense of how to shape these pancakes. It was the end of a long day, and the cranky child was not helping. Sometimes I think that I'm going to start making dinner in the middle of the day, because otherwise, the evening hours tend to be the cranky hours and it's hard to get anything done!
These were actually pretty good, although not healthy at all. And a bit of work. Especially for an appetizer. Good thing we will eat an appetizer as a main meal! I didn't use all the filling for my pancakes, but I think that's mainly because the amount of shortening used was kind of getting to me. It was a very tasty appetizer, but probably not one I will make again simply because of the health and time issues.
Recipe rating: 3.75 out of 5

Scallion Pancakes
from The Shun Lee Cookbook
Makes 4-6 appetizer servings
Dough
1 1/4 cups all purpose flour, plus more as needed
1 tablespoon solid vegetable shortening
1 tablespoon vegetable oil
1/4 teaspoon dark sesame oil
1/4 teaspoon salt
Filling
8 scallions, white and green parts, sliced into 1/4-inch pieces
1/2 cup solid vegetable shortening
1 teaspoon dark sesame oil
1 teaspoon salt
2 tablespoons vegetable oil, plus more as needed
To make the dough, combine the flour, shortening, vegetable oil, sesame oil, salt and 1/4 cup water in a bowl. Mix until the dough comes together.
Lightly dust a work surface with flour. Turn out the dough and knead it, folding it over from bottom to top and adding sprinkles of flour as necessary to keep the dough from sticking,k about 25 times, or until the dough is smooth and elastic. Place the dough in a sealed plastic bag to keep it moist while you make the filling.
To make the filling, mix the scallions, shortening, sesame oil, and salt in a medium bowl until thoroughly blended.
To assemble the pancakes, lightly dust the work surface again with flour. Divide the dough in half, and form the halves into cylinders, each about 1 inch in diameter. Cut each cylinder into seven 1/2-inch-thick rounds. Using a rolling pin, roll each round into a 1/8- to 1/4-inch-thick oval, about 8 inches long and 4 inches wide.
Place a heaping tablespoon of the scallion mixture in the center of a pancake, and spread it to within 1 to 2 inches of the edge. Roll the top half of the pancake to the center, and then fold the top in half again, so that there is a double fold on top. Roll up the bottom half of the pancake to the center to meet the top half. Fold the pancake in half horizontally, you will now have a tube. Gently pull the tubular pancake horizontally, so it stretches 1 to 2 inches. Bring the edges of the tube together in a circle, and tuck one end of the tube into the other end, between the double fold, and pinch it tight so that the pancake won't unfold when it is cooked. With the palm of your hand or the side of a cleaver, flatten the pancake into a 4-inch-diameter round about 3/4 inch thick. Repeat with the remaining dough and filling. (The uncooked pancakes can be made up to 12 hours in advance. Place them in a single layer in a plastic container, cover, and refrigerate.)
Heat the vegetable oil in a large skillet (or use two skillets to speed the procedure) over medium heat. Add a pancake to the skillet and press it gently with a metal spatula until it is 4 1/2 inches in diameter. Cook the pancake, pressing it occasionally with the spatula, until the underside is crisp and golden, about 3 minutes. Turn the pancake over and fry until the other side is golden, about 3 minutes. Transfer it to paper towels to drain. Repeat with the remaining pancakes, adding more oil as needed. Cut each pancake into wedges and serve immediately.