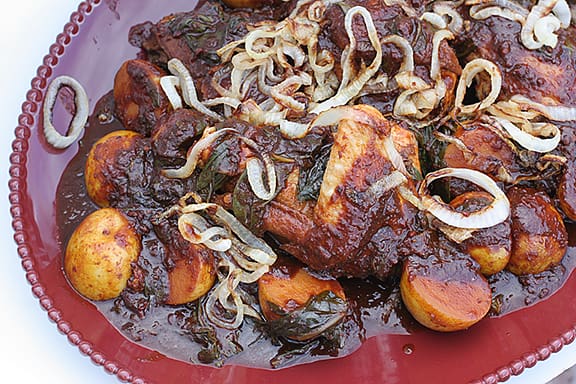 Yes, I know this kind of just looks like a pile of slop, but I promise it tastes WAY better than a pile of slop!!
Remember those ancho chiles I posted about on Wednesday? Well, here is the meal that they became. It was my first time cooking with ancho chiles, and I can guarantee it won't be the last now!! (Good thing I like them, because all I could find was a huge bag of them – so I still have lots left over!)
I know that my husband is so happy that I am now cooking food from Mexico instead of from India. He even patiently waited for this meal, quite a while after the time that we usually eat dinner. We are early eaters – usually around 5:30 or 6pm. Well, we decided to go on a little walk up the canyon, and we got home around 5pm. Not thinking twice about the length of this recipe, I go into the kitchen and start cooking. Well, needless to say, I didn't read through this recipe thoroughly to see how long it would take to make. Luckily, we were both patient that night, because we didn't end up eating until after 7:00!
Recipe Notes:
My biggest complaint with this recipe is that there really wasn't enough of the braising liquid to submerge all the potatoes and chicken. I had to go in and make sure I was mixing it around the best I could, but it still took an extra 10 minutes to cook the chicken through – and I'm sure it's because there was always one piece of chicken sitting on top of everything else. And most of the potatoes were done, but you would get a few that were still pretty raw because they didn't have a chance to cook in the braising liquid.
This is a super budget friendly meal. I know it cost me less than $10 for all 4 servings.
My husband loved this meal. He actually gave it a 4.8, and I gave it a 4.3. So I met in the middle for the rating!
Recipe Rating: 4.5 out of 5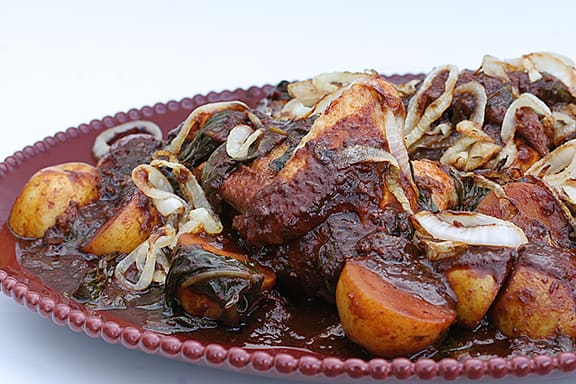 Red-Chile Braised Chicken with Potatoes and Greens
from Rick Bayless's Mexican Chicken
serves 4
total time: about 2 hours
1 1/2 tablespoons vegetable or olive oil
a 2 1/2-3-pound chicken, cut into quarters
1 medium white onion, sliced 1/4 inch thick, plus 2 slices broken into rings, for garnish
For 1 cup Essential Sweet-and-Spicy Ancho Seasoning Paste
8 garlic cloves, unpeeled
8 medium (about 4 ounces total) dried ancho chiles, stemmed and seeded
1 1/2 teaspoons dried oregano, preferably Mexican
1/2 teaspoon black pepper, preferably freshly ground
1/8 teaspoon cumin seeds, preferably freshly ground
a scant 1/4 teaspoon cloves, preferably freshly ground
2 2/3 cups chicken broth, plus a little more if necessary
1 1/2 tablespoons cider vinegar
8 small (about 1 lb) boiling potatoes, halved
4 cups sliced (1/2-inch slices), full flavored greens (choose chard, beet or turnip tops, lamb's quarters, collards or the like), well rinsed
salt, about 1 1/4 teaspoons, depending on the saltiness of the broth
Browning the chicken and onions: Heat the oil in a medium to large pot over medium-high heat. Pat the chicken dry, then brown in a single uncrowded layer (in batches if necessary), about 4 minutes per side. Remove the chicken to a plate. Reduce heat to medium, add onion and fry until soft and richly browned, about 10 minutes. Set aside.
Making 1 cup Essential Sweet-and-Spicy Ancho Seasoning Paste: Roast the unpeeled garlic directly on an ungreased griddle or heavy skillet over medium heat, turning occasionally until soft (they'll blacken in spots), about 15 minutes; cool and peel. While the garlic is roasting, toast the chiles on another side of the griddle or skillet; 1 to 2 at a time, open them flat and press down to toast the other side. In a small bowl, cover the chiles with hot water and let rehydrate 30 minutes, stirring frequently to ensure even soaking. Drain and discard the water.
Combine the oregano, black pepper, cumin and cloves in a food processor or blender along with the drained chiles, garlic and 2/3 cup of the broth. Blend to a smooth puree, scraping and stirring every few seconds. Press through a medium-mesh strainer into a bowl.
The sauce: Return the chicken-browning pot to medium-high heat and, when very hot, add the ancho chile seasoning. Cook, stirring until thickened and noticeably darker, about 5 minutes, then stir in the remaining 2 cups broth and the vinegar. Simmer for 15 minutes, stirring occasionally.
Finishing the dish: Add the chicken thigh and leg quarters and the potatoes to the sauce. Partially cover and simmer over medium-low for 15 minutes. Stir in the greens and add the chicken breasts. Partially cover and simmer until the chicken is cooked through, about 20 minutes. Use a slotted spoon to transfer the chicken to a warm, deep serving platter.
Bring the sauce and vegetables to a boil over medium to medium-high heat and reduce until the mixture reaches a medium consistency, about 5 minutes. Season with salt.
Ladle the sauce over the chicken, arranging the greens and potatoes around the edges. Strew the onion rings over the vegetables and you are ready to serve.