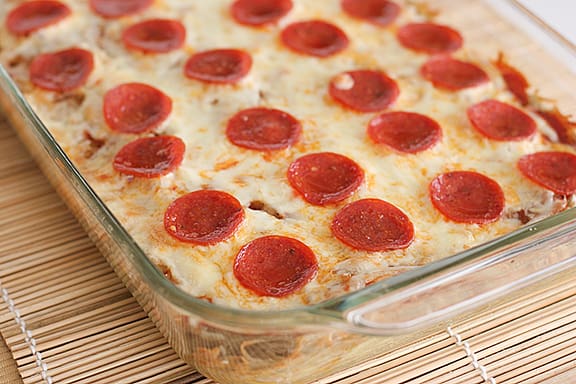 Who doesn't love pizza??  I know it's a favorite around my house, and I love when I see different takes or ideas for pizza.  I guess that's why I was drawn to this recipe when I first saw it.  The name caught me, first.  Potato Pizza Pie. I thought it was just going to be topped with potatoes, which I was totally down for trying.  But then I saw that this is definitely not your typical pizza – the "crust" is actually made out of potatoes instead of a pizza dough!
I only had 1 complaint with this recipe – and it's one that I find that I run into quite often with recipes.  The recipe calls for "6 large white potatoes".  What exactly does that mean?  I took it to mean 6 large white potatoes – like Idaho potatoes, or baking potatoes.  And I was completely wrong.  I was only making a half batch, and after I grated 3 large potatoes, I knew something was wrong.  That is a lot of grated potato!!  In fact, it filled a 9×13 pan quite thickly – and the full recipe is only supposed to fill an 8×8 pan!!  So, needless to say, I don't really like it when recipes just use "large" or "small" as a guide for an ingredient.  It's too open to interpretation!!  (And for the recipe below, I just changed the "large" to "small" – I wish I knew exactly how many cups of grated potatoes you actually need…)
But despite the little hiccup with the potatoes, this was actually quite delicious!  I added pepperoni to our pizza, which is an added expense if you are trying to make this for under $5.  But it was a delicious expense!  I'll admit that it didn't really taste like pizza, but it was still a great dinner idea.  But if you are on a gluten-free diet, this could totally be adapted to fit your diet, and it just might help to cure a pizza craving!!
Recipe Rating:  7.5 out of 10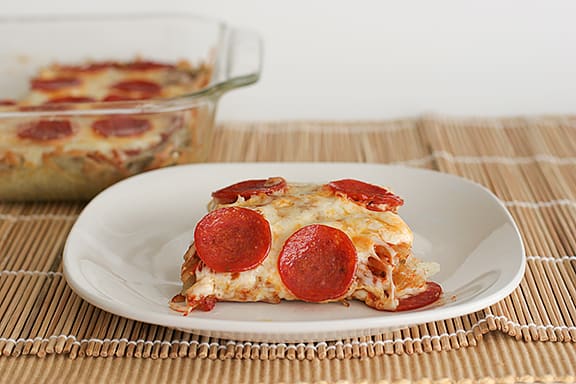 Potato Pizza Pie
slightly adapted from The $5 Dinner Mom Cookbook
serves 4
total time: about 1 hour
6 small white potatoes
2 eggs
1 tablespoon flour
1 cup pizza sauce
2 cups shredded mozzarella cheese
desired toppings (I used pepperoni)
Preheat the oven to 350F.
Peel the potatoes and slice into quarters. Grate the potatoes in a food processor using the grating blade.
In a bowl, beat the eggs slightly. Add in the grated potatoes. Mix in the flour and season with salt and pepper.
Spread the mixture into the bottom of an 8×8 inch baking dish. Bake for 30 minutes in the preheated oven, or until the potatoes are golden on top.
Remove the "potato crust" from the oven and spread the pizza sauce over the top. Sprinkle with the shredded cheese. Top with additional toppings, if desired.
Return the pizza to the oven and cook for 15 minutes, or until the cheese is melted. Cut the potato pizza into squares for serving.