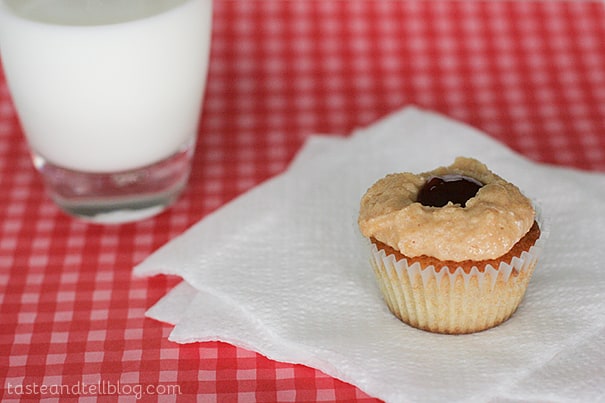 If you could only eat one thing for the rest of your life, what would it be?
I love food. I love making it and I love eating it. But if I had to choose one thing to eat for the rest of my life, it would be a simple peanut butter & jelly sandwich. Boring, right? Well, if I really think of it, there are only a handful of foods that I don't get sick of quickly. And peanut butter & jelly sandwiches are one of them. I honestly think I could eat one a day and not get tired of them.
So when I saw this recipe for Peanut Butter & Jelly Cupcakes in this month's Cookbook of the Month, I knew it was a recipe I would be making. And they are so cute, I just couldn't pass them up!
I have made 2 baked goods with natural peanut butter (before these cupcakes, of course). The first called for natural peanut butter, and they turned out wonderful. The second didn't specify, but I was out of regular old Jif that day, so I used natural peanut butter instead. Big mistake. the cake turned out dry and just not very good. So when this recipe said that natural was preferred, I was a bit apprehensive. I shouldn't have been, because it worked out just wonderfully in the cupcakes.
The icing, on the other hand – not quite as great. I do have to say that the icing recipe does not say whether to use natural peanut butter or not. But I figured since I used it in the cupcakes, why not the icing? Well, my icing did not look the same as in the book. And it did not taste good – originally at least. After I followed all the instructions, I tasted it and it was not sweet at all. And an icing needs to be at least a little bit sweet. So I ended up sifting in probably another half cup of confectioners' sugar until it tasted sweet enough for me. The texture was still weird, and I had to put them in the fridge to set up a bit. I'm blaming it all on the natural peanut butter. I don't know how it would work with Jif, but I'm guessing it would be sweeter and smoother!
Recipe rating: (with my adjustment in the icing) 3.9 out of 5
Peanut Butter & Jelly Cupcakes
from Martha Stewart Cupcakes
makes 24
1 3/4 cups all purpose flour
3/4 teaspoon baking powder
1/2 teaspoon salt
1/4 teaspoon baking soda
1 1/2 sticks unsalted butter, softened
1 1/3 cups sugar
2/3 cup natural creamy peanut butter
3 large eggs, at room temperature
1/2 cup sour cream, at room temperature
1/2 teaspoon vanilla extract
Peanut Butter Frosting, recipe follows
1/2 cup jelly or jam – I used cherry
Preheat oven to 375F. Line standard muffins tins with paper liners. Whisk together flour, baking soda, baking powder and salt.
With an electric mixer on medium-high speed, cream butter and sugar until pale and fluffy. Reduce speed to low. Mix in peanut butter. Add eggs, one at a time, beating until each is incorporated, scraping down sides of bowl as needed. Mix in vanilla. Gradually add flour mixture, being careful to not overmix. Mix in sour cream and peanuts.
Divide batter evenly among lined cups. Bake until golden and cake tester comes out clean, about 22 minutes*. Transfer tins to wire racks to cool completely before removing cupcakes.
*Keep an eye on your cupcakes – mine were done at about 15 minutes.
Creamy Peanut Butter Frosting
6 ounces cream cheese, at room temperature
1/3 cup confectioners' sugar
1/2 teaspoon salt
1 cup creamy peanut butter
1/2 teaspoon pure vanilla extract
1/2 cup heavy cream
With an electric mixer on medium-high speed, beat cream cheese and confectioners' sugar until pale and fluffy. Add salt and peanut butter and beat to combine. Beat in vanilla.
In a separate bowl, with an electric mixer on medium speed, whisk cream until medium-stiff peaks form. Fold cream into peanut butter mixture.
To Assemble
Spread frosting on top of each cupcake, leaving a small well in the middle. Dollop about 1 teaspoon of jelly into each well. Cupcakes can be refrigerated up to 1 day in an airtight container; bring to room temperature before serving.