Sweet and savory, these Slow Cooker New England Baked Beans make the perfect side dish for any summer bbq.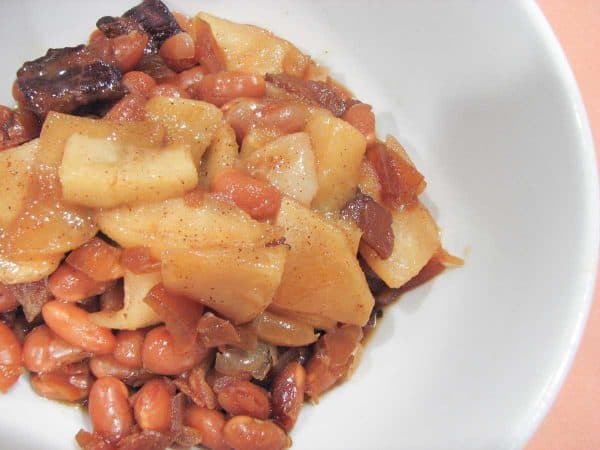 This is the 3rd installment of this month's Cookbook of the Month – we've done the soup, the main, and now it's time for the side dish. There were so many tasty ones to choose from, but I ended up going with the New England Baked Beans for one main reason. We don't eat a ton at dinner. We are more likely to eat a big lunch and then just a small dinner. I knew that by making a whole big side dish, I wouldn't want to also make a huge main entree, because we would end up with tons of leftovers! So I picked these beans, thinking we could eat them as the main meal.
The one complaint I have with this cookbook is that it is not very specific. This recipe calls for dried white beans, a couple apples, and a couple pears. So I'm at the grocery store, looking at the dried beans, and I realize I have no idea which kind of white bean works best for this recipe. I close my eyes and choose one – ending up with Great Northern beans. As far as the apples and pears went, I just chose what looked the best that day. I find it funny that the recipe specifically calls for a yellow onion, but doesn't even give suggestions as to which kind of white beans to use. After I had already started the recipe, I decided to do some online research. I obviously haven't had baked beans in quite some time! I did a search to find what beans work best for baked beans, and I discover that navy beans are suggested. I realized right then that I might have a problem, because navy beans are smaller than Great Northern beans. The recipe says to cook the beans in the slow cooker for 6 to 8 hours, and I had set the timer for 7 hours. The 7 hours were up at this point, and the slow cooker was just on warm, so I rushed into the kitchen and turned the slow cooker to high, knowing that we should be eating in an hour, and that my beans would not be softened completely because they were bigger. I was right. Even after turning the heat to high, the beans were not soft like they should have been. I would definitely suggest going with the navy beans, or plan on cooking this longer than 7 hours!!
This recipe says it serves 4, but as a side dish, I would think it would serve 8-10 at least. It probably would have served 6 of us as a main dish! I also wouldn't suggest serving this as a main meal. It is quite sweet. I think they would go perfectly alongside a good hamburger or a bbq sandwich at your summer picnic. But they are a bit too sweet to be served alone. Plus, you will disappoint your significant other when he finds out that all he is getting for dinner is beans!!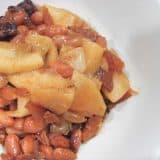 New England Baked Beans
---
Author:
Prep Time: 20 minutes
Cook Time: 8 hours 40 minutes
Total Time: 9 hours
Yield: 8-10 as a side dish 1x
Description
Sweet and savory, these Slow Cooker New England Baked Beans make the perfect side dish for any summer bbq.
---
Scale
Ingredients
2 thick hickory-smoked bacon slices
1 pound dried white beans (I suggest navy!), thoroughly rinsed
4 cups water
2 cups apple cider
1 yellow onion, finely chopped
1/2 cup molasses
1/2 cup maple syrup
1/2 teaspoon ground ginger
1 teaspoon dry mustard
1/8 teaspoon ground cloves
salt
4 tablespoons unsalted butter
2 apples, cored, peeled and sliced*
2 pears, cored and sliced**
1/4 cup brown sugar
1/2 teaspoon ground cinnamon
---
Instructions
Place a saute pan over medium-high heat. Add the bacon and cook, turning, until crispy. Transfer to paper towels to drain, and chop.
Place the beans in the slow cooker and add the bacon, water, cider, onion, molasses, maple syrup, ginger, mustard, and cloves. Cover and cook on low for 6 to 8 hours, until the beans are tender. Season to taste with salt.
Place a large saute pan over medium-high heat and add the butter. Add the apples and pears and cook for about 10 minutes, until they begin to brown. Sprinkle with the brown sugar and cinnamon and saute for another 5 minutes.
When the liquid is almost evaporated from the slow cooker, place the fruit mixture on top of the beans and continue cooking for about 40 minutes, until the flavors are melded.
Divide evenly in bowls and serve at once.
Recipe Notes:
source: Gourmet Slow Cooker Volume II
*I didn't leave my apples in full slices, but half slices. I think it worked better this way to make smaller bites so you don't get too much fruit in each bite.
**Same thing as the apple slices, but I also wasn't paying attention and peeled my pears, too, even though it didn't say to. It still worked.