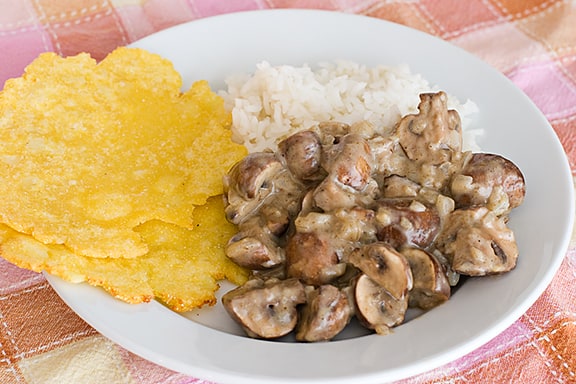 I keep telling myself that I'm going to start adding at least 1 vegetarian dish to our weekly menu. And then when the time comes to make the menu, I usually don't. But as I was going through this month's Cookbook of the Month, I decided that now was the time to try out a new vegetarian entree. The thing that is usually hard for me when eating vegetarian is making it feel like an actual entree, not just a side dish. But when the dish is mushrooms, you definitely get more of that meaty texture. I was afraid that I wouldn't really like this and that it wouldn't be anything special, but I completely cleaned my plate!
One thing I was really hoping for is a good naan recipe. But there is not even 1 naan recipe to be found in this cookbook!! It does have a chapter on flatbreads and crackers, so I decided to try one of them. I had some potatoes on hand that were needing to be used, so these Cornmeal Pooris with Potato and Cumin Seeds sounded perfect. I had never had pooris before, so I really didn't know what to expect. And we really liked them when we ate this meal. But after, just for fun, I did a search on Google Images, and I found out that either I did something wrong, or this recipe is off a little bit, because mine didn't puff at all!! But oh well, they still tasted great!!
Mushrooms in a Coriander-Scented White Sauce rating – 4 out of 5
Cornmeal Pooris with Potato and Cumin Seeds rating – 3.75 out of 5
Mushrooms in a Coriander-Scented White Sauce
from Indian Home Cooking
serves 4
total time: under 30 minutes
1/2 cup unsalted butter
1 medium onion, finely chopped
1 teaspoon salt, or to taste
1 large garlic clove, mashed to a paste in a mortar and pestle, or very finely minced
2 teaspoons ground coriander
1 1/2 teaspoons ground cumin
1 tablespoon all-purpose flour
1 cup milk
1 pound white mushrooms, trimmed and halved or quartered, depending on size
1/4 teaspoon garam masala
1 teaspoon ground pepper
Heat the butter in a heavy-bottomed saucepan over medium heat. Add the onion and salt and cook, stirring often, until the garlic is translucent, about 3 minutes.
Add the garlic and cook, stirring, 1 minute. Add the coriander and cumin and cook, stirring 1 minute.
Remove the pan from the heat and stir in the flour. Then replace the pan over medium heat and cook, stirring, 2 more minutes. Gradually pour in the milk, stirring constantly to prevent lumps. Then add the mushrooms, give them a stir, and simmer gently for 5 minutes. Stir often while the mushrooms cook, scraping the bottom and into the corners of the pan to keep the sauce from burning.
Stir in the garam masala and continue to cook at a bare simmer until the mushrooms are tender but still have some bite, 3 to 5 minutes. Stir in the white pepper and taste for salt. Serve hot.
Cornmeal Pooris with Potato and Cumin Seeds
from Indian Home Cooking
makes about 12 pooris
3/4 cup yellow or white cornmeal
3/4 cup all-purpose flour, plus more for rolling
1/8 teaspoon cumin
1 teaspoon salt
1 teaspoon canola oil, plus extra for deep frying
1 pound boiling potatoes, boiled in their skins until tender (25 to 30 minutes), cooled and peeled
Combine the cornmeal, flour, cumin and salt in a large bowl. Add the 1 teaspoon oil and rub the mixture between your hands to distribute the fat completely throughout the dry ingredients. Squeeze the potatoes in your hand to coarsely mash them and add them to the bowl. Then mix everything with your hand to make a soft, moist dough. Place in a clean bowl and cover with a clean damp kitchen cloth or paper towel pressed directly onto the surface. Let the dough rest for at least 10 minutes or up to 30 minutes.
Heat about 2 inches of oil in a small wok or large saucepan over medium heat to 375F. Set a bowl of flour on the work surface and line a plate with paper towels. Lightly flour your work surface.
Break off a piece of dough a little smaller than a golf ball. Toss it first in the bowl of flour and then roll between the palms of your hands to make a ball. Set the ball on your work surface and flatten into a 2-inch disk. Now roll the disk, flouring the work surface and the dough as needed, into a thin round 5 to 6 inches in diameter. (Make sure the rounds are thin – about 1/8 inch; if they are too thick, they won't puff properly.) Pat off the excess flour as well as possible; any flour clinging to the pooris will fall into the oil and eventually burn. Put the poori on a plate and cover with a sheet of plastic wrap. Continue to roll out all of the remaining dough into pooris and stack them on the plate, pieces of plastic wrap between them.
Gently slice a dough round into the hot oil. The round will bob to the surface. Press down on it gently with a slotted spoon to keep it submerged in the oil so that it will brown evenly. When it is golden brown and puffed (this should take 15 to 30 seconds), gently turn the poori and cook to brown the other side. Remove with the slotted spoon to the paper-towel-lined plate. Serve immediately. Continue in the same way to cook all of the pooris.