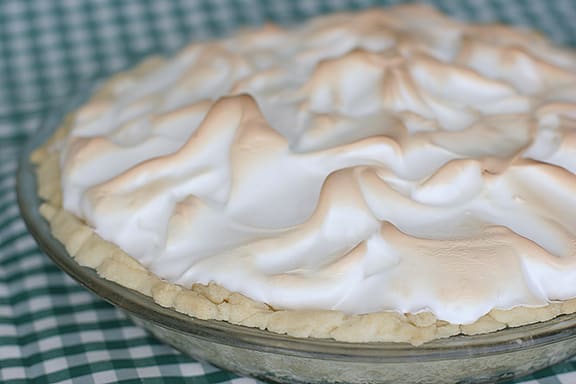 Talk about bad timing for a recipe…
I really did read through this recipe 4 or 5 times before I made it. I guess I wasn't really paying attention when I read through it, though, because it wasn't until I was halfway through making it that I realized that this pie is not baked – and it has eggs in it. And then just a few days after I made this pie, news of the salmonella break out hit the news. And to think I have an easy way to get pasteurized eggs – if only I had read the recipe thoroughly! And I had already returned the book to the library, so I couldn't make a new recipe. I really do feel silly posting a recipe that I'm sure no one is going to make, but it's all part of the Cookbook of the Month series!!
Let's start with the crust. This was the worst crust recipe I have ever worked with. I've made my fair share of pies before, but I know I will never return to this recipe. It would not stay together, and I ended up just pressing it into the pie plate. So if I were rating purely on the crust, this recipe would get a very bad rating.
But if you take into account the whole pie, it was actually really good. Good thing the salmonella outbreak didn't reach Utah. We made it through safely. This kind of reminded me of a key lime pie, with meringue. In fact, I really wonder what would have happened if I would have baked the pie. Hmmmm….
Recipe Rating: 3.8 out of 5
Jamaica Lime Pie
from Jerk From Jamaica
FILLING
4 large egg yolks
1 large egg white
One 14-oz can sweetened condensed milk
1/2 cup fresh lime juice
1/4 teaspoon salt
One partially baked 9-inch pie crust, chilled (recipe follows)
MERINGUE
3 large egg whites
1/2 teaspoon cream of tartar
6 tablespoons sugar
To make the filling: In a medium bowl, beat the egg yolks and egg white until they are very thick and lemon colored. Stir in the condensed milk, lime juice and salt until well blended. Pour into the chilled pie shell. Refrigerate several hours to allow the filling to set.
Shortly before serving, make the meringue: Preheat the oven to 425F. In a large bowl, beat the 3 egg whites wtih the cream of tartar until it forms soft peaks. Gradually beat in the sugar, and continue beating until it is dissolved. By then the meringue should be stiff and glossy. Spread over the filling, being sure to seal the edges wellso that the meringue will not shrink.
Bake for 5 to 7 minutes, or until delicately browned. Let cool away from drafts.
Pie Crust
from Jerk From Jamaica
1 cup all-purpose flour
1/2 teaspoon salt
1/3 cup vegetable shortening
3 tablespoons ice water
In a medium bowl, combine the flour and salt. Stir with a whisk to blend. Cut the shortening into the flour mixture with a pastry blender or 2 dinner knives until the particles are about the size of peas.
Add the water gradually, a few drops at a time, tossing the dough lightly with a fork to be sure that the water is distributed evenly. Gather the dough together to form a ball. Handle the dough as little as possible after adding the water. This will help keep it flaky and tender. Form the dough into a disk and refrigerate for at least 30 minutes.
Preheat the oven to 450F. Roll out the dough on a lightly floured surface, forming a round about 12 inches in diameter. Carefully transfer the dough to a 9-inch pie pan. Trim overhanging dough to 1 inch, fold it under, and crimp the edges.
Prick the pie shell all over with a fork. Line the shell with a sheet of parchment paper or aluminum foil and fill with pie weights or dried beans. Bake for 8 minutes, or until set. Remove the foil or paper and weights or beans and bake for an additional 2 to 4 minutes, or until lightly browned. Cool completely.