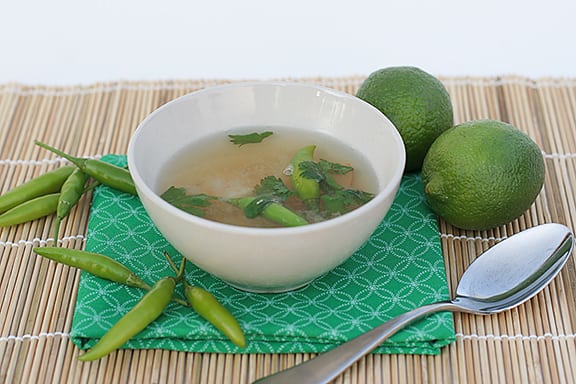 I can tell already that this month's Cookbook of the Month is going to be challenging.  Truth be told – I'm not really familiar with Thai food.  I've had some before, but mostly very Americanized Thai food.  And my husband doesn't like Thai food, so it's just not something that we have.  So I am finding myself stuck with two problems.  First, I don't know what this food is supposed to taste like.  And second, I can tell that this cookbook is fairly authentic, because just about every recipe has an ingredient (or 6) that I either haven't heard about or don't know where to find it.  But I'm going to stick with it and see what I can do with it!!
I'm really going to need to be well prepared with this cookbook because the ingredients are not common pantry items for me.  I just picked this book up from the library on Wednesday, and I went through it that night.  Then last night, I attempted this first recipe.  I thought I'd hit up the closest Asian market to see if I could find the few ingredients that I had never seen at the regular grocery store before – lemongrass and Kafir lime leaves.  And I also wanted to find the bird's eye chiles.  And I struck out.  They had lemongrass, but it was frozen and chopped.  I bought it anyway, and used it, even though the recipe calls for stalks.  No luck on the lime leaves or the chiles.  Luckily, I was able to find some chiles that were labeled as Thai chiles at the regular grocery store.
So I made the soup.  And like I said before, I wasn't quite sure what it's supposed to taste like.  The recipe says that it is salty, sour, and hot.  I definitely got the sour and the salty.  But it wasn't hot at all.  So instead of just "bruising" the chiles, I decided to slice them.  And then it was hot.  Too hot, in fact.  I ate one bite and my mouth was on fire for hours!  Oops!
I liked this soup ok, but I think that there was too much fish sauce.  That flavor was a little too overpowering and too salty.  I'm really tempted to visit a Thai restaurant this weekend and order each dish that I plan on making from this cookbook so I know how they taste!  Because for all I know, this could be a perfect Hot and Sour soup, but I just don't know!
Recipe Rating:  3.5 out of 5
Hot and Sour Prawn Soup
from Thai Food
10 uncooked prawns (shrimp), unpeeled
4 cups water
large pinch salt
1 tablespoon fish sauce
3-7 bird's eye chillies (scuds)
2 stalks lemongrass, chopped
3 kaffir lime leaves, torn
3 tablespoons lime juice
extra fish sauce, to taste
handful of coriander leaves
Peel and devein the prawns, reserving the heads and shells.  Give these a quick rinse and put them in a pan with the water and salt.  Bring to a boil and simmer until the stock has a red hue and there is a smear of oil floating on top – but do not cook for longer than 15-2- minutes, or the flavour will be dulled.  Strain, pressing the shells against the sieve to extract as much of the stock as possible.  Return stock to a boil and season with fish sauce.  Bruise the scuds and then the lemongrass using a pestle and mortar.  Add lemongrass to stock, along with the lime leaves.  Add the prawns and simmer until they have changed color.
In a serving bowl, mix together the lime juice, extra fish sauce, bruised chillies and coriander.  Ladle in the soup and check the seasoning – it should be salty, sour and hot.