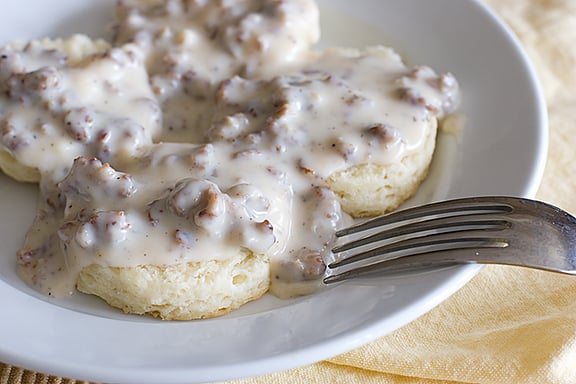 I am headed out to a family reunion this afternoon. It is my mom's extended family, and I always look forward to reconnecting with all of my cousins and my family. And being in the gorgeous Utah mountains doesn't hurt at all, either!! (I'm just hoping that there won't be any snow…)
For meals, the cooking is usually divided up between my mom and each of her siblings. Last year, we did Saturday morning breakfast, and I'm excited that we are in charge of breakfast again this year! We all got together on Monday for a practice breakfast and to come up with some ideas. One of the ideas mentioned was biscuits and gravy, and it really got me craving a good Southern breakfast!! So I was super excited to see a recipe for biscuits and gravy in this month's Cookbook of the Month cookbook!
While I went into this recipe with an open mind, I really didn't know if it would even compare with my favorite biscuits and gravy recipe. I am so glad to say that I was not disappointed with this recipe at all! I love that the biscuit dough is folded, which creates biscuits that are not only tender, but have those beautiful layers that I am always trying to get. The gravy was super simple, rich and comforting. This is the perfect breakfast – or breakfast for dinner!!
Recipe Rating: 9 out of 10
Daddy's Rise and Shine Biscuits
from Southern Plate
makes 10 to 12 biscuits
2 1/4 cups self rising flour*
1/2 cup butter, softened
1 1/4 cups buttermilk
all-purpose flour for dusting
melted butter (for brushing the baked biscuits)
Preheat the oven to 450F. Grease a baking sheet.
Place the flour in a large bowl. Add in the butter, and using a pastry cutter or a fork, cut the butter in until crumbly. Cover and place in the refrigerator for 10 minutes. Add in the buttermilk slowly and stir just until combined.
Turn the dough out onto a surface lightly dusted with flour. Knead the dough 3 or 4 times, adding flour as needed to prevent sticking. Pat the dough into a rectangle about 3/4 inch thick. Fold each side over to the center, as if folding a letter. Repeat 2 more times, beginning with patting the dough out.
Pat the dough out 1 more time until it is about 1/2-inch thick. Cut into circles with a biscuit cutter dipped in flour. Place on the prepared baking sheet. Bake for 12 to 15 minutes, until lightly browned. Remove from the oven and brush with melted butter.
*To make your own self-rising flour, add 1 1/2 teaspoons of baking powder and 1/2 teaspoon salt for every cup of flour.
Sausage Gravy
slightly adapted from Southern Plate
serves 4
1/4 pound sausage
1/4 cup all-purpose flour
1/2 teaspoon salt
1/4 teaspoon black pepper
1 1/2 cups milk
Brown the sausage in a medium skillet over medium heat, breaking it up as you are cooking it. Stir the flour into the sausage and sausage grease. Add in the salt and pepper. Cook, stirring constantly, until the flour is slightly browned. Slowly pour in the milk, stirring constantly with a whisk to prevent lumps. Lower the heat to low and cook, stirring until thickened.