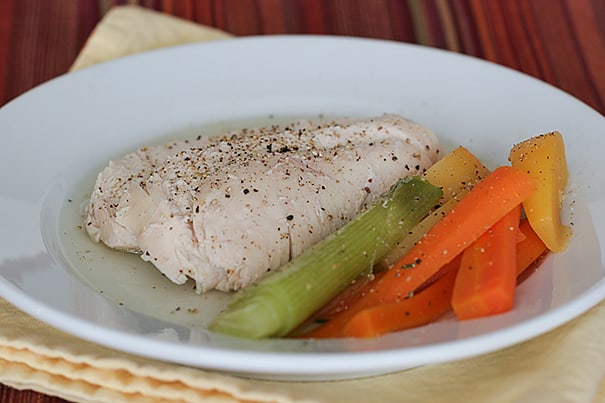 My mom is a wonderful cook. Growing up, she cooked every day. In fact, it was very rare for us to go out to eat. The only times I remember eating fast food before I was a teenager was when we would be on vacation.
I think today, enjoys trying new recipes more than she did back then. I never got sick of what she made, but she did have the "normals" that she rotated through. And there were a lot of things that I never tried. Like turnips. I posted the other day about turnips – mentioning that I had just tried them for the first time. This was the meal I tried them in. And let me tell you – it won't be the last time I have turnips!
When I decided to make this meal, I didn't realize just how easy and fast it was going to be. When I think about making a whole chicken, I always just assume it's going to be a weekend meal – one of those meals that need some extra time and attention. Well, not this time!! This took well under an hour, and the final result was the most moist chicken and delicious vegetables. I've poached chicken breasts before, but never a whole chicken. It was just as easy! The only problem I had was that my chicken kept floating to the top, so I had to use more chicken broth than I thought I would and I had to keep pressing it down. But besides that, this was easy peasy! And the leftover chicken was great shredded for another meal. You can't complain when one easy meal becomes the base for another meal!
Recipe Rating: 4.25 out of 5
Chicken Poached in Broth
adapted from Glorious French Food
Serves 4
1 large chicken (4 to 5 pounds)
2 large carrots
2 medium turnips
2 medium leeks, all but a little of the greens discarded, whites split in half lengthwise and rinsed
1 medium bouquet garni (with 1 bunch parsley, 1 bay leaf, and 5 sprigs of thyme)
2 to 3 quarts full-bodied chicken broth
salt and pepper
coarse salt (to accompany the dish)
Peel the carrots and cut them into 1-inch sections. Stand each on end and cut lengthwise into quarters, thirds or halves, depending on the thickness of the section, so that each of the wedges is about the same size. Peel the turnips and cut each into 8 wedges. Tie the leeks together with string.
Put the chicken in a pot just large enough to hold it. (If the pot is too big, you'll need too much broth. Ideally, the pot should be narrow and tall.) Nestle in the bouquet garni and pour in enough broth to cover the chicken. Bring to a simmer over high heat, and as soon as the broth approaches a boil, turn down the heat to maintain only the slightest shimmering on top of the liquid. Skim off fat and froth with a ladle. When the chicken has been simmering for 5 minutes, nestle the vegetables in around it. Continue simmering about 30 minutes more, until the chicken is done and the vegetables are almost completely soft. If the chicken is done before the vegetables, transfer it to a plate and keep it warm while the vegetables are finishing. Season the broth to taste with salt.
Pull off and discard all the skin – use a kitchen towel to protect your fingers – and carve the chicken as you would a roast chicken. Spoon a ladleful of broth into 4 hot soup plates and arrange some of the sliced chicken and the vegetables in each bowl. Season with pepper and serve immediately. Pass the coarse salt.