Chicken Fingers with Spicy Avocado Sauce – Oven baked chicken fingers are served with a spicy avocado and sour cream sauce.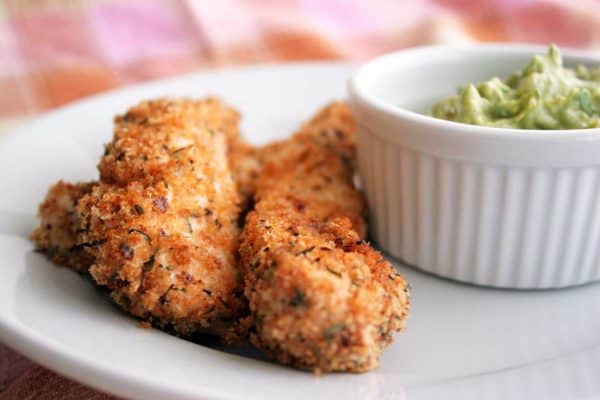 I have read that the number one pregnancy craving is ice cream. But it hasn't been for me. In fact, I'm sure that my husband has eaten way more ice cream than I have through this pregnancy. Although my likes/cravings for sweets is slowly coming back, I still am craving savory and spicy more than anything. In fact, my favorite pregnancy indulgence has been this – take a plate and layer a single layer of tortilla chips on top. Sprinkle liberally with shredded cheddar cheese (I'm loving really sharp cheddar right now) and melt in the microwave for 30 seconds or until the cheese is melted and bubbly. Then pile pickled jalepeños on top. The more, the better. Now, I have read a few food blogs that abhor pickled jalepeños. You know, like the ones you get on top of your nachos at the ball park. But I can't get enough of them. And I will full-on admit that I loved them even before pregnancy, but I love them even more now. So when I ran across this recipe that includes pickled jalepeños, even if it is only 2 tablespoons, I knew I had to make it.
I'm loving this cookbook more and more every time I look through it. It really is right up my alley- quick, simple weeknight meals, but packed with flavor. I know I've been a Rachael Ray advocate, and I still am, but I will be the first to admit that most of her "30-minute meals" take more than 30 minutes. Not a whole lot more, but I scramble to get them done that fast. But these recipes – even though I've only tried 2 so far – really are fast. This one probably took right at 30 minutes, but 20 minutes of that time was just baking in the oven.
I will say that the avocado sauce probably makes way more than what you will need just for dipping the chicken in. But I didn't complain, because I ate the leftover sauce like guacamole (which it basically is just a version of guacamole) and liked it even better that way. But then again, I'm always a sucker for a good dip.
I really wanted to try these with Panko, but realized that I was out, so I just made my own whole wheat bread crumbs. Super easy – I included the instructions below – and I like the fresh breadcrumbs way better than the ones you buy at the store. But feel free to substitute what you want or what you have on hand.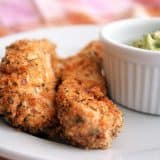 Chicken Fingers with Spicy Avocado Sauce
---
Author:
Prep Time: 10 minutes
Cook Time: 20 minutes
Total Time: 30 minutes
Yield: 4 servings 1x
Category: Main Dish
Method: Baked
Cuisine: American
Description
Chicken Fingers with Spicy Avocado Sauce – Oven baked chicken fingers are served with a spicy avocado and sour cream sauce.
---
Scale
Ingredients
For the Chicken Fingers
2/3 cup whole wheat bread crumbs*
1 teaspoon garlic powder
1 teaspoon onion powder
1 teaspoon dried oregano
1 teaspoon dried thyme
1/2 teaspoon paprika
1/2 teaspoon salt
1/2 teaspoon freshly ground black pepper
1 1/4 lbs. boneless, skinless chicken breasts, cut into thin strips
For the Spicy Avocado Sauce
2 small avocados, pitted and peeled
2 tablespoons sour cream
2 tablespoons minced pickled jalepeños
Juice from 1/2 small lime
1 tablespoon chopped cilantro
1/2 teaspoon hot sauce, or more to taste
---
Instructions
Preheat the oven to 400F. Coat a large baking sheet with cooking spray.
Combine the bread crumbs, garlic powder, onion powder, oregano, thyme, paprika, salt and pepper in a shallow dish. Mix well. Dip the chicken strips in to coat evenly, and tap off the excess. Lay the chicken strips on the prepared baking sheet in a single layer. Spray the tops with cooking spray. Cook until golden brown and cooked through, about 20 minutes.
In a medium bowl, mash the avocado and sour cream together with a fork. Fold in the jalepeños, lime juice, cilantro and hot sauce, then season to taste with salt and pepper.
Serve the chicken fingers with the avocado sauce on the side for dipping.
Recipe Notes:
*To make whole wheat bread crumbs, take a slice of whole wheat bread and put it into a food processor. Process until it makes fine crumbs. I only needed one slice of bread to make the amount of crumbs needed. Feel free to substitute prepared bread crumbs.
adapted from Quick Fix Meals