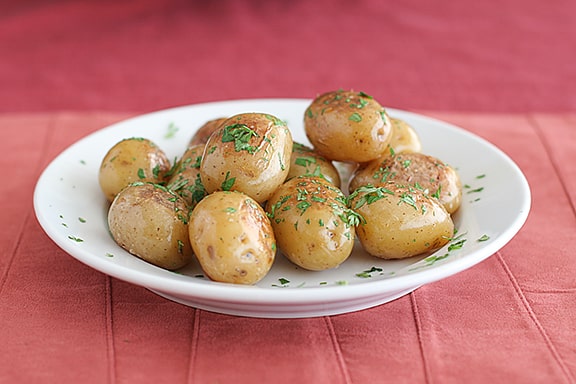 A late night post last night with the summary for last month's Cookbook of the Month, and today, I am jumping right into this month's cookbook – Kitchen of Light.
Ok, here is where I am totally honest with you. If I would have had time, I would have gone back to the library to look for a different book. I didn't really know what Scandinavian cooking consists of when I checked out this book, but I was taken by the beautiful photographs. That, and the fact that this book was actually written in the last 10 years – unlike most of the other cookbooks on the shelf at the library that day. But now that I've looked through it, I've realized that Scandinavian cooking is a lot of fish. A lot of it. And guess what? That just doesn't appeal to me right now. If you missed last night's post, I announced that I am pregnant again. And I'm having some serious food aversions lately. But, I managed to pick out 4 recipes from the book, so hopefully we'll make it through this cookbook and this month!
First up, potatoes. This recipe seemed so simple, but yet another recipe I messed up. First of all, melting sugar and I have a history. Sometimes it works perfectly for me, and sometimes it is a disaster. This time it didn't work so well. I was cooking it on medium-low like the instructions said, but after half an hour, it didn't look any different. So I turned up the heat. The sugar finally melted, and I threw the potatoes in. I'm not exactly sure how this recipe is supposed to work, but the sugar did not coat the potatoes. In fact, it was like oil and water. The sugar stuck to itself, and eventually just hardened and all stuck together. So I took the hard sugar out, and just cooked the potatoes.
But guess what? I don't think I would have really liked that much sugar on my potatoes. It sounded like a strange combination to start out with, but I'm adventurous. The final potatoes, although the sugar was taken out of the pan, still had a sweet taste to them, and if it was any sweeter, I'm sure I wouldn't have liked them at all. So I guess I at least saved my potatoes since the recipe didn't work out for me!!
Oh yeah – and I didn't have any thyme, so I just sprinkled some parsley on them after they cooked. They may have just been potatoes, but I think I actually liked the way they turned out!
Recipe Rating (as written): 2.5 out of 5
Caramelized Potatoes
from Kitchen of Light
serves 4 to 6
2 tablespoons butter
1/4 cup sugar
2 pounds very small new potatoes, cooked in boiling salted water until tender, drained, and peeled if desired
1/2 teaspoon salt
1 teaspoon chopped fresh lemon thyme or other thyme
In a large nonstick skillet, melt the butter over low to low-medium heat. Stir in the sugar and cook until the sugar is melted and light brown, stirring constantly with a wooden spoon to make sure that the sugar does not burn. Add as many potatoes as will fit in the pan without overcrowding it, season with salt and thyme, and cook, shaking the pan to coat the potatoes on all sides, until lightly browned and caramelized. Transfer the potatoes to a serving platter and keep warm. Repeat with remaining potatoes and serve immediately.