My mom makes the best breakfast burritos.  No – I'm serious – the BEST.  In fact, every time we have family together and breakfast is being served, whether it's while we're camping or away on vacation together, my mom's breakfast burritos are always requested.  And not just by her children, but the in-laws ask for them as well.  And they are one of those things that no matter how I try, I just can't make them like mom does.  And for this reason, I usually steer clear of making breakfast burritos.  I love them, but I don't make them often, just because I can never measure up to mom's.
So what was I thinking when I chose this recipe from this month's Cookbook of the Month?  Well, they sounded really good!!  Ok, in all honesty, they didn't quite measure up to mom's, but they definitely came in a solid second place.  And really, that's all I can ask for!!
These really are a manly man's breakfast burrito.  They are stuffed full of goodness.  So full, in fact, that I couldn't even take a picture of them when they were folded up, because I couldn't let go of them or they would open right up because they were so full!  The recipe says that 2 burritos are a portion size, and if you have a huge appetite, that is right, but I was full after 1.  It was a perfect – and filling! – breakfast!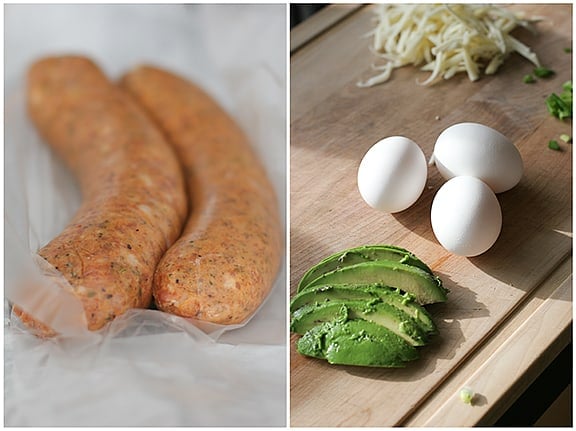 Recipe Notes:
Instead of using the second dose of olive oil, I cooked the eggs in the same pan that I cooked the sausage in, and I used the leftover grease from the sausage.
I used a spicy Italian sausage, which was perfect!
Don't skip the avocado – it really made this burrito!
*Recipe Rating:  8 out of 10
Breakfast Burritos
from Recipes Every Man Should Know
serves 2
total time:  15 minutes
1 tablespoon olive oil, divided
1/2 pound hot sausage, such as chorizo, casing removed
6 large eggs, lightly beaten
salt and black pepper, to taste
4 (8-inch) flour tortillas
1/2 cup shredded sharp cheddar or Monterey Jack cheese
1/4 cup of your favorite salsa
2 scallions, thinly sliced
Flesh of 1 ripe avocado, thinly sliced
sour cream, hot sauce, and lime wedges for serving
In a frying pan over medium heat, warm 2 teaspoons olive oil.  Add sausage and cook 5 minutes, stirring occasionally.  Set aside.
Next, in a small bowl, whisk together eggs, salt and pepper.  Warm remaining teaspoon olive oil in a small skillet over medium heat; add eggs, and scramble 1 to 2 minutes, or until cooked through but still soft.
Place tortillas in a warm skillet, one at a time, and heat 1 minute per side.  Place each tortilla on a plate.  In a strip down the middle of each tortilla, add sausage, eggs, cheese, salsa, scallions and avocado slices.  Tuck in the end of each tortilla and fold over the sides.
—————-
*I had a few requests for a larger scale for ratings – and I'm here to please!!  I am now rating from 1-10 instead of 1-5.  Below is the scale.  Eventually, I'll have it on the side bar (once I get some time to throw something together!)  Anything rated 1-4 will never be made again, 5-7 might get made again, but with a few moderations, and 8-10 ratings are ones that I would definitely make again!
1 – went in the trash
2 – barely edible
3 – ate it, but didn't like it
4 – not very good
5 – it was ok
6 – good
7 – very good
8 – really delicious
9 – nearly perfect
10 – Perfect!
—————-
Want more breakfast burrito goodness?  Check out these other recipes!
Chorizo and Black Bean Breakfast Burritos from Elly says Opa
Crockpot Breakfast Burritos from Cooking Books
Southwestern Breakfast Burritos from What's Cookin, Chicago?