Flavors of chocolate and cherry come together in these rich cookies that are named after the popular Black Forest Cake.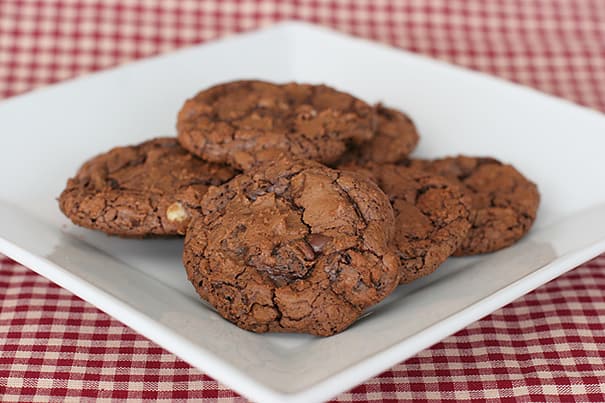 I love it when a recipe brings back memories. I originally wasn't going to make any cookies out of this month's Cookbook of the Month: Baked – New Frontiers in Baking. Mainly because I have a lot of cookie recipes in my archive waiting to be posted. But when I saw this recipe for Black Forest Chocolate Cookies, I knew I had to make them!
I haven't had a black forest cake in years. In about 9 years to be exact. Seeing the cookie recipe took me back to a cake I made many, many years ago. 2 of my sisters and I had been living in an apartment, but were moving to a condo. The only problem was that there was a week or two, I can't remember exactly how long, that we would be homeless because we had to be out of the apartment before we could move into the condo. We didn't know what we were going to do. We looked into staying into a hotel, but that was a lot more than any of us could afford on student budgets. Luckily, a friend of ours came to the rescue and let all three of us stay with him while we were homeless. While we were staying with him, it was his birthday. The least we could do was make him a birthday cake!!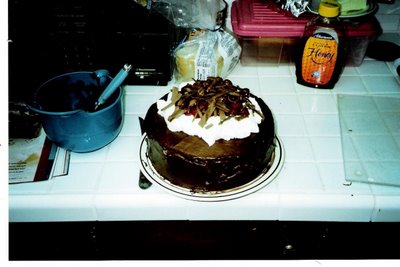 You'll have to excuse the really poor quality of this photo – I had to scan it, and the quality is horrible. But I remember being so proud of this cake. The sad thing is, I didn't really bake much back then, but my decorating skills haven't improved much!
I know that cookies and cakes are different, but I had to make these Black Forest Cookies. My only complaint with these cookies is that I was expecting more of a black forest taste with cherries and chocolate, but really, you mostly get chocolate with a very slight hint of cherry. If I wasn't expecting more of a cherry flavor to come through, I think I would have been completely wowed by these cookies.
If you love chocolate, you will love these cookies. With 28 ounces of chocolate, you'd have to!! I have to admit that these would have broke the bank for me if I had to use "good" chocolate. 16 ounces of dark chocolate is not cheap! But luckily, I ran across some Guittard extra dark chocolate chips that I had never seen before, and they cut down on the cost significantly. And I think the taste was amazing! The recipe says that it makes 24 cookies, but I got at least twice that many – so beware that this makes a lot! This dough is not easy to work with, so make sure you refrigerate it for at least 6 hours, and be ready to get your hands messy when you are forming the balls. I usually use a small ice cream scoop when I make cookies, but this dough was too sticky to use it, so I had to use my hands.
Like I mentioned last week, I took these to my girls at church and had them rate them. They all gave these 5 out of 5! My husband gave them a 4.5, and I'm somewhere in the middle, so we'll settle at 4.8. Not bad!
Print
Black Forest Cookies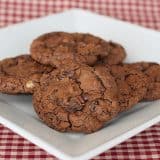 Flavors of chocolate and cherry come together in these rich cookies that are named after the popular Black Forest Cake.
Prep Time:

20 minutes

Cook Time:

12 minutes

Total Time:

1 hour

Yield:

2-4 dozen (depending on the size of the cookies)
Ingredients
3/4 cup all-purpose flour
1 teaspoon baking powder
1/2 teaspoon salt
16 ounces dark chocolate (60 to 72% cacao), coarsely chopped
10 tablespoons unsalted butter, cut into 1-inch pieces
6 large eggs
1 1/4 cups granulated sugar
1 cup firmly packed light brown sugar
1 tablespoon pure vanilla extract
1 cup (6 ounces) semisweet chocolate chips
1 cup (6 ounces) white chocolate chips
1 cup (6 ounces) dried cherries
Instructions
Sift the flour, baking powder, and salt together into a medium bowl and set aside.
In a large nonreactive metal bowl, combine the dark chocolate and butter,. Set the bowl over a saucepan of simmering water and cook, stirring with a rubber spatula, until the chocolate and butter are completely melted and the mixture is smooth. Set aside to cool.
In the bowl of an electric mixer fitted with the whisk attachment, beat the eggs and sugars on high speed until the mixture is pale and thick, about 5 minutes.
Add the cooled chocolate mixture and the vanilla and beat until just combined. Scrape down the bowl and beat again for 10 seconds.
Add the flour mixture and mix on low until just combined, about 10 seconds. Do not overmix.
Using a spatula or wooden spoon, fold in the chocolate chips, white chocolate chips, and dried cherries.The dough will look very loose, but it will harden in the refrigerator. Refrigerate for 6 hours or overnight.
Preheat the oven to 375°F. Line two baking sheets with parchment paper.
Drop the dough by rounded tablespoons onto the prepared baking sheets, about 1 inch apart. Bake for 10 to 12 minutes, rotating the pans halfway through the baking time, until the tops of the cookies are set and begin to show a few cracks.
Remove from the oven and let cool slightly before removing from the pans and serving.