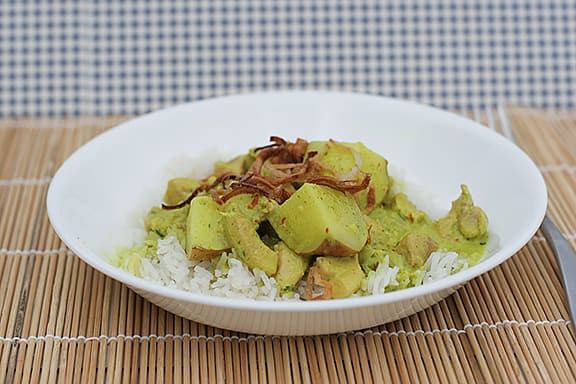 When I decided at the beginning of this year to take a trip around the world with my Cookbook of the Month selections, I knew I'd be stepping out of my comfort zone.  But I wasn't too worried.  After all, a recipe is a recipe, and I'm usually pretty good about following a recipe.  But then this month came around.  And I chose this cookbook.  And for some reason, I've been completely intimidated.  Completely intimidated.  I've sat down and read through the recipes over and over, but even then, as I went to make this recipe, I was scared out of my mind.
But I had a little bit of help from a neighbor and friend of mine.  When I couldn't figure out what some of these ingredients were and where to find them, I knew she would be able to help!  So I want to pass on the knowledge I learned from her to you.  I already have my recipes chosen out for the whole month, so I emailed her about all of the ingredients I had questions about.
My first question – which had to do with this recipe, was regarding coconut cream.  Coconut milk – I was able to find that, but didn't know where to find cream.  In the book, the author says that he doesn't like canned, and since I wasn't able to find canned, I actually bought a coconut and I was going to try separating the cream myself.  But then Veeda suggested this: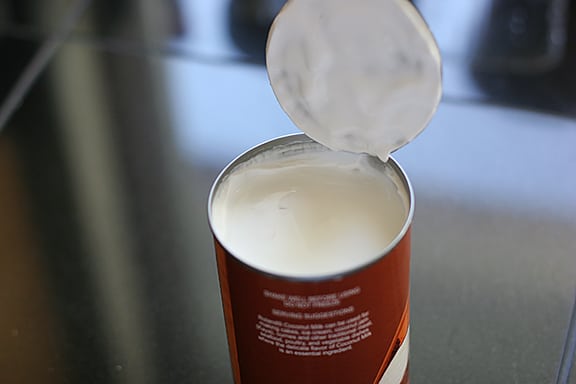 If you buy coconut milk, the cream is usually separated from the milk. I'll shake the can to incorporate everything, but maybe your recipe is telling you just to use the cream. I like using the brand Chaokoh for my coconut milk, it comes in an a can with a picture of a coconut and brown background.
So yeah, even though the author says he doesn't like canned, this was sure an easier option!
The other ingredients I inquired about were palm sugar, galangal, and where to find Kaffir lime leaves.  And I thought her tips – and the extra tips about fish sauce – would be great for everyone!
I think the palm sugar they carry is whole, and you'll have to grate it into sugar yourself. I also just substitute with regular granulated sugar when I don't have any palm sugar (or I'm too lazy to grate it). It works just fine. Galangal is like a root, kind of like ginger. I think they sell it fresh there, if not you can find it powdered too.

And the Kaffir Lime leaves are sooooo great. They really elevate a curry dish. You can find those in the frozen or refrigerated section of the store. I don't know if your book mentions this, but if I'm slicing them, I'll cut out the middle stem and then slice the leaves into tiny strips.

Have you bought fish sauce yet? I'm sure you'll have to use it for your cooking. I like Tiparos brand (but if it's in a plastic bottle, don't buy it. I hate using that bottle.), Squid brand and I've heard good things about Tra Chang & Golden Boy. I haven't tried those two because I usually just stick to the Squid brand.
 So HUGE thanks to Veeda!
And now back to this dish.  I was super intimidated.  I started it, and kept wondering to myself why I chose this.  It just felt so out of my comfort zone.  And it took a long time.  And if you are a regular reader of my blog, you know that I don't usually cook meals that take very long.  I questioned myself more than once while making this, and doubted that it would turn out well.
Well, guess what?
I LOVED IT!!
This was seriously SO delicious.  Hot, but so good.  All of the work?  Totally worth it.  I really think this has been one of my favorite meals lately.  Now I just need to convert my husband into becoming a lover of Thai food…
I changed and adapted many things, so I'm just going to do a notes section.  The recipe listed below is how the original recipe is listed, but these were my changes.
I wasn't sure what potatoes to use, so I just used some red potatoes.  This was probably my one mistake.  They weren't exactly perfect for this dish, or maybe I just needed to cut them smaller.  They were still good, but not perfect.
Speaking of the potatoes, I didn't boil them in the coconut cream.  From each can, about the top inch is coconut cream, and I figured it would just be a waste and too many cans to extract enough to boil the potatoes in it.  So I used just water.  And maybe that's why my potatoes didn't feel like they fit in perfectly!
I used regular sugar instead of palm sugar
I wasn't sure what chilies to use.  I had some dried chiles de arbol in my pantry, so I just used those.  And I'm really glad the recipe said to de-seed them, because it was pretty hot!
I used powdered turmeric instead of chopped
Many of these recipes call for coriander root, but it's something I haven't been able to find.  So I just used a handful of cilantro leaves and stems.  I'm not sure if this original dish is so green, but I'm guessing mine is because of the cilantro!
I used powdered white pepper instead of white peppercorns
Recipe Rating:  4.5 out of 5
Aromatic Chicken Curry
6 oz skinless chicken thigh fillets, cut into 1/2-inch cubes
4 kipfler, pink eye, maris piper or other waxy potatoes
4 cups coconut milk
pinch of salt
2 cups coconut cream
1 tablespoon palm sugar
2 tablespoons fish sauce
extra 3 tablespoons coconut cream
1/2 cup deep fried shallots
Marinade
1 tablespoon chopped ginger
1 tablespoon chopped garlic
pinch of salt
1/2 cup coconut cream
Paste
6-10 dried long red chillies, deseeded, soaked and drained
large pinch of salt
1 tablespoon chopped turmeric
4 tablespoons chopped red shallot
3 tablespoons chopped garlic
1 coriander root, scraped and chopped
1 teaspoon white peppercorns
1 tablespoon coriander seeds, roasted
a little grated nutmeg – optional
For the marinade, made a very fine paste from the ginger, garlic and salt.  Add the coconut cream, and marinade the chicken cubes in it for at least 2 hours, preferably overnight.
Next, make the curry paste.  (see below)  Peel and quarter potatoes and steep in water for a few hours to remove any extra starch.  Simmer in 3 cups of the coconut milk, with a pinch of salt, until cooked, adding water if more liquid is needed.  Drain.  Meanwhile, poach chicken in 1 cup each of the coconut milk and coconut cream until cooked – about 6 minutes.  Drain and reserve most of the poaching liquid, keeping enough in the pot just to cover the chicken.
In a smaller pan, simmer the remaining ucp of coconut cream until it separates, then fry the curry paste in it over medium heat for not less than 5 minutes, stirring regularly to prevent scorching, until fragrant with pepper and coriander seed.  Don't worry if the paste has separated or is oily – it is meant to be like that – and it should really sizzle.  Season with palm sugar and stir until it has melted into the paste and changed color, then add fish sauce.  Simmer further for a minute or so.  Pour paste back over the chicken.  Make sure the curry covers the chicken, if not, add more of the chicken poaching liquid.  (Do not use any of the coconut milk from the potatoes as it will be too starchy; it is for this same reason that the potatoes are cooked separate from the chicken.)
Add potatoes to the curry.  Shake the pot to ensure that everything is well incorporated but do not use a spoon as this could break up the potatoes.  Allow to rest for a few minutes to enable the spices to ripen and the flavours to meld.  Bring the curry gently to a boil, then check the seasoning:  it should taste a little salty, rich from the coconut cream and spicy.  Finish with the extra coconut cream and the deep fried shallots.
*To make the paste – the book suggests that the best and most authentic way is by using a mortar and pestle.  And the second best way is with a blender, followed by a food processor.  I don't have a mortar and pestle, so I went with the blender method!