I just have to say how excited I am that I started doing a cookbook of the month. It's really giving me the motivation to cook multiple recipes from one cookbook and to get to know the author behind the book. I think when you only do one recipe from a cookbook, you don't get the personal feeling that you do when you make multiple recipes. With that said, onto the review (and then an announcement for the Cookbook of the Month for December!!)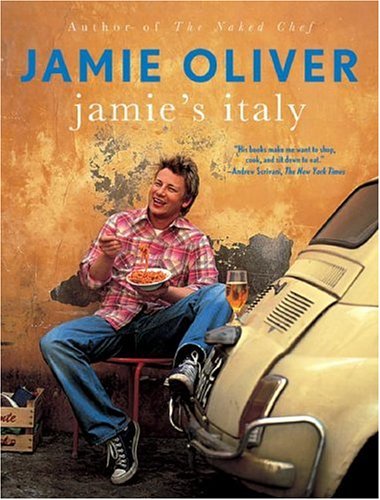 What a wonderful discovery Jamie's Italy was. I have never been to Italy, so to me, Italian food has always equaled pasta or pizza. And the American versions are the ones I'm the most familiar with. This book not only gave me an insight to the wonderful world of true Italian food, but it also tells of Jamie's journey through Italy. If you're like me, and you like to just sit and read through cookbooks, you will really enjoy this one just for that reason.
When I first got this book, I was reading some reviews online. A few people complained because there are some recipes that the normal, everyday home cook would probably never make because of the availability of the ingredients. Like the tender octopus, or any of the octopus recipes that follow. To me, this was not a problem. Will I ever make the octopus recipes?? Most likely no, but it is still interesting to me to read about them and learn.
Although I will no longer be focusing on this book, it will not be far from the kitchen. There are many more recipes I have marked and that I am really excited to try. A real winner!!
Recipes made from Jamie's Italy:
The Best Shrimp and Parsley Fritatta
Pasta with Chickpeas
Sliced Mushrooms with Mozzarella and Thyme
Sausage Carbonara
And now onto December. I am so excited to have an excuse to make a lot of recipes out of this book. It is Candymaking by Ruth A. Kendrick and Pauline H. Atkinson. I have had this cookbook for a few years, but to be honest – I'm not sure if I have ever made a recipe out of it before!! I first learned of this book when I went to a cooking class several years back. It was just a one night class, and the instructor worked for the Lion House. (I have talked about the Lion House Dessert cookbook I have many times. It is one of my favorites!) I can't remember the class in it's entirety, but the instructor at one point was showing us how to make taffy. He mentioned this book for if you wanted to learn more about candymaking, saying that it was a wonderful resource. So I went to the local bookstore, and they didn't carry it. This was awhile back – back before you just went to the internet to find what you need and then order it! I think I went to 3 or 4 different bookstores looking for this book without any luck. Then I went to a local University, and there in their bookstore, they had one copy. I quickly bought it!!
I always have intentions on learning to make candy. One year, I did make a few varieties, but since then, I don't think I've made any. So I figured that this would be the perfect opportunity to get this book out and get to candymaking!!