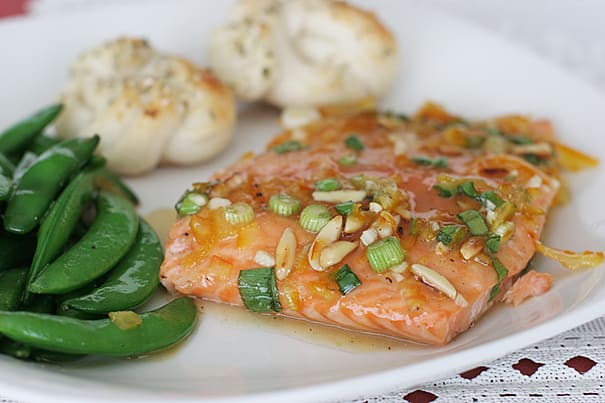 As much as I love to cook, sometimes it is just impossible to get dinner on the table every night. I admit that I usually have a frozen pizza in the freezer for nights when there is just not enough time or when I just don't have the energy.
So when a meal like this hits the table, I have to say – it makes me feel a bit like Superwoman! But really, the secret is that this takes so little time and effort – I probably finished it in about the same time it would have taken to cook a frozen pizza!
I do feel like I need to mention that my husband didn't really care for this salmon recipe. I really liked it, but he just picked at his. I think it's because I made the full sauce recipe, but only made 2 salmon fillets. I think that if you have the correct amount of sauce, the flavor wouldn't be quite so overwhelming.
Citrus-Glazed Salmon
adapted from Family Circle Quick & Easy Cooking
Serves 4
4 salmon fillets, skin removed
salt and fresh ground pepper
1/3 cup orange marmalade
1 green onion, sliced
1 teaspoon dry white wine
1/2 teaspoon fresh ground ginger
1/2 teaspoon Dijon-style mustard
1 clove garlic, minced
1/8 teaspoon cayenne pepper
1/8 teaspoon five-spice powder
2 tablespoons sliced or slivered almonds, toasted
Preheat oven to 450F. Rinse fish, and pat dry with a paper towel. Sprinkle fish with salt and pepper. Place in a shallow baking dish; set aside.
In a small bowl, stir together marmalade, green onion, wine, ginger, mustard, garlic, cayenne pepper, and five-spice powder. Spoon mixture over fish.
Bake for 4 to 6 minutes per 1/2 inch thickness of fish, or until fish flakes easily when tested with a fork. Sprinkle individual servings with almonds.

Gingery Sugar Snap Peas
adapted from Family Circle Quick & Easy Cooking
Serves 6
3 cups fresh sugar snap peas
1 tablespoon butter
1 tablespoon orange marmalade
dash of ground ginger
dash of black pepper
Remove strings and tips from sugar snap peas. In a covered medium saucepan, cook peas in a small about of boiling salted water for 2 to 4 minutes, or until crisp-tender. Drain well; set aside.
In the same saucepan, melt butter over low heat. Stir in marmalade, soy sauce, ginger and pepper. Return peas to the saucepan, stirring to coat.
Parmesan Rosettes
from Family Circle Quick & Easy Cooking
Makes 12 rosettes
1 11-ounce package (12) refrigerated breadsticks
3 tablespoons grated Parmesan or Romano cheese
1 teaspoon sesame seeds
1/2 teaspoon dried Italian seasoning, crushed
1/4 teaspoon garlic powder
2 tablespoons butter, melted
Preheat oven to 375F. Separate breadsticks and uncoil into 12 pieces. On a lightly floured surface, roll each piece into a 12-inch long rope.
Tie each rope in a loose knot, leaving 2 long ends. Tuck the top end of the rope under roll. Bring bottom end up and tuck into the center of the roll.
In a shallow dish, combine Parmesan cheese, sesame seeds, Italian seasoning and garlic powder. Brush top and sides of each knot with the melted butter. Carefully dip the top and sides of each rosette into the cheese mixture. Place rosettes 2 to 3 inches apart on an ungreased baking sheet.
Bake for about 15 minutes or until golden. Serve warm.