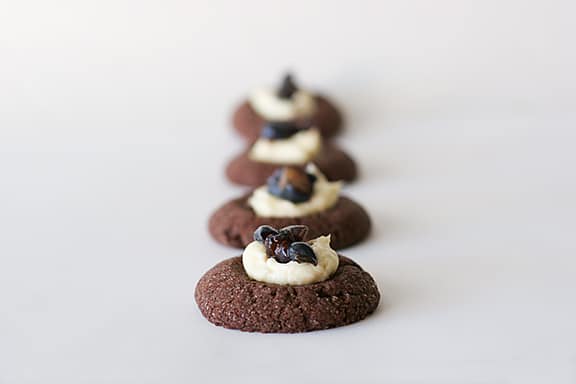 Growing up, I don't remember my mom every buying store-bought cookies. Sure, she'd buy Little Debbie treats sometimes, but then again, what mom didn't? But no cookies. (Unless we were camping. When we went camping, that was the one time we really got to splurge with the junk food!) Well, every Sunday night we would go over to my grandparent's house. And although this night was the night that my mom made a dessert, I always looked forward to going over to grandma's house for Oreos. My grandma had this glass cookie jar in the kitchen shaped like a dog. And it was always filled with Oreos. Double-Stuffed. Sometimes, there would be some store bought macaroons in there as well, but there were always Oreos. I don't know if it's the fact that this was just a once-a-week treat, or if I just love Oreos, but to this day, I still have a special place in my heart for these cookies.
For some reason, these thumbprint cookies remind me vaguely of Oreos. I'm sure it's the super chocolatey base, so rich that it calls out for a glass of milk. And you can't go wrong with a cream cheese filling! The topping on the original recipe for these cookies is strawberries, but I just happened to have some blueberries on hand when I made them, so that is what I used. I think that strawberries would probably be prettier and have more flavor, but I really think that any berry would work. Just make sure to have a big glass of milk close by!
Chocolate-Blueberry Thumbprints
adapted from Martha Stewart Cookies
makes about 3 dozen cookies
3/4 cup all-purpose flour
1/4 cup unsweetened Dutch-process cocoa
1/4 teaspoon salt
2 ounces semisweet chocolate, chopped
1/2 cup (1 stick) unsalted butter, softened
1/4 cup plus 6 1/2 teaspoons granulated sugar
1 large egg yolk
1/2 teaspoon pure vanilla extract
4 ounces cream cheese, at room temperature
2 tablespoons confectioners' sugar
4 ounces blueberries, diced (or substitute any berry!)
Sift flour, cocoa, and salt into a bowl; set aside. Melt chocolate in a heatproof bowl set over a pan of simmering water, stirring until smooth; set aside to cool.
Put butter and 1/4 cup granulated sugar into the bowl of a mixer fitted with the paddle attachment; mix on medium speed until pale and fluffy. Mix in yolk, vanilla, and chocolate. Reduce speed to low. Mix in flour mixture until just combined. Refrigerate, covered, 1 hour.
Preheat oven to 350 degrees. Put 6 teaspoons granulated sugar into a small bowl. Form dough into 3/4-inch balls; roll in sugar to coat. Space 1 inch apart on baking sheets lined with parchment. Press center of each ball with your thumb. Bake 10 minutes. Press centers again with end of a wooden spoon, making 3/4-inch indentations. Bake until slightly cracked and set, about 5 minutes more. Cool completely on racks. Unfilled cookies can be stored in airtight containers up to 3 days.
Stir cream cheese and confectioners' sugar in a small bowl. Toss berries with remaining 1/2 teaspoon granulated sugar in another bowl. Spoon cream cheese mixture into center of cookies; top with sugared berries, dividing evenly.