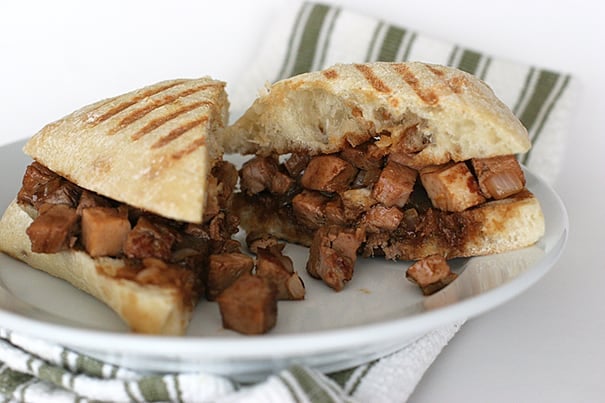 My skillet that I use regularly is not oven safe. It has plastic on the handle. I really need to get a new oven safe skillet, and this recipe just reiterated that to me!!
Let me explain. I saw that for this recipe, I would brown the pork loin on the stove, then transfer it to the oven to finish cooking through. So instead of using my regular, every day skillet, I used a cast iron skillet. All was well until I went to the oven to pull out the pork. I don't know – maybe it wasn't the cast iron skillet although I'm assuming it was – but that pan got so hot that none of the juices from that pork wanted to stay in the skillet and they were all over the oven. Now I had a huge mess in my oven to clean up.
Good thing these sandwiches were good to make up for the mess I had to clean up. But then I had another mess to clean up because these sandwiches were so messy! But they were delicious – and that's all that really matters, right?
Chinese Roast Pork Panini
from Every Day with Rachael Ray April 2009
Serves 4
1 12- to 16-ounce pork tenderloin, trimmed and cut crosswise into 2 large pieces
salt and pepper
2 tablespoons vegetable oil
1 onion, chopped
2 tablespoons hoisin sauce
2 tablespoons honey
1 tablespoon sesame oil
1 tablespoon soy sauce
4 rolls, split (I used ciabatta)
Preheat the oven to 450F. Season the pork with salt and pepper. Heat a heavy, medium ovenproof skillet over medium-high heat. Add 1 tablespoon oil, then the pork; cook, turning, until browned, about 2 minutes. Transfer to the oven and roast until a thermometer registers 150F, about 10 minutes. Transfer to a cutting board and let rest for 10 minutes. Cut into 1/2 inch cubes.
In a small skillet, heat the remaining 1 tablespoon oil over medium heat. Add the onion and cook, stirring, until softened, about 8 minutes.
In a large bowl, whisk together the hoisin sauce, honey, sesame oil and soy sauce. Stir in the onion and the pork and it's juices.
Preheat a panini press. Divide the pork mixture evenly among the roll bottoms, then cover with the tops. Working in batches if necessary, grill until browned and crisp.