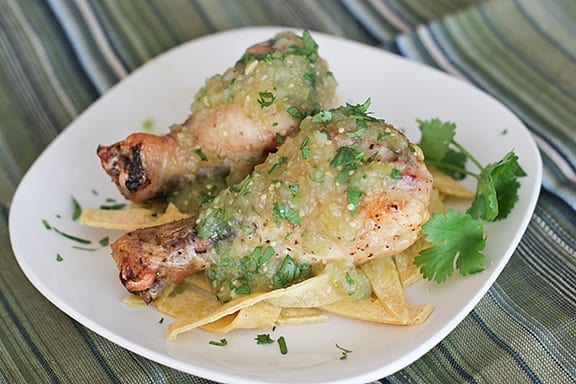 First of all, if you have found me here from my appearance on Studio 5 today, welcome!! Feel free to have a look around. I will be re-posting the recipe that I made on the show tomorrow, and if you are looking for some other great recipes to try out, please check out the links above.
Lately, when I plan my meals, I've been trying to use up items that I already have on hand. I tend to buy meat and chicken in bulk when it is on sale, then I freeze it in smaller portions. But my biggest problem when I do this is forgetting that I have things in the freezer. So I have intentionally been looking for recipes that will use what I have in the freezer. That was the main reason I was drawn to this recipe. The second reason I was drawn to it is because when I just glanced at it in the magazine photo, I thought the chicken was set on thick noodles. But then I read the recipe and learned that they were not noodles – they were corn tortillas cut into strips! I thought that this was a new and different way to use the tortillas, so I thought I'd give it a try.
This recipe was easy, delicious, and yes – a little different from the norm. I loved the corn tortillas under the chicken. I loved taking a forkful of chicken, tortilla and sauce. And I'm sure this would be easy to do with chicken breasts or thighs!
Chicken with Tomatillo Sauce
from Everyday with Rachael Ray December/January 2010
Serves 4
Prep time: 15 minutes
Cook time: 40 minutes
8 chicken drumsticks
3 tablespoons vegetable oil
salt and pepper
1 pound tomatillos, husks removed
1/2 white onion, sliced
1 small jalepeno chile, chopped
1 clove garlic, peeled
1/4 teaspoon sugar
2 tablespoons chopped cilantro
8 corn tortillas, cut into strips
Preheat the oven to 425°. On a baking sheet, toss the chicken with 1 tablespoon oil and season with salt and pepper. Bake until browned and cooked through, about 40 minutes.
Meanwhile, in a saucepan, combine the tomatillos and just enough water to cover. Bring to a boil, then simmer until tender, about 5 minutes. Using a slotted spoon, transfer the tomatillos to a food processor; reserve 1/3 cup cooking water. Puree the tomatillos with the onion, jalapeño, garlic and sugar.
In a skillet, heat the remaining 2 tablespoons oil over medium-high heat. Add the tomatillo puree and cook, stirring, for 10 minutes. Stir in the reserved cooking water and 1 tablespoon cilantro. Top the tortilla strips with the chicken, sauce and remaining 1 tablespoon cilantro.