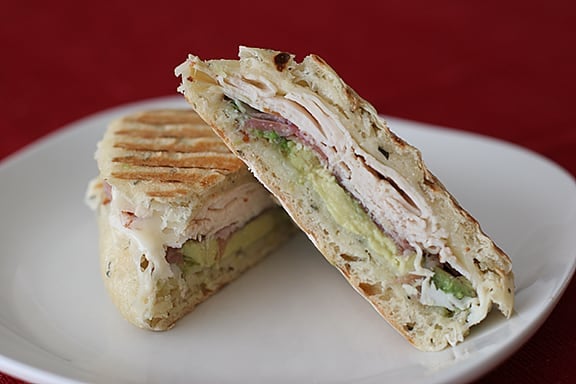 I'm headed out to Philly & NJ today for the big cook-off.  I'm super excited to spend some time at the Campbell's headquarters with 2 other great bloggers.  I'm hoping that this pregnant body of mine holds up, and I'm hoping I win the title of the Ultimate Football Champion with my Chicken, Bacon  Cream Cheese Mini Taquitos.  Regardless, it should be a lot of fun.
So needless to say, yesterday was a crazy busy day – getting everything ready to go and getting my husband up to speed on everything he needs to know while I'm gone.  I wanted something super easy for dinner, and in all honesty, I didn't plan on blogging about this sandwich.  But then I started thinking that we all have those nights when we just need something easy for dinner – and sandwiches are my go-to!  So even though this is a simple sandwich, it was still the perfect dinner!
Chicken-Prosciutto Panini
Ciabatta rolls
Deli chicken
Proscuitto
Provolone
Avocado slices
Layer the cheese, chicken, proscuitto, and avocado slices on the ciabatta roll.  Press in a panini press, or grill on a grill pan until the cheese is melted.  Enjoy!