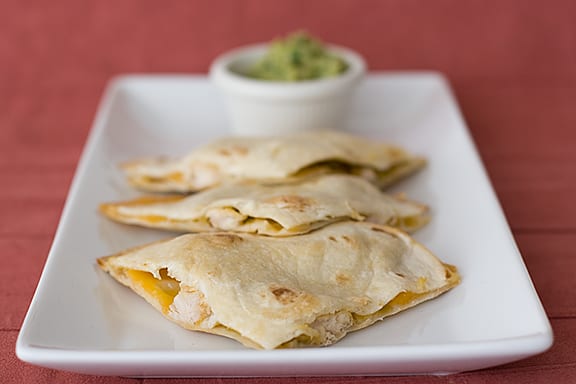 I know it probably sounds crazy, but I feel kind of silly posting just a regular, everyday meal on the week of Thanksgiving.  The internet is swimming with delicious ideas for Thanksgiving, and here I am posting about something you could have any night of the year.  But hey – Thanksgiving is only one day, right?  And I just realized that this would be a great way to use some of those turkey leftovers – just substitute some turkey for the chicken!
Regardless of whether it's Thanksgiving or not, these quesadillas really would be great any night of the year.  We are a total quesadilla family, and these are winners.  Especially the "guacamole".  You're going to want to make extra – mark my word – to eat with chips later on!  That stuff is tasty!!  The night we ate these, I think that Abbi ate more of the sauce than she did of the quesadillas, which is ok by me since it is full of peas and beans!
There is one thing I would change for next time – I would cook and then shred my chicken instead of cubing it.  I'm not really a fan of cubed chicken in quesadillas – and I knew that before I made these, so I don't know why I didn't go with my initial intuition.  They were still delicious, just a little harder to eat!
Chicken-Cheddar Quesadillas with White Bean-Green Pea Guacamole
serves 4
total time:  30 minutes
Chicken-Cheddar Quesadillas
2 teaspoons olive oil
1 1/4 pounds boneless, skinless chicken breasts, cut into 1-inch chunks
One 4-ounce can diced green chiles
1 teaspoon liquid smoke seasoning
Eight 8-inch flour tortillas
1 1/3 cups shredded reduced-fat cheddar cheese
White Bean-Green Pea Guacamole
2 cups frozen peas, thawed
1 cup canned white beans, drained
2 cloves garlic, minced
2 teaspoons fresh lime juice
1 teaspoon ground cumin
1/4 cup chopped fresh cilantro
salt and freshly ground black pepper
Heat the oil in a large skillet over medium heat. Add the chicken and cook, stirring, until browned on all sides, about 5 minutes. Add the chiles and liquid smoke and cook 1 minute to heat through.
Arrange four tortillas on a flat surface. Top each one with an equal amount of the chicken mixture to within ¼ inch of the edges. Top the chicken with cheese (1/3 cup of cheese per tortilla). Top with a second tortilla and wrap each quesadilla in aluminum foil.
To make the guacamole, in a medium bowl or blender, combine the peas, beans, garlic, lime juice, and cumin. Mash with a fork or puree until larger lumps disappear (leave it as lumpy as you desire!). Fold in the cilantro and season to taste with salt and pepper.
IF YOU'RE STOPPING HERE:
Refrigerate the quesadillas up to 3 days or freeze up to 3 months. Thaw completely in the refrigerator or microwave for 2 to 3 minutes on LOW before baking. Place the guacamole in a tightly covered container and refrigerate up to 3 days.
WHEN YOU'RE READY TO EAT:
Preheat the oven to 400°F. Place the foil-wrapped quesadillas on a baking sheet and bake until the cheese melts, about 10 minutes. Slice each quesadilla into 4 wedges and serve with the guacamole on the side.
&nbsp