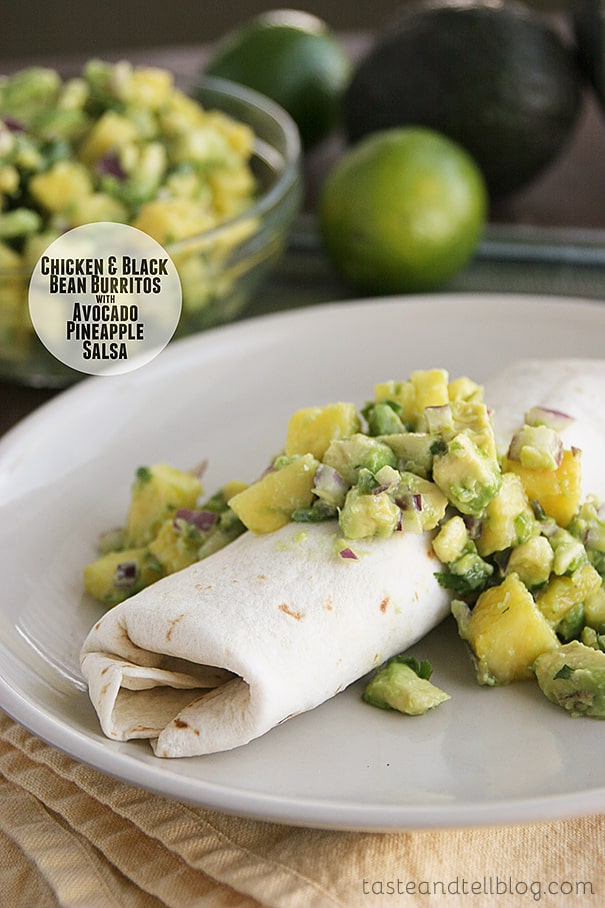 I am not a big entertainer, but I do love getting together with family and friends. My family, especially, really likes to spend a lot of time together. I would have them over once a week if it was up to me!! But since baby #3 came along, it is definitely harder to plan things, and more specifically, to actually follow through and get things done. It's crazy how much I was scrambling at Thanksgiving and Christmas, just to get a couple of dishes done to contribute to the meal.
I have had my mind on the Super Bowl lately – it is just around the corner – and have been really wanting to throw a super bowl party. The truth of the matter is that although I'm not the biggest football fan, I love the excuse I have to make a bunch of food and to get everyone together. But then when I think of how hard it has been to even get dinner on the table with 3 small children, I start to think that a super bowl party may not be the best idea.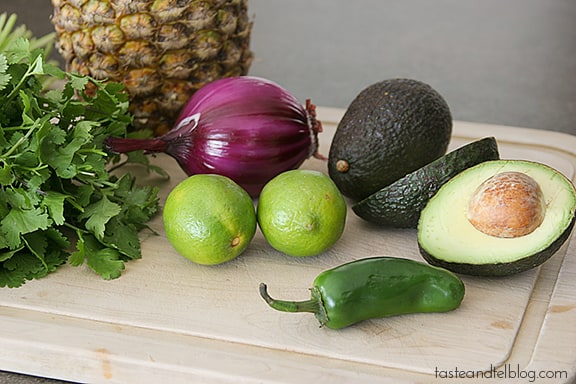 That is, unless I can do things ahead of time, and make the day of the big game that much easier. I love the wings and potato skins and jalepeno poppers that you get at a super bowl party, but I'm thinking it would be fun to provide something a little more substantial.
These burritos are the perfect make ahead meal. Then on party day, you just need to pull them out of the refrigerator or freezer, heat them up, and throw together the salsa. And speaking of the salsa – this stuff is amazing. Made with Avocados from Mexico and fresh pineapple, it's sweet and a little spicy and goes so well with these burritos. Or with tortilla chips. Or just by the spoonful.
And now I'm thinking that maybe I want to pretend the super bowl is tomorrow – just so I can invite my family over to enjoy some more of these burritos!!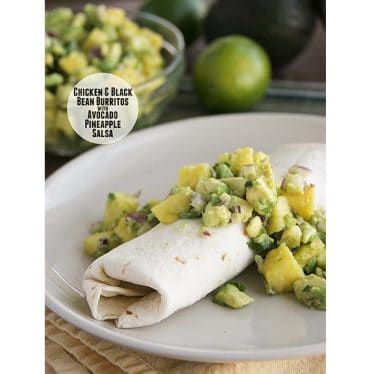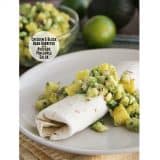 Chicken and Black Bean Burritos with Avocado Pineapple Salsa
---
Prep Time: 20 minutes
Total Time: 20 minutes
Yield: 8 burritos 1x
Description
Add a bit of flair to chicken and black bean burritos with a sweet and spicy avocado pineapple salsa.
---
Scale
Ingredients
Burritos:
1 lb chicken, cooked and shredded
1 teaspoon garlic powder
1 tablespoon chili powder
1 (15 oz) can black beans, drained
8 (8-inch) flour tortillas
1 1/2 cups shredded Monterey Jack cheese
Salsa:
1/2 cup red onion, diced
1 jalepeno, diced
1/2 cup cilantro, chopped
Juice of 1 lime
2 cups pineapple, chopped
2 Avocados from Mexico , chopped
Salt to taste
---
Instructions
In a large bowl, combine the chicken, garlic powder, chili powder and black beans; mix. On a work surface, lay out a tortilla and fill with the chicken mixture. Top with cheese and roll up.
If making ahead, cover burritos and refrigerate or freeze until needed. When ready to serve, place in a 350F oven until warmed through.
To make the salsa, combine all the ingredients and mix well. Serve over the burritos.

Want some more Avocados From Mexico love?
Fried Avocado Tacos from FoodieCrush
Portobello and Poblano Fajitas from Cookie and Kate
Easy Slow Cooker Chili with Avocado Salsa from Taste and Tell
Carne Asado Tacos from Muy Bueno Cookbook
*I am in a working partnership with Avocados from Mexico and Muy Bueno and was compensated for recipe development. But as always, all opinions are my own.*