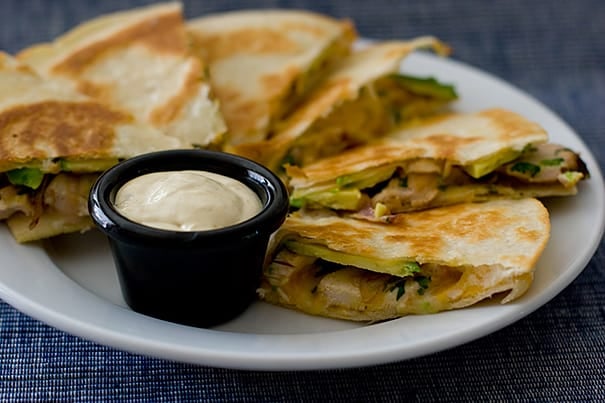 I've have mentioned before – probably too many times – that I am a recipe follower, not a recipe creator. I love, love, love trying new recipes, but I am one that follows a recipe. I'm comfortable with changing a thing or two, but starting from scratch? Not my strong point.
So when the folks at Saucy Mama contacted me to see if I'd like to enter a recipe contest using their products, I honestly had to think about it. Maybe this would be a push for me to step outside of my comfort zone and try something without a written recipe in front of me. So I decided to go for it.
A box arrived in the mail full of Saucy Mama products. I felt like a kid on Christmas. So much to chose from – it almost made it harder to think of what I wanted to make!!
And now, just as the contest is coming to an end, I present you with my entry. I seem to be doing everything right up to the line these days – what a procrastinator! But after taking a bite of one of these quesadillas, I wish I wouldn't have procrastinated so long, because I was quite impressed with myself! I will definitely be making these again, and definitely experimenting with more of the Saucy Mama products!!
And it gets even better – you can win your own bottle of the Lime Chipotle Marinade! Head over to Foodie Giveaway to find out how!
Chicken, Avocado & Caramelized Onion Quesadillas with Chipotle Mustard Dipping Sauce
Makes 2 large servings
2 chicken breasts (12-14 oz. total)
1/2 cup Saucy Mama Lime Chipotle Marinade
1 red onion, sliced thinly
olive oil
2 tablespoons roughly chopped cilantro
2 oz. Monterey Jack cheese, shredded
2 oz. Cheddar cheese, shredded
1 avocado, thinly sliced
4 soft taco sized flour tortillas
Dipping Sauce
2 tablespoons Saucy Mama Chipotle Mustard
4 tablespoons sour cream
Quesadillas
Place the chicken breasts in a slow cooker and pour the Lime Chipotle Marinade over the top. Cook on low until chicken is cooked through to 165F, 3 to 4 hours. When done, removed from slow cooker and cut into thin strips.
Heat a couple tablespoons of olive oil in a saute pan over medium heat. Add the onions and cook slowly, stirring often, until caramelized, about 20 minutes.
Heat a few teaspoons of olive oil in a pan. Place 1 tortilla down in the pan, and top with 1/4 of the cheese. Sprinkle 1/2 of the cilantro on top, followed by 1/2 of the chicken and 1/2 of the avocado. Top with 1/2 of the caramelized onions and then another 1/4 of the cheese. Top with another tortilla. Cook until the bottom cheese is melted and the tortilla is browned. Flip over to cook the second side and cook until the cheese is melted and the tortilla is browned.
Repeat with the remaining ingredients. Slice the quesadillas into wedges and serve with the Chipotle Mustard Dipping Sauce.
Dipping Sauce
Combine the mustard and the sour cream; mix well.