Can't decide between pizza and tostadas for dinner? This easy weeknight dinner combines the two!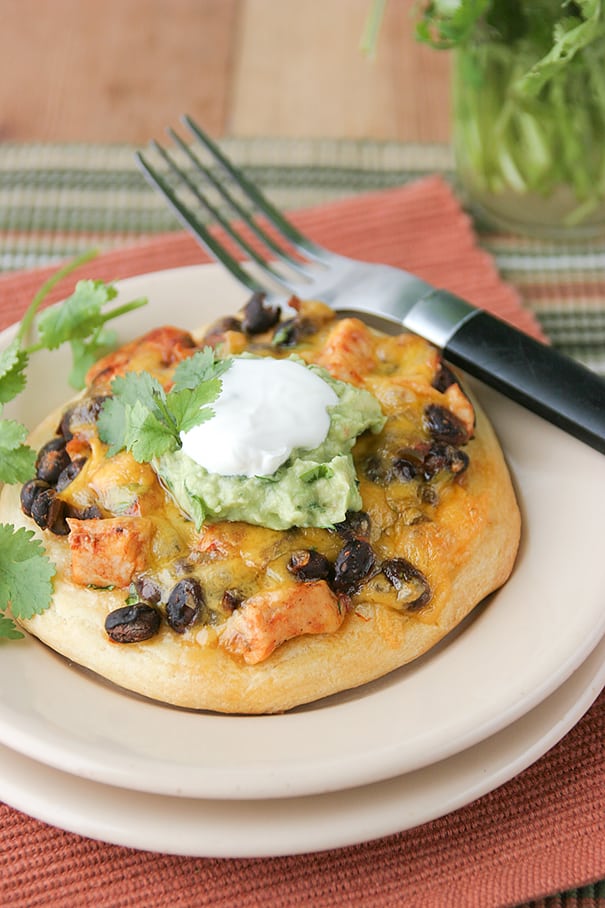 Yesterday, I was on a local tv show, making the lemon tart recipe that I posted yesterday. It wasn't my first time being on tv, but I definitely learned a few things this time.
1 – Don't make something that may melt or needs to be refrigerated – especially if you are in the car for 2 hours.
2 – Hind sight is 20/20. If you are making something that needs to be whisked for several minutes, but your whole segment is only a few minutes long, think it through completely before deciding on that recipe.
3 – Don't assume that they have everything you'll need. Bring it all.
I really can't complain – it all did go really smoothly. They even had a no show for one of their segments, so my time on camera was actually longer than originally planned. But it all worked out, and the hosts really do make it easy.
But – I do have to say that I couldn't believe how melted my poor tart looked. My husband ended up having to work yesterday, so I didn't have anyone to watch my kids last minute. So I took them to my sister's house, which was fine, but it meant that I was in the car forever, and my poor tart was out of the refrigerator for way too long. I promise – it does actually hold it's shape like it does in my photo!! And when we were making the filling on the show, we didn't have enough time to really whisk the curd and marshmallow creme together, so it was definitely not smooth when the host poured it into the crust. Of course, when I got home, I realized that I could have brought a hand mixer, and it probably would have come together really quickly!! And yeah – no pot holders in the kitchen. Luckily the host used some paper towels, and got the crust out of the oven without any major issue – all while filming. Fun!
(If you really want to see the segment, you can see it here.)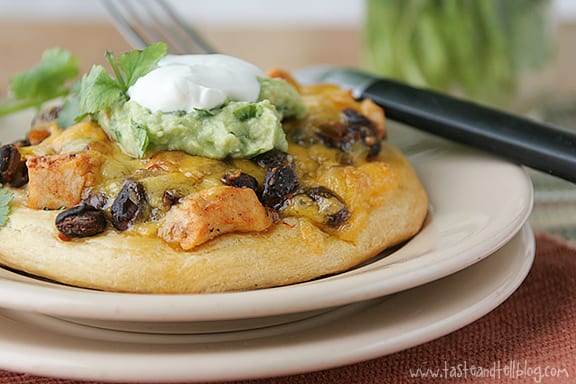 I mentioned on my segment that I love quick, easy meals. If you are a regular reader, you definitely should know this by now. This meal right here is a perfect example of quick and easy to me.
We are tostada lovers, and pizza lovers. So what happens when you combine the two in an easy, 30-minute dinner? Tostizzas!! This was probably one of my husband's favorite recent recipes. He absolutely loved them. We had no leftovers after this meal!! This is a great way to use up leftover chicken, or you can always just cook up a chicken breast to use as the topping. And you can get creative and use whatever you like on your tostadas or your pizza.
So no need to decide between tostadas and pizza for dinner tonight. Combine them both for an easy and delicious dinner!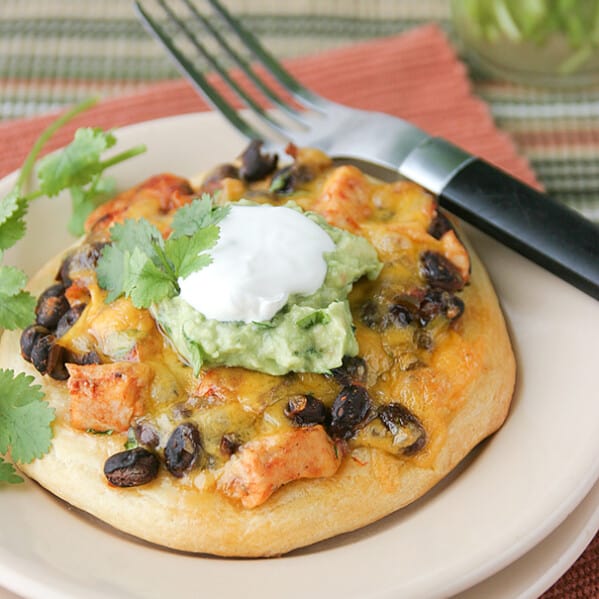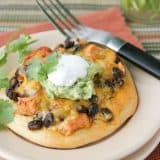 Chicken and Black Bean Tostizzas
---
Prep Time: 10 minutes
Cook Time: 20 minutes
Total Time: 30 minutes
Yield: 8 servings 1x
Description
Can't decide between pizza and tostadas for dinner? This easy weeknight dinner combines the two!
---
Scale
Ingredients
Pizza
1 (1 lb. 0.3 oz) can large refrigerated flaky biscuits
1/2 cup thick and chunky salsa
1 cup diced cooked chicken
1 cup canned black beans, drained and rinsed
1/4 cup chopped fresh cilantro
1/4 teaspoon cumin
2 green onions, chopped
1/2 cup green or red bell pepper strips
1 1/2 cups shredded Cheddar cheese
Garnish
1/2 cup sour cream
1/2 cup guacamole
---
Instructions
Heat the oven to 350F.
Separate the dough into 8 biscuits. Roll out the dough into 5-1/2-inch circles on an ungreased baking sheet.
In a bowl, combine the salsa, chicken, black beans, cilantro and cumin; mix well. Spread evenly over the biscuits to within 1/4-inch of the edges. Top with the green onions, bell pepper strips and cheese.
Bake in the preheated oven for 15-20 minutes, or until the biscuits are golden and the cheese is melted. To serve, garnish with the sour cream and guacamole.
———————-
recipe from Pillsbury: Best of the Bake-off Cookbook