Mini chocolate brownies are filled with a Cherry Cordial Creme Hershey's Milk Chocolates, then covered with a cherry cream cheese frosting for a bite-sized holiday treat.
We are at it again!! I am teaming up again with a great group of bloggers to celebrate all things Hershey's Kisses Chocolates and Reese's Peanut Butter Cups! If you remember 2 weeks ago, I posted about my party show stopper – the Reese's Peanut Butter Cheesecake. This time I am back with another great holiday treat using one of my favorite kisses!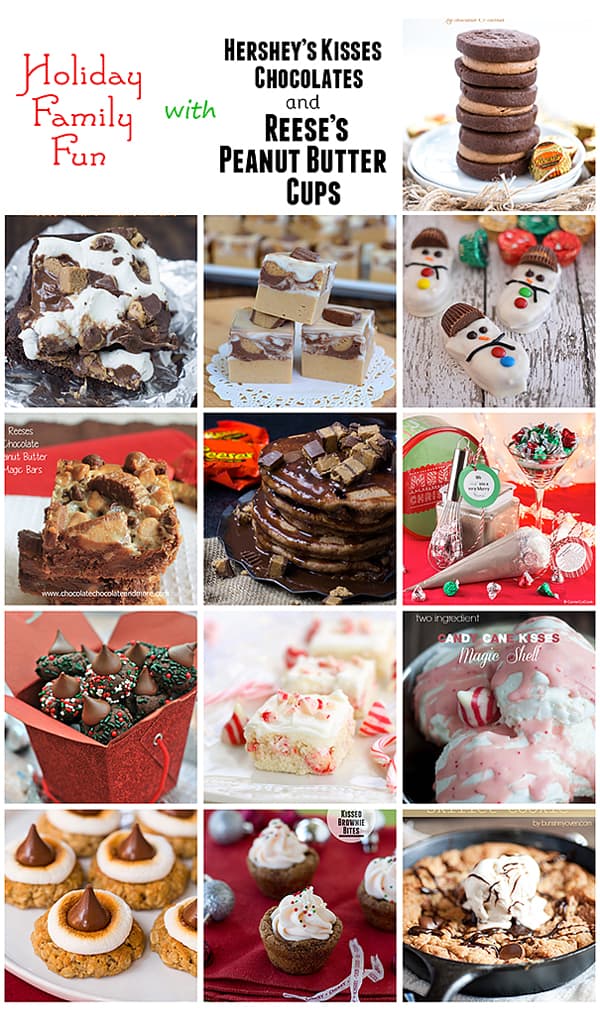 My mom was a stay at home mom when all of us were young, but when my youngest sister started school, she went back to work. Every year at Christmastime, the company that she worked for had a Christmas party that the whole family would go to. I can't remember exactly how it worked, but I know there was a gift exchange of sorts, and so that all of us kids wouldn't feel left out during that gift exchange, she would wrap up a present for each of us. It was always a box of chocolate covered cherries. It was exciting as a kid, though, to get the whole box of chocolate covered cherries, all to yourself. Mine would always last 12 days – because I would eat one every day. Even after she stopped working for that company, she continued the tradition for years of wrapping up a box of chocolate covered cherries for each of us.
So for me, chocolate covered cherry is definitely a flavor of the season. I can't go through the month of December without something with that chocolate and cherry combination! So when the idea came to me to make these brownie cups, I just knew they would be the perfect vehicle for one of my favorite holiday edition Hershey's Kisses chocolates – the cherry cordial kisses.
Since my daughter is always begging me to help in the kitchen, I thought these would be the perfect recipe for her to help me with. My oldest son actually got involved, too, but mostly to just open the kisses and eat them instead of saving them for the brownies. 🙂 But Abbi was a great helper, stirring the batter, unwrapping kisses and putting them in the brownies and then helping to sprinkle on the sprinkles when we were done. And when it comes down to it, making these memories through food is what it's all about! I hope my daughter grows up always remembering fun times that we have had in the kitchen.
This brownie recipe is actually one that I have been working on for awhile. I wanted a soft, chewy brownie, but one that would naturally fall in the center, creating the perfect pocket to fill full of goodies. I have ended up with a recipe that I adore – especially when it is stuffed with a kiss!


When you take the brownies out of the oven, they should be fallen in the center like this. If they aren't you can gently press down the centers with the handle of a wooden spoon.
They are the perfect size for a kiss, so just unwrap and place the kiss in the brownie.
Take your frosting and pipe it to hide the kiss. Now the kiss is a fun surprise in the center!!
It's easy as that! Continue with the remaining brownies, and then if you want to make them extra festive, sprinkle them with some green and red sprinkles.
These kisses taste so much like chocolate covered cherries, and the chewy brownie and creamy frosting make this such a delicious and fun little bite. And I especially love that there is a surprise in the center. Who doesn't love a surprise like this??
Cherry Kissed Brownie Bites
---
Prep Time: 20 minutes
Cook Time: 12 minutes
Total Time: 1 hour
Yield: 36 cups 1x
Description
Mini chocolate brownies are filled with a Cherry Cordial Creme Hershey's Milk Chocolates, then covered with a cherry cream cheese frosting for a bite-sized holiday treat.
---
Scale
Ingredients
Brownies
1 cup all-purpose flour
1 1/2 teaspoons baking powder
1/2 teaspoon salt
2 tablespoons natural unsweetened cocoa powder
1/3 cup unsalted butter, melted
1 cup packed brown sugar
1 large egg
1 teaspoon vanilla extra
Frosting
6 ounces cream cheese, softened
6 tablespoons unsalted butter, softened
1 1/2 cups powdered sugar
1/2 teaspoon cherry extract
36 HERSHEY'S KISSES Milk Chocolates filled with Cherry Cordial Crème, unwrapped
---
Instructions
To make the brownies:
Preheat the oven to 350F. Spray mini muffin pans with nonstick cooking spray.
Whisk the flour, baking powder, salt and cocoa together.
Mix the melted butter and brown sugar in a large bowl. Stir in the egg and vanilla. Stir in the dry ingredients. Place about 1 tablespoon of batter into each muffin cavity. Bake until the brownies are set, 10 to 12 minutes. The brownies should naturally fall in the centers, but if they don't, press down the centers with the handle of a spoon. Cool completely.
To make the filling:
Beat the cream cheese and butter until smooth. Gradually add the powdered sugar and beat until smooth. Place the frosting in a piping bag fitted with a star tip.
Turn the brownies out of the pans. Place 1 unwrapped kiss in each brownie. Pipe the filling on top of the cups, covering the kiss.
There are so many other great recipes that are being shared as part of our blog party today. Make sure you click through to each of them to check them out!!
');