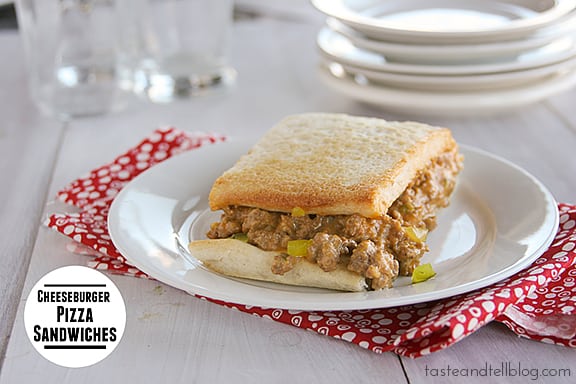 It's amazing how much life changes with each child.  I remember life before kids.  Life was pretty carefree.  I cooked a lot, even though there were just the two of us.  Then Abbi was born.  I'm not going to lie – she was a hard baby.  I don't remember how much I cooked after she was born, but I'm pretty sure it wasn't that much – simply because she always wanted to be held, and it's pretty hard to get anything done when you always have a baby in your arms.  Easton was an easy baby – completely opposite of Abbi.  I remember that I was back in the kitchen pretty quickly after he was born.  I could put him in the swing or the bouncy seat, and he was good.  Such an easy going baby!!
Now that #3 has been added to the mix, it's a whole new ballgame.  Luckily, Camden is another easy going baby.  He's a good eater, and a good sleeper.  But the difference now is that not only do I have a baby to attend to, but 2 other young children, so life has definitely changed.  If I'm not holding a baby, I'm playing cars or drawing pictures or fixing lunches.  There is not a minute of extra time to be found.  I'm not complaining in the slightest – I feel extremely blessed – but I can tell that busy is going to be the name of the game for the next, well, probably 18 years!!
I was a huge advocate of easy weeknight meals before, but I am even more so now.  In fact, easy and fast is the only way that dinner is making it to the table at all these days.  This recipe is exactly that.  Easy and fast.  It's not fancy by any means.  But there are only a few ingredients, starting with a Pillsbury pizza crust. And I'm going to bet that these sandwiches will be a favorite for kids everywhere.  And actually, my husband really loved these and couldn't wait to eat the leftovers the next day.  That's usually how I know that I have a successful recipe on my hands!!
What is your secret for getting dinner on the table when life is crazy?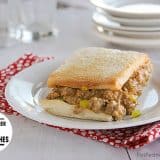 Cheeseburger Pizza Sandwiches
---
Prep Time: 15 minutes
Cook Time: 18 minutes
Total Time: 35 minutes
Yield: 6 servings 1x
Description
Can't decide between pizza, cheeseburgers or sandwiches? How about combining them all into one!
---
Scale
Ingredients
1 lb ground beef
4 oz processed American cheese, cubed
3 tablespoons ketchup
2 tablespoons mustard
3 tablespoons finely diced pickles
1 (13.8 oz) Pillsbury Classic Pizza Crust
---
Instructions
Heat oven to 400°F.
In a medium skillet, brown the ground beef. Once the beef is cooked through, add in the cheese, ketchup, mustard and pickles. Cook until the cheese is completely melted and mixed throughout the mixture.
Meanwhile, roll the pizza out to a 16×8-inch rectangle on a greased baking sheet. Bake for 8 minutes. Remove from the oven and spread the ground beef mixture over the bottom half of the pizza dough on the long edge. Very carefully, using a spatula if needed, fold the dough over the top of the beef filling. Return to the oven and cook for an additional 6-10 minutes, or until golden brown.
Cut into 6 equal pieces and serve.

More twists on the cheeseburger:
Cheeseburger Quesadillas from Pass the Sushi
Slow Cooker Cheeseburger Soup from Taste and Tell
Cheeseburger Flatbread Melts from Wishes and Dishes
Cheeseburger Salad with Yellow Mustard Vinaigrette from Dainty Chef
Bacon Double Cheeseburger Soup from Closet Cooking
**This post is sponsored by Pillsbury, but all opinions are my own, as always!**