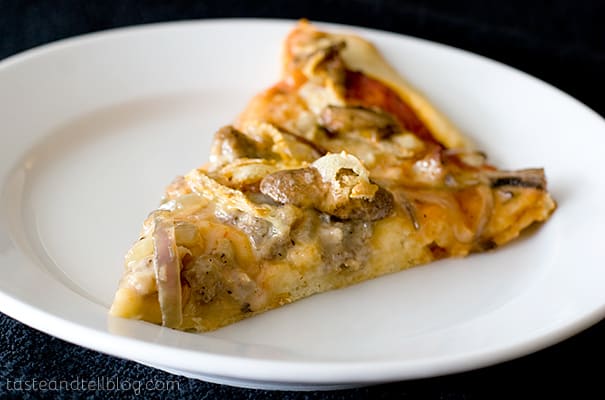 Procrastinating once again!! Here it is, the last day of the month, and I realize that I haven't posted about this month's Cheese of the Month yet. One of these days I'll feel more organized and maybe feel like I have a handle on things. But for today, not only do you get a procrastinated blog post, but a bad picture as well!
I had a hard time thinking of what I wanted to make with this month's cheese – Saint Albray. I went back and forth with a few ideas, but after watching a show on tv and getting a pizza craving from that show, I decided to go with pizza!!
I have a question, and this will show just how un-knowledgeable I am about cheese. Does a cheese's taste get stronger with age? The reason I ask this is because this cheese is supposed to be a mild cheese. I do admit that I had the cheese for awhile before using it, but it came across a bit strong for me. It was still delicious, but a bit strong for my tastes. But it's funny, because when the pizza was cold, the cheese no longer tasted as strong to me. I'm definitely not a pizza aficionado, so I'd love to hear some expert opinions!
This was the first time I had made this crust recipe as well. I chose it because it was fast, and I needed a fast crust. I prefer a crust that has to rise longer, but this worked in a pinch! It's not my favorite crust recipe, but it was great for a night when you get home and need to get dinner on the table right away.
Sausage, Onion, Mushroom and Saint Albray Pizza
Crust
from Cooks.com
1 pkg. quick rise yeast
1 cup lukewarm water
2 tablespoons vegetable oil
1 tablespoon honey
2 1/2 cups flour
1/2 teaspoon garlic powder
1/2 teaspoon onion powder
Mix yeast and warm water in a large bowl. Add other ingredients. Mix well by hand. Let sit in bowl 5-10 minutes, covered by a towel. Flatten on greased pan. Add your toppings and bake at 450F for about 12 minutes
Toppings
pizza sauce
1/2 pound sausage, crumbled and cooked
thinly sliced red onion
sliced mushrooms
Ile de FranceSaint Albray cheese, sliced (put the cheese in the freezer for 10-15 minutes to firm it up enough to cut it.)