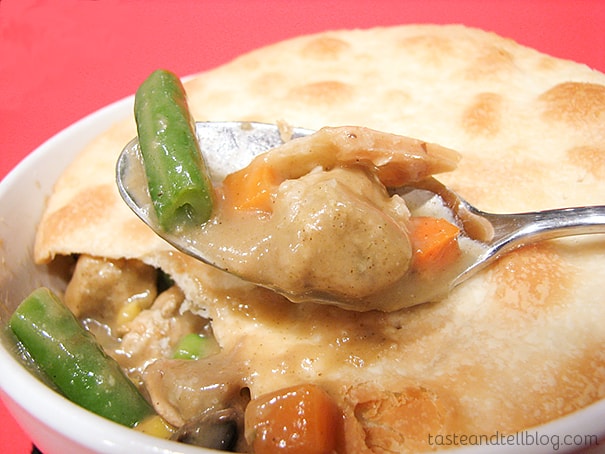 If you are a regular reader of my blog, you will know that I like quick and easy weeknight meals. We try not to eat anything after 6:30 pm, and although I get off of work at 4pm, there is not a whole lot of time to get dinner made, especially since many nights require errands on the way home. Maybe this is why I like Rachael Ray – I know that I can't usually make her recipes in 30 minutes, but they do come together in well under an hour. So because I need recipes that are quick, I sometimes make what I call Cheater Recipes. It's not very often, but sometimes you do need help from the store – kind of like recipes based on that other Food Network personality that seems to generate a lot of controversy in the food world. No, I didn't get this recipe from her, but it does use a lot of help from the store. But what you get is a warm meal on the dinner table that tastes a lot better, and is a lot better for you, than stopping at McDonald's on you way home.
I think that I am a bit spoiled in my food lately, though, because I don't care much for the taste of condensed soups added into foods anymore. I used to not mind them, but the more I cook from scratch, the more I dislike them. That was really the only element of this cheater chicken pot pie that I didn't care for. And being completely honest – the store bought pie crust that tops this pie was actually really good. I was surprised. I don't think I've ever bought a crust at the grocery store, so I wasn't expecting much, but I was pleasantly surprised. The package came with 2 pie crusts, and I ended up making a pie with the other so it wouldn't go to waste, and even on the pie, I didn't mind the store bought crust. I'm not saying that I won't make crusts from scratch anymore, but for a quick dinner like this pot pie – I would do it again!!
Chicken Pot Pies
from Cooking Light December 2007 & October 2003
1/2 (15-ounce) package refrigerated pie dough
Cooking spray
1/8 teaspoon salt
2 tablespoons all-purpose flour
1 teaspoon dried rubbed sage
1/4 teaspoon salt
1/4 teaspoon black pepper
8 ounces chicken breast tenders, cut into bite-sized pieces
1 1/4 cups water
1 1/2 cups frozen mixed vegetables
1 cup mushrooms, quartered
1 (10 1/2-ounce) can condensed reduced-fat, reduced-sodium cream of chicken soup
Preheat oven to 425°.Cut 3 (4-inch) circles out of dough; discard remaining dough. Place dough circles on a baking sheet coated with cooking spray. Lightly coat dough with cooking spray; sprinkle evenly with 1/8 teaspoon salt. Pierce top of dough with a fork. Bake dough at 425° for 8 minutes or until golden.
Combine flour, sage, 1/4 teaspoon salt, and pepper in a zip-top plastic bag; add chicken. Seal bag, and toss to coat. Heat a large nonstick skillet coated with cooking spray over medium-high heat. Add chicken mixture; cook 5 minutes, browning on all sides. Stir in water, scraping pan to loosen browned bits. Stir in vegetables, mushrooms, and soup; bring to a boil. Reduce heat, and cook 10 minutes. Spoon 1 cup chicken mixture into each of 3 (1-cup) ramekins or bowls; top each serving with 1 piecrust.
3 servings (serving size: 1 pie)
CALORIES 374(27% from fat); FAT 11.4g (sat 4.8g,mono 4.2g,poly 1.2g); PROTEIN 24.1g; CHOLESTEROL 58mg; CALCIUM 38mg; SODIUM 882mg; FIBER 4.6g; IRON 1.9mg; CARBOHYDRATE 42.6g